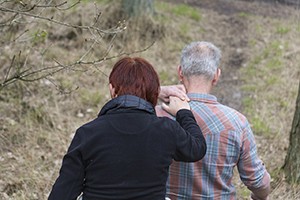 By Elizabeth Blount
In 2015, an estimated 43.5 million adults had provided unpaid care to an adult or child, according to the AARP report "Caregiving in the U.S." Although some adults may provide unpaid care by choice, half of the over 1, 248 caregivers interviewed for the study reported that they had no choice in assuming caregiving responsibilities.  
The types of tasks that caregivers may assist with can vary, including such tasks as bathing assistance, transportation, or even financial management, as detailed in the 2015 "Valuing the Invaluable: 2015 Update"  AARP report. The report details the increase in complexity of caregiving tasks today, such as medical/nursing related tasks. In addition to the increase in task complexity, the study found an increase in cost, stress, and demand of family caregiving. We can only assume that as the population continues to age, this number will continue to rise. 
With millions of Americans participating in the complex, costly, stressful, and demanding, at times, role that is caregiving, it is essential to provide caregiver support.    
There are numerous resources, programs, and organizations devoted to providing caregiver support; a quick Internet search yielded over 52,000,000 results when searching "caregiver support". With millions and millions of "caregiver support" results, one can imagine the potentially overwhelming task that caregivers may be faced with when seeking support. It would be nearly impossible to review each of the 52,000,000 results to determine if what was being offered was right for the caregiver's care situation, and even if the information was proven to work but I can tell you one that has been proven to be effective in providing direct caregiver support. 
Researched and developed by the Benjamin Rose Institute on Aging, BRI Care Consultation™  is an evidence-based information, coaching, and support program for adults with chronic health conditions and their family/friend caregivers implemented in nine Georgia Area Agencies on Aging  with technical assistance and support provided by the Rosalynn Carter Institute for Caregiving (RCI), Benjamin Rose Institute on Aging, and Georgia Division of Aging Services. Delivered completely over the telephone or e-mail, a trained Care Consultant collaborates with families to identify and address present and future needs and concerns, for both the adult with chronic health conditions and their caregivers. Once enrolled this program, families receive assistance with health and care-related information, identifying and engaging family and friends to assist in care, arranging services, and coaching and support. This program often helps caregivers identify areas of risk before an adverse event occurs, much like detecting smoke before a fire. 
In 2010, BRI Care Consultation™ was implemented in the state of Georgia to determine the program's ability to serve as a support for Alzheimer's Disease or Related Dementias (ADRD) caregiving families.
According to the Bass et al., article "Reflections on Implementing the Evidence-Based BRI Care Consultation™ with RCI in Georgia" in the winter 2015-2016 issue of Generations, BRI Care Consultation™ was found to be an effective support for ADRD caregiving families; both the caregivers and those they were caring for, were found to positively benefit from program participation. Evidence-based support for both caregivers, and those they care for, meets the educate and empower action recommendation outlined in the Centers for Disease Control and Prevention and Alzheimer's Association 2018 "Healthy Brain Initiative", which is a road map for state and local public health agencies (and their partners) to advance cognitive health by making it an integral component of public health. In addition to being found as an effective support for ADRD caregiving families, BRI Care Consultation™ was also found to be a cost effective support for the organizations delivering the program during Georgia implementation at approximately $2 per day, as detailed in "Reflections on Implementing the Evidence-Based BRI Care Consultation™ with RCI in Georgia".  
Since 2010, BRI Care Consultation™  has been adopted for statewide coverage, and caregiving families, not limited to those caring for someone with ADRD, all across the state can now access this valuable caregiver resource by contacting the local Area Administration on Aging. To learn more about the original implementation of the BRI Care Consultation™ , the positive outcomes that have propelled program growth forward, and the current implementation stage of the program in Georgia, tune in to the National Alzheimer's and Dementia Resource Center webinar "Measuring Outcomes to Evaluate Dementia Programs and Interventions: Strategies, Challenges, and Benefits" on January 30, 2019.  
The webinar is FREE and a complimentary CE credit is included. To register, please click here. I hope you will join us.  
 
Elizabeth Blount is the Care Consultation Program Manager at the Rosalynn Carter Institute for Caregiving in Americus, Georgia.