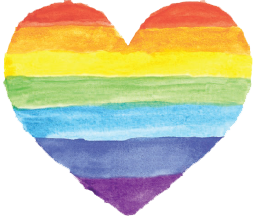 By Kathy Greenlee
One of the highlights of my seven years of service as U.S. Assistant Secretary for Aging was the op­portunity to travel just about everywhere in the United States, and to visit wonder­ful programs for older adults.
One of the more memorable stops was the Los Angeles LGBT Center. Accord­ing to their website, "the Center's 600 employees provide services for more LGBT people than any other organization in the world." To provide you a scale comparison, the Administration for Community Living (ACL) employed ap­proximately 200 people when I left in July 2016.
Lessons Learned
A couple aspects of my visit to the Center stand out. First was my conversation on the patio with two old lesbians. We talked about bereavement. The Center offers be­reavement support for LGBT people— widows and widowers of the rainbow community. This type of support is not common, either historically or geographi­cally. I recall a lesbian friend in the 1990s proudly, albeit reluctantly, claiming the mantle of widow after her partner died. This was a bold move at the time, to pro­claim the loss of our lives and loves to be as significant as those in the heterosexual world. LGBT bereavement support must be created, not assumed.
The second strong memory from my visit was talking to residents of Triangle Square, LGBT housing affiliated with the Center. The person whose story stayed with me is the older transgender woman of color who talked about poverty and lack of access to services. I was struck by the daily struggle of this woman's life, in a city and community that provides com­prehensive support to LGBT elders. For older trans people, poverty, stigma, inad­equate healthcare and lack of services have a serious impact on quality of health and quality of life in old age.
Same Needs, Same Services
The services we provide to LGBT elders can be the same as those we provide to everyone else. A home-delivered meal doesn't care who you are or who you love. The transportation provider shouldn't care about anything more than where to pick you up and where to drop you off. However, for caregiver support, families matter and LGBT families are different. For attendant care, it is important that a transgender older adult be treated com­petently, and with respect.
LGBT older adults receive services in three types of settings: places where services are designed for gay, lesbian, bi­sexual and transgender older people; traditional aging services organizations who welcome and support LGBT older adults; and aging organizations that do not acknowledge LGBT individuals. This third type of organization can run the gamut from uninformed to hostile.
I spent 10 years administering Older Americans Act programs. The longer I did this work, the more I came to under­stand the importance of learning as much as possible about the needs of the people for whom the program is designed—older adults with the greatest social or econom­ic needs. Older LGBT adults could be in either one of those categories, depending upon their circumstances.
In 2014, I directed ACL staff to begin collecting additional information during the annual Older Americans Act Partici­pant Survey. This is a "look behind" survey, which asks detailed questions about the level of support needs of people who have accessed the program. As part of a larger effort within the U.S. Department of Health and Human Services (HHS), I felt it impor­tant we learn whether LGBT individuals were being served. The 2014 survey asked questions regarding sexual orientation and gender identity (SOGI) for the first time.
More to Do
Earlier this year, ACL proposed eliminat­ing the SOGI questions. Explanations for this decision varied but, at the very least, it was a change in policy. I disagreed with this decision and publicly voiced my con­cern. More importantly, you voiced yours. Members of the aging services community and LGBT activists began a very public and concerted campaign to comment and push back on this change. And it worked. In re­sponse to overwhelming public input, ACL decided to continue asking gay, lesbian and bisexual—but not transgender—questions in the survey. This is a step in the right di­rection, but not the conclusion of the work.
As advocates, we have two additional tasks. First, we must continue to advance the cause of transgender older adults. In future surveys, questions regarding gen­der identity need to be included. Second, we must think upstream. We need pro­grams and services that are specifically designed for LGBT older people, and we also need traditional services for older people to be welcoming to all.
Most of us in the LGBT community cannot hang out in Los Angeles to receive adequate support as we age. As much as we might enjoy the sunshine, older LGBT adults exist in every corner of the nation. The Older Americans Act program is de­signed with all of us in mind. The only way to know if LGBT older adults are be­ing reached is to see them, ask them and welcome them at every opportunity. n
Kathy Greenlee is vice president of Aging & Health Policy for the Center for Practical Bioethics in Kansas City, Mo. From 2009 to 2016, she served as the U.S. Assistant Secretary for Aging. She co-chaired the HHS LGBT Issues Coordi­nating Committee for six years.
Editor's Note: This article appears in the November/December, 2017, issue of Aging Today, ASA's bi-monthly newspaper covering issues in aging research, practice and policy nationwide. ASA members receive Aging Today as a member benefit; non-members may purchase subscriptions at our online store.