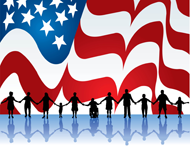 By Robert Blancato, Chair, ASA Board of Directors, and William Benson, Chair, ASA Public Policy Committee
Do you remember what you were doing on March 23, 2015? The 2016 Presidential election began that day when Senator Ted Cruz announced he was running for the Republican nomination. Now, a full 596 days later, the 2016 election has had a stunning ending with Donald Trump elected as President and Mike Pence as Vice President.
This was truly an election for the ages—an election where too often personalities upstaged any discussion of the issues, and an election where there were almost no boundaries on how candidates behaved. But in the end, it was an election that proved the resiliency and the occasional unexpected outcomes of our democratic system.
ASA has a deep and abiding interest in how the new President will address issues important to older adults and their families. We know that President-elect Trump supports protecting Social Security and Medicare, but now specifics on how he might do that become more important. According to our colleague Rich Eisenberg at Next Avenue, we know President-elect Trump offered two proposals for family caregivers in their 50s and 60s, including a tax deduction of up to $5,000 per year for "elder care costs necessary to keep a family member working outside the home."
We know that Governor Pence expanded Medicaid in his state of Indiana, but we don't know much more on other positions he espouses. Both Trump and Pence are adamant opponents of the Affordable Care Act (ACA) and this has implications for the future of important Medicare and other healthcare reforms, and for the life of the Elder Justice Act, which was part of the ACA legislation.
This election resulted in no real change in Congress. In fact, for the first time since 2010, one party will control the White House and both houses of Congress, which could be an ingredient for major change as it was in 2010—the year the ACA became law. Ironically, the ACA is likely to be the first target of the new President and Congress in 2017.
Following a meeting of our Board of Directors last week, ASA will be taking steps to become a stronger national independent advocacy voice in Washington, D.C., on behalf of our members and those they serve.
The ASA membership is composed of professionals, front-line service providers, researchers and academics in the field of aging. Thus, ASA is an important resource for the new President and Congress to turn to as they develop agendas and choose cabinet and subcabinet officials for the new Administration. While ASA has relationships with members of the Senate and House on both sides—our organization, like so many others in the field of aging, has no relationship or history with President-elect Trump. An essential role of advocacy is to help educate and inform newly elected officials on issues of importance—especially a new President with no previous political or policy experience. This is a role and responsibility that ASA takes most seriously.
We want to see policies that address the future of Social Security and Medicare, but also those that address other major issues confronting aging in America, such as long-term services and supports, elder justice, end-of-life and palliative care, nutrition and healthy aging, to name a few. And, as the American Society on Aging, we want to see these addressed in an intergenerational fashion because aging is important throughout the life span, affecting all generations.
The election is over. Its outcome comes as a shock to many of us. We at ASA must move forward because we have important work to do. We shall face the future together, and do our part to influence what this presidency will do over the next four years: we will do it in honorable service to older adults and their families.
What do you think? How do you see the results of the election impacting aging services and aging policy? Click here to share your thoughts. A summary of responses will be shared in next week's "ASA Update."