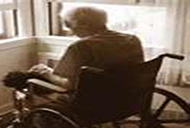 Recognizing and Responding to Domestic Violence and Sexual Abuse in Later Life
By Bonnie Brandl
Elder abuse, including domestic violence and sexual abuse, affects millions of older adults and the people who love and care for them. One in 10 community-residing older adults have reported experiencing elder abuse in the past year. More than 5 million older adults may be victimized each year. Even as 10,000 baby boomers turn 65 every day and reported cases rise, too few victims are receiving assistance. For every case of elder abuse that comes to light, another 23 remain unreported.
Intimate Partner Violence in Later Life: Studies in the United States and globally consistently show that a significant portion of elder abuse cases involve female victims with spouses as perpetrators. A national study discovered the majority of physical violence against individuals 60 years and older was perpetrated by a partner. Emotional and psychological forms of intimate partner violence are as prevalent among older women as younger women—but health-related trauma associated with non-physical abuse is often more severe for older women.
Sexual Abuse in Later Life: Sexual abuse in later life is also a serious, underreported problem. Sexual violence towards older adults can involve a range of offenses including "hands-on" behaviors, such as rape and molestation; "hands-off" behaviors such as voyeurism, exhibitionism, sexual threats, or unwanted comments; and "harmful genital practices." In the community, older victims of sexual abuse are violated most often by spouses/partners. In facilities, employees responsible for care or other residents are most likely offenders. U.S. physicians report that post-menopausal women experience more frequent and more severe genital injuries from sexual assault than younger women. Older women who have been sexually assaulted experience increased rates of arthritis and breast cancer compared to older women without a history of sexual assault.
You have a unique opportunity to respond to the needs of older victims of abuse. Your work in the aging services network offers you an opportunity to build relationships with older adults. You may notice unusual bruising or changes in the behavior of the older adult. You may hear about a new friend or a family member who has recently come into the life of an older adult. You may know that the older individual's husband is not nice to her. You may see signs that an older adult's behavior has changed and that they appear more fearful. You can:
Look for indicators of abuse. Watch for changes in behavior and pay attention if someone you know is no longer participating in your program.
Gently ask questions about how the older adult is doing. Are they getting out with friends? Is there anything or anyone new in their life? Are they afraid or worried?
If an older adult discloses being harmed, let them know that they are not alone and that help is available. Provide support and information to older adults about crisis lines and services in your communities.
Report abuse, neglect or exploitation to adult protective services or law enforcement if you are concerned about the safety of an older adult.
Participate on collaboration teams in your community that are focused on abuse in later life.
Raise awareness about abuse, neglect and exploitation through presentations, written materials and activities on June 15 honoring World Elder Abuse Awareness.
Learn more about abuse in later life so that you are ready to respond and support older victims. Work with others to prevent and respond to the needs of older victims. You can make a difference.
Bonnie Brandl, MSW, is the Director and founder of the National Clearinghouse on Abuse in Later Life, where she acts as a liaison for national elder abuse, domestic violence, sexual assault and aging services networks. She can be reached at bbrandl@ncall.us.