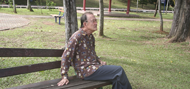 By Glen Michael Francis and Katherine Acey
Lesbian Gay, Bisexual and Transgender (LGBT) elders, particularly elders of color, often become isolated because of a number socio-economic, health and community factors. Many of these elders live alone in widely dispersed communities. Numerous years of living secretive, often-closeted lives can heighten the sense of isolation. Elders of color, especially lower-income elders of color, have witnessed great social transformations. However, these do not replace the memory of community, institutional and structural discrimination associated with class, gender, gender identity, race and sexual orientation. Consequently, this group may be apprehensive about engaging with traditional and community service providers. Many elders have lost their support networks, friends and family. And some have fears about going out alone.
Research indicates that the quality and stability of social support influences mental health functioning. Organizations such as GRIOT Circle, a nonprofit geared to supporting LGBT elders of color, have developed a creative intervention program called Buddy-2-Buddy. The program pairs elders who are homebound or in facilities with more active elders for visits and to join in activities with. The program promotes independence and self-reliance among elders by countering isolation and restricted mobility among members.
One participant provides a vivid portrait of challenges faced by elders. Lillie, an 89-year-old African American, recalls the death of her partner of 47 years. She revealed that she had no LGBT friends because she and her partner lived together as cousins and were not out about their relationship. Lilly discovered GRIOT's Buddy-2-Buddy program and now proudly claims a vibrant circle of friends—14 to be exact. They visit regularly, bringing her news and conversation while affirming to Lillie and the staff of the nursing home that she is truly not alone.
The Buddy-2-Buddy program provides an array of services, including hospital and home visits, escort services, telephone calls and assistance with cleaning and shopping. The intervention emphasizes the importance of supportive relationships established among members of GRIOT. Buddy-2-Buddy distinguishes itself in work with elders of color who are often reticent about discussing personal problems with "strangers."
Buddies are often able to meet each other where they are to address fears and needs without damaging their sense of dignity or independence. The intervention is volunteer-based. Buddies are recruited through mailings, phone calls, gatherings at GRIOT and word of mouth. When an individual expresses an interest in being a Buddy, she or he details their needs and expectations of the program. The applicant is entered into the Buddy database, and when an appropriate match is found, the Buddies are paired. Should a pairing not work out, Buddies can tell the Volunteer Coordinator, and a new match can be made.
To remove financial strain from lower-income Buddies, GRIOT provides free transportation, community potluck meals and assistance with acquiring free cell phone services they can use to connect. Many participants who are homebound or have limited mobility use the telephone as their primary means of communication. However, others pay home visits, or accompany one another on social outings and errands. The participants are free to decide for themselves the style and frequency of their interactions.
Among other innovations, the program makes use of social gathering Buddy-2-Buddy "Parties," where Buddies and other GRIOT members come together to eat and socialize, to assess participants' experiences and opinions about the program. Buddy-2-Buddy has reached nearly 150 people and fostered 89 partnerships every week that enhance socialization and mutual support.
---
Glen Michael Francis is a consultant on LGBT of color issues and the former director of GRIOT Circle, in New York City.
Katherine Acey is the current Executive Director of GRIOT Circle and former Executive Director of The Astraea Lesbian Foundation For Justice, in New York City.
This article was brought to you by the editorial committee of ASA's LGBT Aging Issues Network (LAIN).