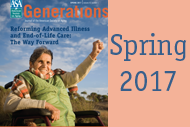 Reforming Advanced Illness and End-of-Life Care: The Way Forward
By Alison Hood
The Spring 2017 issue of Generations is dedicated to ensuring all Americans with advanced illness receive comprehensive, high-quality, and person- and family-centered care consistent with their goals and values. The American healthcare system is ill-equipped to provide such a comprehensive approach to care, but ASA hopes that this issue of the journal provides a solid perspective on critical issues and a map of the terrain ahead. To that end, ASA is offering full access to the Spring 2017 issue, which includes the following articles, and more:
In "Closing the Care Gap," guest editors Bill Novelli and Raca Banerjee explain how people with one or more chronic conditions that will lead to irreversible decline in health and function deserve special attention, how aggressive treatment often is inappropriate, and why people with advanced illness often need help with the transition from curative treatment to excellent end-of-life care. Quality of life, not cure at all cost, is the goal, guided by a patient's informed choice, with her or his clinician in a process of shared decision-making.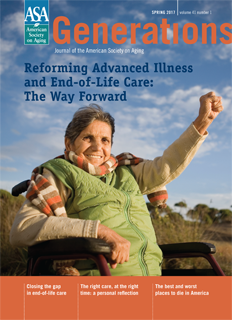 Brad Stuart, Angelo Volandes, and Benjamin W. Moulton, in their article, "Advance Care Planning: Ensuring Patients' Preferences Govern the Care They Receive," explain how patients can receive the best care via fully informed consent on treatment goals through shared decision-making. Some vehicles for doing this are POLST forms and advance directives designating a surrogate decision-maker. New care delivery models such as Independence at Home and Advanced Illness Management could make such advance care planning routine.
Amy Berman is a senior program officer at The John A. Hartford Foundation. She is also terminally ill with incurable breast cancer. Her article, "My Life, My Story: A Personal Experience with the Right Care at the Right Time," is adapted from Berman's June 23, 2016, testimony to the U.S. Senate Special Committee on Aging. Berman speaks frankly to her experience with advocating for the care of her choosing, which is minimally invasive treatment allowing her to live her life to its fullest until the end, and the importance of palliative care in allowing this to happen.
In their article, "The Changing Landscape of Palliative Care," Diane E. Meier and Brynn Bowman lay out the evolution of palliative care and how it provides insight into efficient, effective models of care for seriously ill patients who remain in their communities, and how a system redesign and workforce repositioning will be necessary to respond to seriously ill patients' needs and preferences on a national scale. This article answers the questions, how will our fragmented, top-heavy healthcare system respond to the growing number of Americans with serious illness, and how can we ensure high-quality care for our most vulnerable patients?
Judy Thomas and Charlie Sabatino detail how the art and science of documenting healthcare preferences have greatly improved across the past forty years, driven by shifts in public policy and societal norms. Forms such as POLST, MOLST, DNR, and living wills are covered, as are topics such as authorized surrogates. While the forms and conversations around advance care planning have evolved, the methods for storing and accessing such information have not kept pace. Registries hold promise, but discovering the right formula for registries to maximize their promise will take time.
ASA is pleased to offer this latest issue of Generations electronically. Print copies will reach ASA members and subscribers in late April 2017. Single copies can also be purchased from our website.