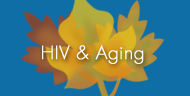 By David J. Brennan and Charles A. Emlet
While advances in HIV treatment and therapy have extended the life expectancy of persons living with HIV disease, factors associated with mental health resiliency, mental health quality of life (MHQOL) and HIV-stigma among this population are rarely examined. Our recent research has uncovered important aspects of positive adjustment to illness among older people living with HIV (PHAs), and identified the socio-demographic, psychological and health-related variables that contribute to HIV-related stigma in a sample of older PHAs living in Ontario, Canada.
These cross-sectional studies analyzed data from PHAs (ages 50 to 86) who participated in the Ontario HIV Treatment Network's Cohort Study (OCS) between September 2007 and March 2010. OCS is a community-governed, multi-site study that voluntarily collects clinical and socio-behavioral information from PHAs in clinical settings across Ontario. 
Canadian and American researchers found feelings of mastery and self-efficacy and interpersonal resources such as social and informational support to be protective against the deleterious effects of stigma, while maladaptive coping and a shorter time since diagnosis were associated with greater stigma among older adults participating in the OCS.
The same team of researchers found that among older PHAs, men, particularly gay-bisexual men, reported higher mental health resiliency than women. Additionally, having emotional and informational support appears to increase the level of MHQOL among this sample. Identifying as Black or African was also associated with higher MHQOL.
In the future, it may be helpful to examine the mechanisms that have fostered resiliency among sub-populations, as it will help determine practice and policy initiatives that will maintain such resiliency among older PHAs. And, a better understanding of these mechanisms can be used to determine interventions to enhance resiliency among older PHAs struggling with MHQOL.
---
David J. Brennan, Ph.D., is Ontario HIV Treatment Network Scholar, and assistant professor, Factor-Inwentash Faculty of Social Work, University of Toronto, Ontario.
Charles A. Emlet, Ph.D., ACSW, is a professor in the Social Work Program, University of Washington, Tacoma, Wa.
This article is brought to you by the editorial board of ASA's LGBT Aging Issues Network (LAIN).