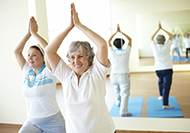 Respite Care: Because Caregivers Deserve a Break
By Joy Johnston
Family caregivers need, and deserve, more robust supportive services, but a break may be the most precious gift of all.
Imagine if we could harness the power of the sharing economy to transform respite care from an underutilized service to a widely-accessible resource for family caregivers across the country. That's one of key issues that Respite Care Share attempts to address. I will lead a poster presentation of Respite Care Share at the Aging in America Conference on March 22 from 12:00 Noon to 1:30 PM, and look forward to the conversation it sparks.
Benefits of Respite Care
The benefits of respite care are clear. A 1994 study by S. L. Theis, published in the Journal of Community Health Nursing, focused on the benefits of weekly respite care and found that 64% of caregivers reported improved physical health, 78% reported improved emotional health, and 50% noted improvement in the care recipient's health. According to an Oklahoma Respite Resource Network survey, 98% of caregivers stated that respite helped reduce stress and made them a better caregiver.
Respite Care Challenges
Existing respite care programs are underutilized. Lack of awareness, financial cost, and the guilt and worry of leaving their loved one in someone else's care are the main roadblocks. Caregivers desire short-term respite options (few hours to several hours in duration) according to a 1988 survey by Rhonda J. V. Montgomery of almost 200 caregivers, published in Health Care Financing Review. Montgomery's survey also found support for overnight respite options with in-home care. One in four caregivers say it is very difficult to get affordable services in their loved one's community that would help with their care, according to the Caregiving in the U.S. 2015 report.
What is Respite Care Share?
Respite Care Share is an organization dedicated to promoting greater access to respite care for family caregivers. Respite Care Share will help raise awareness about the benefits of respite care and promote the use of existing programs.
Respite Care Share was conceived during OpenIDEO's End of Life Care Challenge that took place online during the summer of 2016. The challenge was: "reimagine the end-of-life experience for ourselves and our loved ones." I focused on how we could support the emotional and physical health of the caregiver during such a stressful event by improving the state of respite care. The feedback and collaborative spirit of fellow innovators helped further develop Respite Care Share and the concept was selected from over 300 submissions as a Top 10 finalist.
With the concept of "start small, build smart" in mind, Respite Care Share's first phase focuses on immediate relief in the form of caregiver care bags. The care bags include gift cards with relaxation in mind, a book, and a card with a message of gratitude. The gifts are designed to encourage caregivers to take mini-respites, whether it's an hour away at a local cafe with a good book, or to enjoy a massage or yoga class. Expanding the definition of traditional respite can help make respite more accessible and encourage greater respite participation.
The second phase of Respite Care Share focuses on longer respite breaks. In addition to promoting the utilization of state-funded programs, the second phase would feature a digital platform, similar to Airbnb, where caregivers could book respite care in a convenient format at discounted prices. Homeowners could make their properties available for free to caregivers as well, which would be offered to those in most financial need. In addition to respite care housing, a caregiver locator service would be offered, to make sure that the caregiver's ill loved one received quality care while they were away on respite.
Encouraging Respite Care Use
To encourage the use of respite care by family caregivers, raising awareness is key. Maintaining a relationship with the caregiver and providing crucial follow-up is essential, as is partnering with social workers, medical care facilities, and attending caregiving advocacy events.
The initial push will be online, while ambassadors will be encouraged to champion respite care in their communities. A website for Respite Care Share was launched in 2016 and features community programs throughout the country that support respite care. A social media campaign is also in the works.
In February, Respite Care Share will launch its first prototype, a gift bag presentation at a caregiver support group at Amy's Place, a memory cafe in Roswell, Georgia. Feedback from the event will be shared at the Aging in America conference.
Joy Johnston is an award-winning digital journalist and caregiver advocate based in Atlanta. Johnston works to raise awareness of Alzheimer's and caregiving issues through her blog, The Memories Project, and as a featured author on The Caregiver Space. Follow her on Twitter @JoyMemories.