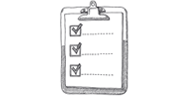 By Ferdinando Mirarchi
Mary is a 65-year-old female who recently retired from teaching and is in great health. One morning she develops chest pain, calls 911 and goes to the emergency room. Before leaving her home, she collects her purse, with a copy of her living will, as she was instructed to before going to the hospital. When she arrives in the ER she is diagnosed with a heart attack. As medical staff begin treating her she becomes unconscious and develops sudden cardiac arrest. As staff grab paddles to shock her, a nurse yells out, "Wait! She has a living will!" The attending physician reviews the living will, they stop resuscitating Mary and pronounce her deceased. Medical staff could have saved Mary's life if only they had been properly trained in interpreting advance directives.
New Risks to Patient Safety
As an emergency medicine physician and a son with a critically ill parent, unfortunately I have experienced similar situations, and it is clear to me that we have a new patient safety risk factor affecting older adults who present to emergency departments and other healthcare facilities. The risk is a variable understanding and misinterpretation of living wills, Do Not Resuscitate (DNR) orders and POLST-like documents, which often translates into over- or under-resuscitation. It was disclosed in the TRIAD (The Realistic Interpretation of Advance Directives) series published in the Journal of Patient Safety (4:4, 2008) as a nationwide phenomenon.
The emergency department is unique in that patients there are under the care of physicians who are often unaware of predetermined documents or discussions regarding end-of life-care. As such, emergency department physicians are faced with a decision: What to do with the aging patient who is now critically ill? Should they treat or not treat? If physicians treat and over-resuscitate the patient, then they have ignored predetermined wishes, committed a medical error and over-used expensive resources. If they don't treat and under-resuscitate, they have committed a medical error and the patient may, and will, most likely, die.
But there is a great communication tool created to help prevent this patient risk and physician quandary. Called the Resuscitation Pause or Advance Directive Pause, it's a standardized patient safety checklist that can be used during the patient encounter to design an individualized plan of care, to maintain patient wishes and to minimize patient safety risk.
Resources for Living Wills, DNRs and POLST Documents
—Ferdinando Mirarchi
Existing Documentations Explicated
Several documents commonly brought into the emergency department can be confused with specific care directives. First, there are living wills, which are legal documents and often part of an estate plan to begin the advance care−planning process. Living wills are created to accept or refuse lifesaving medical care, for when the patient is no longer competent and has a terminal condition or has entered a state of permanent unconsciousness (also written as a persistent vegetative state). Living wills are effective documents, in that they are valid and legal at the time of creation. But a living will should only be followed when it has been triggered by a pre-stated condition in the document, such as losing competency and having a terminal condition or being in a state of permanent unconsciousness. Living wills are not to be followed or impact patient care just because they are present with thepatient. They do not say "Don't treat me if I am critically ill!"
A Do Not Resuscitate (DNR) order differs from a living will in that it is a physician's order that directs medical providers not to intervene with cardiopulmonary resuscitation if patients are found not breathing or with no pulse. Otherwise this order, as described by a presidential directive, is to have no impact on patient care and management.
POLST is the Physicians Orders for Life Sustaining Treatment. It is a national document that has been adopted in various forms and names in more than 22 states, and its use is growing at a rapid pace. The intent is to guide patient care during cardiac arrest, as well as during non-cardiac arrest medical emergencies. It is an activated medical order set, which means physicians must follow it when they encounter it. It is transferrable between many healthcare settings (hospital, nursing home and pre-hospital setting). It requires a physician's signature, but is generally completed by non-medical personnel. Some states allow this form to be signed by a nurse practitioner or a physicians assistant.
Put the Pause in Place
As the aging population faces this new patient safety risk, an opportunity presents itself, as stipulated by the American Bar Association's POLST legislative guide. It recommends POLST documents be reviewed periodically when patients are transferred from one care setting or care level to another; when there is a substantial change in patients' health; or when patients' goals or treatment preferences change. These requirements could easily apply to all types of advance directives, ensuring that patients' wishes are met. The Resuscitation Pause was created to accomplish this pivotal safety recommendation.
When critically ill patients present at an emergency room and require resuscitation, during the initial assessment, physicians should quickly follow the ABCDE checklist described in the Resuscitation Pause. This essentially forces a conversation, at the patient's bedside, to individualize a plan of care.
There is a desperate need for standardized training and education of the medical profession in living wills, DNR and POLST order use. This simple checklist process can be incorporated into resuscitations when medical personnel are confronted with all types of advance-care-planning documents or orders. A safeguard such as the Resuscitation Pause allows the physician to clarify the intent of the living will, DNR order or POLST and design an individualized plan of care to make sure we doctors get it right for each patient, every time. 
---
Ferdinando Mirarchi, M.D., is medical director for the Department of Emergency Medicine at the UPMC (University of Pittsburgh Medical Center) Hamot Medical Center in Erie, Penn.
Editor's Note: This article appears in the September/October 2014 issue of Aging Today, ASA's bi-monthly newspaper covering issues in aging research, practice and policy. ASA members receive Aging Today as a member benefit; non-members may purchase subscriptions at our online store or Join ASA.