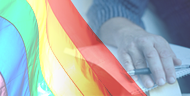 By Natalie Chin
For the lesbian, gay, bisexual and transgender (LGBT) community, where families of choice are prevalent and the marriages of same-sex couples are not nationally recognized, advance directives are particularly important. They guarantee that rights are heard and respected during an individual's most vulnerable time.
Advance directives, also referred to as life-planning documents, include powers of attorney, living wills and healthcare proxies. A power of attorney is a legally binding document that allows a person to designate anyone—family member, partner, spouse or friend—to make decisions on financial affairs—like paying bills and collecting Social Security benefits. It also empowers the grantor to decide when that power is activated.
A healthcare proxy is another legally binding document that allows people to designate someone to make healthcare decisions should the grantor become incapacitated.
Lastly, a living will is often executed with a healthcare proxy and gives medical professionals and advocates information about whether one prefers to receive life-sustaining procedures, such as artificial nutrition and hydration.
In the absence of advance directives, many states look to state law to determine who has decision-making authority. Some follow a hierarchy that lists an order of preference. Spouses, children, parents and siblings are, generally, given authority, and families of choice most often fall last on the list.
African-American older adults often rely on a trusted family member, friend or partner to make end-of-life choices for them rather than memorialize their wishes in advanced directives. For Black LGBT older adults, informal reliance on a loved one to make end-of-life choices can lead to tragic results, as Jessica and Trisha's story* demonstrates.
When Trisha was diagnosed with advanced Alzheimer's, her partner of 30 years, Jessica, was by her side. Jessica took Trisha to doctors' appointments, was the emergency contact on Trisha's medical forms and the person who received information from doctors about her medical care. Months after her diagnosis, Trisha suffered a stroke and could no longer communicate. Trisha's family, who did not acknowledge Jessica and Trisha's relationship, relocated Trisha to a nursing facility far away from the couple's home. For months, Jessica took two buses to visit Trisha daily. Jessica would sit with Trisha for hours, holding her hand, combing her hair, and sometimes taking her out on the veranda for air.
One day, without explanation, Jessica was informed by the nursing home that Trisha's family was prohibiting her from visiting Trisha and, as a result, she was no longer given information about Trisha's health condition. When Trisha passed away, Jessica did not know until the following day. She never had a chance to say goodbye.
Jessica and Trisha had no life-planning documents in place. And, without them, Jessica was a legal stranger to her partner of 30 years.
Jessica and Trisha's story is not unusual, and it exemplifies the importance of advanced directives. If Trisha had executed a healthcare proxy naming Jessica as her healthcare agent, the family would have had no authority to restrict her from visitation, or from being involved in the medical decision-making of her life partner. A nursing facility is legally required to respect advance directives, such as a power of attorney and healthcare proxy.
While it is difficult to determine the extent that the LGBT African-American aging community uses advance directives, a recent study published by The National Center for Health Statistics (NCHS) provides insight on this issue. The NCHS study found that black Americans are less likely than their white counterparts to complete advance directives.
Although there is no conclusive research accounting for this difference, researchers have identified various factors that may explain it, including lower levels of awareness about advance directives, and greater distrust in the healthcare system. For Black LGBT older adults, there may be additional barriers that prevent the execution of advance directives.
Black LGBT older adults who came of age during the 1940s, 1950s and 1960s experienced an era of institutionalized homophobia and transphobia where forced psychiatric institutionalization and systemic discrimination in accessing healthcare services were the cultural norm. Some may have lived during the Tuskegee Syphilis Experiment and recall the history of medical experimentation on African Americans.
As a result, LGBT Black Americans may be wary of the healthcare system and have concerns that they will receive inadequate and inferior medical care if they complete advanced directives. One study noted that for some African Americans, an "advance directive is equivalent to a death warrant instead of the right and freedom to ask for the health care they need and desire." Also, there were concerns that the doctor wouldn't "honor" their written decisions.
Taking control of financial and medical decisions as one ages is a right, not a privilege. Healthcare providers are legally required to honor advance directives, whether it is a hospital, long-term care facility, hospice or other facility. Discriminatory policies of past years usurped that control. But today, there are tools in place to ensure life-planning decisions are yours, and yours alone. Properly executed advance directives are key for medical and financial peace of mind in times when we are at our most fragile.
For more information on organizations that assist individuals with advance directives, go to www.lawhelp.org.
---
* Names and facts have been changed to protect confidentiality.
Natalie Chin is a Clinical Teaching Fellow at Cardozo School of Law in the Guardianship Clinic, which provides advice and direct legal services to the New York City community by assisting low-income individuals and families coping with disability and incapacity who are seeking or opposing guardianship. She can be reached at nchin@yu.edu.
This article was brought to you by the editorial committee of ASA's LGBT Aging Issues Network (LAIN).