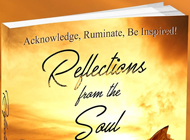 By Douglas Winslow Cooper
Within the past year and a half, I have lost my mother, my sister, and a favorite nurse. This lovely book, Reflections from the Soul, by Dr. Eboni Ivory Green (what a pretty name!) will help me, even now. With my beloved wife, Tina Su Cooper, receiving around-the-clock skilled nursing care due to her likely-to-be-lethal multiple sclerosis, I may much too soon need the consolation that nurse Eboni Green's book brings.
The biggest difference between Dr. Green's approach and so many others is that she is not teaching us to get "closure," a shutting off in response to the deaths of loved ones, but rather, "homeostasis," a state of psychological equilibrium. And that is, indeed, what we want to achieve. The sadness will never go away completely, but it can be diminished. We need, she notes, to breathe AIR: Acknowledgment, Inspiration, and Reflection.
In her Introduction, she writes, "Matters of the heart are never truly closed. The sadness associated with losing someone you love never goes away completely. Yet, there is hope that one day the deep sorrow will now take a place in history." This wonderful book helps the reader achieve that transition.
Each chapter starts with a quotation, some from her own writings, and many from other sources. Her acknowledgments start with this line from the film Meet Joe Black, "To make the journey and not fall deeply in love—well, you haven't lived a life at all." When we love, we risk the heartache of death. As Helen Keller wrote, "All that we love deeply becomes part of us." When a loved one dies, part of us dies, which is why the poet John Donne advised us to ask not for whom the church bell tolls its death knell: "It tolls for thee."
Dr. Green's many losses moved her to write both prose and poetry, and she suggests that writing will be helpful for others to do. Remember how the departed once enriched your life. See how certain objects or places or activities can bring back the connection you fear you have lost. I'm reminded that some talk about the "second death" of a person, when everyone who knew him has passed away. Through literature and art, even that can be mitigated. Outstanding individuals live on in our collective memory.
Some of Eboni Ivory Green's section titles give insight into this book's healing words:
Do That Which You Think You Cannot
From Isolation to Communion
A Quiet Mind
The Caretaker of Memories
You've Committed No Offense by Surviving
The Seven Spiritual Gs
Cultivating Life-Enhancing Spirituality
Living without Guilt or Regret?
Remembering You Makes Me Smile
You Do Not Need to Walk Alone
God Sets the Lonely in Families
Dancing Beautifully with a Limp
We are advised to distinguish between isolation, loneliness, and solitude. Isolation comes from our losses, with loneliness a possible reaction to them, but solitude can provide the opportunity for acknowledgment, inspiration, reflection, and thus renewal.
Has a death made you angry? Perhaps it seems so unjust. Perhaps the circumstances surrounding it make you mad at those who should have behaved better. You may even feel the deceased should have taken steps to lessen the risks of death. Dr. Green gives some sage advice on dealing with the anger commonly accompanying the death of a loved one.
Even within a family, there will often be a wide variety of responses to death, depending on: life experiences, position or station, and personal relationships. Dr. Green describes ten common and quite different reactions. She hopes that by understanding these differences, the tendency for grief to divide some families can be resisted.
Toward the end of this invaluable book are exercises to coax you to greater acceptance of your loss:
Acknowledge your feelings
Stay open to being Inspired
Reflect deeply so that you can heal.
Readers will greatly appreciate what Dr. Green has so artfully shared. She has come back from her places of deep grief with insights to help us all.
Douglas Winslow Cooper, Ph.D., is a former Harvard science professor. He still publishes, and he helps others write and publish their books via his business website, WriteYourBookWithMe.com. His life's central theme has been his half-century romance with his wife, Tina Su Cooper, now quadriplegic for over a decade due to multiple sclerosis, receiving 24/7 nursing care at home, as discussed at their website here.