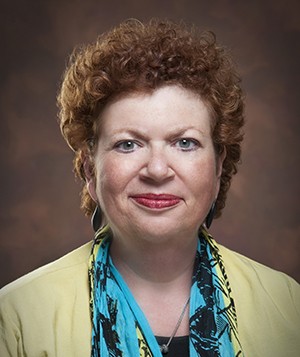 Editor's note: This past January, ASA surveyed its members about what it takes to be a leader in the field of aging, what members would like to learn about how to develop leadership knowledge, skills and abilities, and who best personifies leadership. ASA members identified respected leaders in aging—many of whom are well known to the ASA community and to the field at large. This following Q&A with Robyn Golden is one in a series of leadership profiles we are featuring in Generations Today and online at ASA's AgeBlog.
Robyn Golden, LCSW, is the associate vice president of Population Health and Aging at Rush University Medical Center in Chicago, where she also holds academic appointments in the departments of Medicine, Nursing, Psychiatry and Health Systems Management. Trained as a licensed clinical social worker, for 30 years she has been actively involved in providing services, developing programs, education, research and public policy aimed at creating innovative initiatives and systems integration to improve the health and well-being of older adults. Golden also has chaired the ASA Board of Directors and the Aging Today Editorial Advisory Committee, serves on the Generations Editorial Board and founded and chaired the MHAN constituent group. 
"Most of my work now is directed at trying to help people through the complex systems of our health arena. Trying to reduce barriers to health and wellness, and care, for older adults and others with chronic conditions, via care management and counseling. You name it, we try to make it happen, wrapping around hospital in-patient and out-patient services, and supporting them when they return to the community," she said. 
"We never see patients as leaving the system once they are out of the hospital. Typically, it is not forever, but when they get to a point where they are stable and have access to all the services they need to address the social determinants of health, including the emotional risk factors. And we help families who are dealing with difficult situations, because rarely does anyone ask how they are doing.
"We have a HRSA (Health Resources and Services Administration)-funded Geriatric Workforce Education Program as part of our Center on Excellence in Aging and are trying to make the Hospital and community more 'Age-Friendly' by developing health promotion and disease prevention programs and a focus on end of life' issues.
"It's exciting, because when I started at Rush 16 years ago no one understood what a social worker did, or what care management was. Now we have a Center for Health and Social Care Integration that develops and disseminates evidence-based models of practice across the country. The policy arm incorporates our advocacy work related to integrating social risk and social care into traditional medical care. The Center was instrumental in the 2019 National Academies Report, Integrating Social Care into the Delivery of Health Care, which has been very important for the Aging Network. 
"And just last week we created a department of social work—not a school, but an academic home for social workers who publish and present, to make our work more interprofessional."
ASA: How might you describe the way leadership in the field of aging differs from leadership in other fields?
Robyn Golden: Dedication, insight and passion are the key ingredients for a leader in the field of aging. The field is grounded in the uniqueness of aging, and reflects the older adults that we serve. To lead, there has to be an understanding of the uniqueness of our services in that older adults differ from other populations, and you have to know the content concerning older adults, and you must have experience in the field. You cannot just walk in and lead an organization. 
The passion of it all really has to come from the top down. This field requires a lot of patience, but there are great benefits that come with it—you are constantly gaining wisdom, and making a difference in the world. And there are complexities. If you appreciate the complexities and know the field, the staff will appreciate its specialness, and the quality of work will be better. 
To be a leader in this field, hopefully you were mentored by those who came before you and are mentoring those who come after. There is no greater measure of a leader than that, and it all happens at ASA, which I thank for my career. The people I have met who are now my colleagues and friends are the most generous and thoughtful group of professionals anywhere.
ASA: How did you use networking to progress in the field of aging?
Robyn Golden: A perfect example is I would go to the ASA conference, and hear about an initiative in Texas and contact them and they would say, "Of course we'll tell you more, and we'll send you our proposal and you can run around Chicago with it to your potential funders." 
You're constantly borrowing ideas, getting support, encouraging each other and sharing intelligence. You might not think someone would be open to sharing, but since the beginning I've been building trusted relationships both at the state and national levels and it has made an incredible difference in my work and career. Networking is everything.
My finest example of this was speaking to Bob Blancato, one of my mentors, as I was thinking about next steps in my career. He suggested a policy fellowship in DC on health and aging. I applied, received it and it was life changing—truly the best example of networking in my life!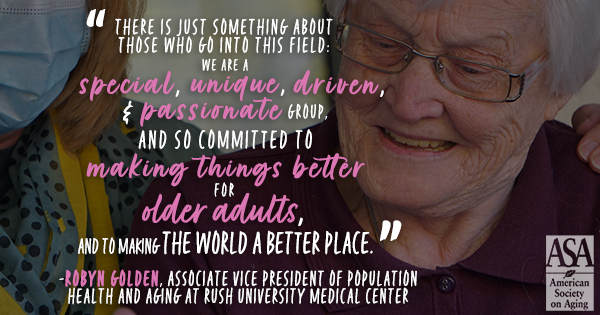 ​
ASA:What sort of education did you find most helpful?
Robyn Golden: Both the clinical learning, how to be better practitioner and learning how to be a better supervisor, and then about how to lead. You must realize that leadership is different from management. You have to make sure people know you're concerned about their growth and development.
Mid-career I've embraced the importance of research and policy. If you do not build the evidence to influence policy, you will not have policy change. And if you can't impact policy change, then you'll have services that end unnecessarily, and you will not be able to get them into the mainstream.  
ASA: What do you think is the most critical skill to have as a leader?
Robyn Golden: Listening, self-reflection, strategic thinking and vision.
ASA: Can you speak to one leadership challenge encountered on the job and how you met it?
Robyn Golden: The hardest thing is when the viability of your programs is being questioned. When you have not made a good enough business case for the programs and they are being challenged regarding viability. 
You try not to be defensive, and try to build a business case in a way that's logical and directed toward the key stakeholders. Plus your programs need to match what those stakeholders care about, and their goals. Then you try hard to be authentic and realistic, not forced, and communicate on an even keel about the value and value-add that your services bring. 
ASA: What might you say to inspire younger potential leaders in the aging sector?
Robyn Golden: The best thing they can do for their careers is to go into aging. There is just something about those who go into this field: we are a special, unique, driven and passionate group, and so committed to making things better for older adults, and to making the world a better place. Because we are all going to be old, and we all know that the services we have developed so far are not even what we would necessarily want—so we have a lot of work to do. 
It is a great arena in which to do that work if you care about making a difference. I cannot say enough about how meanigful it is, and the people you meet, there is nothing like them. If you choose to be a leader you will have a lot of mentors. And you will be forever fulfilled.