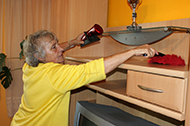 By Crystal McGaha
Family members often play a critical role in helping to ensure loved ones continue to define their purpose and achieve their potential following major life transitions, such as relocation to a senior living facility. Older adults transitioning from their homes to assisted-living and long-term care facilities often experience high levels of emotional distress, which can result in long-term manifestations of depression, apathy, anger, anxiety, and decrease in overall well-being when left unaddressed.
Prior to moving an elder loved one, family members can encourage a sense of fulfillment at this stage in an older adult's life through active involvement in the placement and transition process, helping to ease psychosocial stress. Family members play an important role throughout the process of relocating an older loved one, assisting in creating a vision; providing support, guidance, and direction; seeking to meet needs and preferences; handling safety concerns; attempting to eliminate fears and drama; and encouraging open communication.
In order to assist an elder loved one in making a smooth transition to a new living environment, it is important to seek every opportunity to find and create an environment where the elder will thrive and feel comfortable. Sometimes, it may be comforting for an elder to recreate a living space as similar to the old environment as possible. Family members can prepare for the psychosocial stress of moving an older loved one by effectively and regularly communicating why moving is going to be the best decision according to the situation, answering questions, and allowing as much time as possible for the individual to emotionally adjust and prepare for the transition.
As an elder loved one begins to settle in a new living environment, family members can assist in helping to ensure sense of fulfillment by maintaining positivity, emphasizing and identifying that there are things to look forward to, following through on promises, encouraging the elder to embrace their new home, and demonstrating love, honor, and respect throughout the process.
In a manner appropriate to the individual situation, family members may use guided questionnaires or free-flowing conversation to identify where their elder loved one finds hope and inspiration, and encourage the individual to share feelings and beliefs associated with their individual life's purpose. Equally important is knowing the activities and goals a person would like to participate in or achieve. An elder's desire to access spiritual or religious practices, and arrangements to support this, are also important.
Small details can make major differences in comfort level and personal fulfillment during and following the transition process. Such details can include food selections to meet personal preference and to encourage well-being, décor to meet personal preferences and to encourage relaxation, personal care options (such as hair, skin, nails, and massage) to improve outward appearance and sense of well-being, and improvements to the overall living environment to promote comfort, healing, and well-being.
When an elder expresses desire to be creative or to become involved with an activity, their support network should work to make that possible for them, according to the person's abilities. To further facilitate sense of purpose for an elder loved one, family members can stimulate learning and self-expression, promote dignity, create opportunities for their loved one to build connections with others, and encourage overall health and well-being through involvement in lifelong learning programs, animal visitation programs, mentoring opportunities, connections with grandchildren or "step-grandparenting" programs, life story/legacy building, adult day programs, and any other activity that contributes to the elder's well-being.
Establishment of expectations is one of the key elements in assisting clients and their loved ones in handling the emotional distress associate with moving. Family members can ease the psychosocial stress of relocating an older loved one through the assistance of geriatric care management services, social services, and/or senior move management services. Locating community moving resources, making arrangements for assistance needed before moving day, assessing and staying within financial limits, and arranging for pre-move field trips to a new living environment will also lessen the stress related with relocation. The transition to assisted living can be a very stressful, difficult task for everyone involved, although planning ahead and making decisions before circumstances require decisions (with little time to plan) eliminates unnecessary hassle and heightened distress. Formulating a vision for transition as early as possible and taking time to create a step-by-step formula for ease through transition is vital as you seek to reduce the psychosocial stress of moving.
Crystal McGaha is working towards her MA in gerontology with a concentration in professional geriatric care management through Nova Southeastern University. She has a BA in complementary and alternative health with a minor in human resources management. Her goal is to combine her knowledge in alternative health and human resources management with gerontology to offer the aging population unique, yet very important care initiatives, life planning, and health promotion opportunities. Contact her on LinkedIn or email crystal.m.gero@gmail.com.