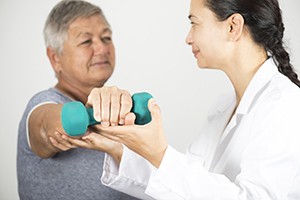 By Janis Orlowski and Michael Dill 
It is a common enough tale. A concerned daughter needs to find a new primary care physician for her parents. They live in rural Wisconsin, two hours west of Green Bay. The number and frequency of their health concerns are growing. They need an accessible and reliable point of contact within the healthcare system—someone who knows them and their health history. After an exhaustive search, she finds there are no physicians with availability near them, despite the fact that they have excellent insurance coverage. The closest physician she can find is two to three hours away in Milwaukee. At this point, her parents opt to return to the care of their former pri­mary care doctor in the Chicago suburbs, where they used to live. While the Chicago physician is even farther, at four hours away, her parents feel that the extra hour is worth the drive to see some­one who already knows them. 
Lest any of us think that we might have been more successful, the distraught daughter in question is one of this article's authors: a physician, chief health care officer at the Association of American Medical Colleges (AAMC), and former chief medical officer of a major health system and medical school executive dean. 
Hard-to-Find Care in Rural America
The truth is, finding a physician in rural America who can accommodate a new patient is difficult under any circumstance. Access to healthcare in rural areas, where the age of the population is older than in urban and suburban regions, is increasingly problematic
. Data from the AAMC's Consumer Survey of Health Care Access 
show that in 2016, Americans living in rural communities were seven times as likely as those in urban areas (and three times as likely as suburbanites) to report that they were never able to get the healthcare they needed. This was espe­cially true among the rural poor, in which as many as one out of six of the nation's poorest rural resi­dents reported never being able to get the care they needed. Among those who could not access care, rural Americans were twice as likely as others to report the reason as not being able to afford it, and three to five times as likely to report a transportation problem as the cause. 
When reflecting on the limited access to healthcare available to an aging rural America, it's important to remember the rural physician workforce is aging as well. Analyses of American Medical Association data show that more than a third of the nation's physicians are within a decade of retirement age, and as of 2015, rural doctors were, on average, two years older than their non-rural counterparts. 
The Census Bureau reports
that 20 percent of the U.S. population is rural, but only 12 percent of primary care physicians are working in rural areas (and only 8 percent in other specialties). Moreover, the number of physicians practicing in America's rural areas is on the decline. From 2013 to 2015, the overall supply of physicians in the United States grew by 16,000, but the number of rural physicians dropped by 1,400. Consequently, while the national supply of physicians has been rising, it is driven by growing concentrations in urban areas. In rural areas, the number of doctors per capita is declining. 
If these trends continue, they portend a deepening crisis. Just as rural America is aging, and in need of more complex healthcare, its physicians are readying for retirement. Replacements will be hard to find.
The nation's medical schools are striving to meet this need by increasing enrollment
, but they simply cannot meet the demand entirely on their own. Medical school enrollment in the United States has risen 28 percent since 2006, but without similar growth in the nation's graduate medical education (GME) capacity, it will not translate into more new physicians. 
Immigrant Health Professionals Help Address Shortages
For many years, foreign-born physicians have played a key role in addressing gaps in high-need areas, but this, too, is facing its own challenges. A recent analysis found that more than one in four physicians practicing in the United States was born in another country. The analysts also found that doctors from the countries affected by the recent Executive Order on travel are con­centrated in the Midwest and Appalachia,
providing 2.3 million patient visits per year in areas with physician shortages
. This is why the
AAMC led 21 other health-related organizations in filing an amicus brief arguing against the travel ban
: immigrant health professionals contribute significantly to the health of the nation and help ad­dress its health professional shortages. International medical graduates are filling crucial needs in rural and underserved urban areas across the country, as well as contributing to a more di­verse medical workforce. 
Physician training that explicitly targets rural practice, like the
Wisconsin Academy for Rural Medicine
 and the
Leadership in Rural Medicine
 program at Michigan State University, which has since 1974 been training doctors to practice in rural areas, will also need to be maintained or even expanded. The federal cap on GME funding will need to be raised. And the role of technology in improving access will require constant investigation and in­vestment. Also, interprofessional care—team-based care involving multiple health profes­sions—will need to be expanded. 
Four hours is too long for anyone to have to travel for a check-up.
Janis Orlowski, M.D., M.A.C.P., is chief health care officer at the Association of American Medical Colleges in Washington, D.C. Michael Dill, M.P.A.P., is director, Workforce Studies, at the Association of American Medical Colleges. 
Editor's Note: This article appears in the September/October, 2017, issue of 
Aging Today,
 ASA's bi-monthly newspaper covering issues in aging research, practice and policy nationwide. ASA members receive
 Aging Today 
as a member benefit; non-members may purchase subscriptions at our online store.