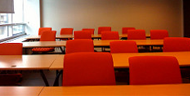 By Ann C. Wilder
Incorporating content on LGBTQ+ aging populations into the social work curriculum can be challenging, especially when teaching students in a region known for discrimination and prejudice toward LGBTQ+ individuals.
I teach in deep East Texas, which lies behind the "Pine Curtain," and dates back to the early 1800s, when the majority of landowners were slaveholders in what was Stephen F. Austin's colony. It has a rich ethnic diversity and tradition with Anglo, African-American, Cajun and Creole cultural influences, and is considered part of the Old South.
Teaching Tolerance
Social workers cannot discriminate against LGBTQ+ populations, so information on sex, gender, sexual orientation, gender identity and expression is fundamental to the social work curriculum. When faced with the challenge of educating students living in deep East Texas, I decided to explore how to accomplish integrating LGBTQ+ material into human behavior in the social environment (HBSE) curriculum with tolerance and respect toward everyone in the diverse classroom.
Approaching tolerance from an ally-ship perspective became my primary strategy. This article explores examples of integrating LGBTQ+ curriculum relevant to the aging population, and is geared toward Millennial students, as a way to encourage emerging social work professionals to develop an increased tolerance for LGBTQ+ elders.
As a gerontologist teaching in a CSWE-accredited MSW program, my obligation is to uphold the NASW (National Association of Social Workers) Code of Ethics and help to integrate aging-sensitive material into the approved curriculum. It is an exciting pedagogical opportunity to present materials about meeting the needs of LGBTQ+ elders to Millennials emerging as social work professionals. Some students come to this area with plans to work at the MSW level in Texas and neighboring states, and many stay and are deeply connected to the cultural roots of the region.
Classroom diversity creates opportunities for teaching tolerance and acceptance of gender based non-conformity. Faced with strong barriers of prejudice from a community with dominant attitudes of older generations, I constructed thought bridges to broaden students' horizons. Bridge construction was based on a historical context related to social justice (what is the history of gay rights?), personal relativity (how does this impact me now?) and ally-ship (who else on campus can talk about the importance of LGBTQ+ aging sensitivity?). Through collaboration with a Safe Space trainer, and unapologetic grit, I presented classroom materials in ways that create acceptance and meaning for a generation that often looks at social problems primarily from a perspective of personal relevance.
Historical Context for LGBTQ+ Baby Boomers
The Baby Boomer generation (1946–1964) is now turning 65 in record numbers. Approximately 71 million people were born in that almost 20-year span. LGBTQ+ older adults in this generation survived an era with significant prejudice and societal oppression that threatened their safety and that of their partners, families and loved ones. Fighting for their lives created a level of fear around coming out that is still very real to them. These fears often resurface when they seek healthcare, search for assisted living, face retirement and when family members become involved in late-life decisions. All of these situations can exacerbate relationship tensions that sometimes have remained unresolved in families for years.
This generation of LGBTQ+ older adults not only fought for decades to bring about marriage equality, but also they lived through riots, experienced police brutality, kept relationships closeted in secrecy for fear of sodomy laws, survived coercive tactics of conversion therapies and weathered the HIV/AIDS epidemic.
These conditions significantly affected migration and population demographics for LGBT adults in the United States during a time when leaving by any means possible meant survival for those confronted by bullying, discrimination and unaccepting families bent on conversion therapy. Openly discussing this history with Millennial social work students is critical to help them understand the psychological impact of this history on older LGBT adults. These elders may more easily be able to come out now; but may also choose to remain closeted when faced with sensitive life-course decisions.
Younger Generations and LGBTQ+ Elders
Asking the question: "How does this impact me now?" creates an opportunity to connect with Millennial students by using examples they can relate to. It is important to explore the idea of how social workers can help LGBTQ+ elders age with dignity.
Hearing students who have grown up with openly gay talk show hosts and television programs featuring openly gay characters say, "People don't have issues with being gay anymore…" was both hopeful and disconcerting. Bridging this generation gap by explaining social justice and the history of gay rights in different regions of the United States was crucial. As was placing the issue under the umbrella of social justice to drive home the importance of concerns over safety and fears that can still exist for LGBTQ+ elders.
Explaining why there is a need to care for and protect older adults in our society, and even more so for older adults from marginalized populations, was key in relating the needs of this population. Teaching this from the developmental life-course perspective of older adulthood as part of the material in a master's of social work HBSE course sequence has been well-received.
Ally-Ship in the Classroom
Presenting sensitive information about sex, gender, sexual orientation, gender identity and expression can be uncomfortable for students and instructors. But out of discomfort comes an opportunity to support students of all backgrounds and belief systems. One way educators can enhance tolerance and increase ally-ship is through collaborations with Safe Space/Safe Zone training. These trainings are typically available in institutes of higher education with a stated mission to help create safe and supportive campus environments for LGBTQ+ students, and achieved primarily through educating and creating allies.
Collaborating with a Safe Space trainer can help reduce student discomfort, because it's a co-teaching, supportive model between trainer and instructor. Trainers can also employ active learning strategies to help social work educators presenting sensitive information.
Integrating films that highlight regional issues, such as 2006's Small Town Gay Bar, which shines a light on the ignorance, hypocrisy and oppression of gays in the Southern United States and 2013's The New Black, which details the response of the black community to the fight for marriage equality, is an illuminating exercise for students.
To facilitate ongoing classroom discussions, it's wise to employ active learning tools such as Gender Vocab BINGO, Genderbread Person and Exit Cards. These instructional methods have all been successfully used in explaining concepts related to sex, gender, sexual orientation, gender identity and expression when teaching about LGBTQ+ elder adults throughout the life span development process.
---
Ann C. Wilder Ph.D.c, L.C.S.W., M.S.S.W., is an assistant professor in the School of Social Work at Stephen F. Austin State University in Nacogdoches, Texas. 
Image via Flickr user, jakecaptive.