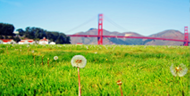 By Daniel Redman
This past June, San Francisco's Board of Supervisors passed an ordinance establishing a task force on issues affecting lesbian, gay, bisexual and transgender (LGBT) elders; LGBT Supervisors Scott Wiener, David Campos and Christine Olague sponsored the bill. The task force will address housing, legal equity, research and demographics, social services and inclusion of elders within the community. The Board selects the 15 task-force members in September, and they will have 18 months to investigate the issues and report back with their recommendations.
This is a big deal. The task force will report directly to the Board of Supervisors, and the Board is primed to act. Wiener wrote in a recent newsletter, "It is important that the city ensure that our aging LGBT population, the same people who built the modern LGBT community, has access to housing, healthcare and other key needs."
Following a packed hearing on LGBT elder issues last January, the Supervisors expressed their determination to follow through on task-force recommendations. "We don't want to start a task force just for the sake of it," Olague told the Bay Area Reporter, a San Francisco LGBT newspaper. "Where legislation is needed, we are ready to introduce it," added Campos in the same article. Issues affecting LGBT elders of color will be front and center. A community meeting on July 26, Setting the Agenda: A Community Meeting about Issues facing LGBT Seniors of Color, collected testimony from LGBT elders of color and service providers.
Housing, Social Services and Legal Issues
The task force has a big job ahead in the areas of housing, social services and legal protections.
Housing is a key issue in San Francisco—a city with soaring rents, scarce affordable units and a dearth of rentals accessible to people with disabilities. These factors are forcing some LGBT elders to move out of the city, a trend coinciding with the out-migration of African Americans of all sexual orientations and gender identities.
"For many LGBT seniors, San Francisco was a place they could feel free and be among other LGBT people for the first time. Many speak of their experiences of isolation before moving to San Francisco as young adults and are now fearful of being priced out of the city they've called home for decades," says Michelle Alcedo, director of programs at Openhouse, a Bay Area nonprofit serving LGBT elders' housing and other needs.
For LGBT elders who lack connection to biological family members and whose "family members of choice" (friends, partners, lovers) are facing medical challenges, social services like those provided by Area Agencies on Aging, senior centers and home-based care can mean the difference between independence and institutionalization. California laws forbid discrimination, but how well are they being enforced? People older than 50 will soon comprise the majority of people with HIV nationwide; new policies and training are needed to ensure services are available.
"The city is in a state of preparation as awareness and interest in the topic increases," says Rick Appleby of the Institute on Aging and the San Francisco LGBT Community Partnership. "But there is much left to do."
Enforcing old laws and crafting necessary new laws are top priorities. Many LGBT elders have not married or registered for domestic partnership. How can these families protect themselves from discrimination? How can we better protect LGBT elders from abuse—financial and physical—and how can local law enforcement, city and state agencies help? Are there better ways to assure compliance with laws at the state and federal levels mandating nondiscrimination in benefits, long-term care and Area Agencies on Aging, among other services?
"LGBT elders' families face discrimination and harassment in a variety of contexts. We need to look at all of these circumstances and see what new laws and policies we can propose to remedy them," says Bill Ambrunn, a Bay Area–based attorney and longtime LGBT activist.
Good Data, Intergenerational Programming Needed
Data on LGBT elders remain sparse and incomplete. How can San Francisco better include LGBT elders in data collection, so we can know what services and help they most need? "Local aging policy and service providers are faced with incomplete information because questions regarding sexual orientation and gender identity do not consistently appear on city and agency surveys," says Dr. Marcy Adelman, a longtime LGBT elder advocate. But there's a solution, Adelman says. "Comprehensive and current San Francisco data are key to developing smart policy and providing appropriate and effective services." The city has committed funding toward this effort, and the results will have a great impact on policy.
Intergenerational programming is crucial to making the LGBT community fully welcoming to elders—and the Bay Area has many exciting programs already in motion (see "Can intergenerational interaction ease ageism in the LGBT community?" in Aging Today, March−April 2012). What can be done to strengthen and expand this work to fight ageism and create a truly inclusive LGBT community?
"As the most diverse age group, older adults experience greater variations in health, physical and mental capacity and overall functioning than any other group, so as a community, we need to think creatively about what we mean by 'intergenerational'—to forge relationships, not just between youth and seniors, but among LGBT community members across the lifespan," says Alcedo.
With this task force and the vigorous support of city government, San Francisco is taking a groundbreaking step toward putting the needs of LGBT elders at the top of its priorities—a step well in line with San Francisco's past—and exemplary—leadership on LGBT issues.
---
Daniel Redman is an attorney in the Elder Law Project of the National Center for Lesbian Rights, San Francisco, Calif.
Editor's Note: This article appears in the September/October 2012, issue of Aging Today, ASA's bi-monthly newspaper covering issues in aging research, practice and policy nationwide. ASA members receive Aging Today as a member benefit; non-members may purchase subscriptions at our online store.