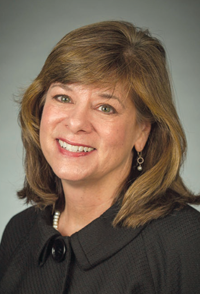 Editor's Note: This past January, ASA surveyed its members about what it takes to be a leader in the field of aging, what members would like to learn about how to develop leadership knowledge, skills and abilities, and who best personifies leadership. ASA members identified respected leaders in aging—many of whom are well known to the ASA community and to the field at large. The following Q&A with Sandy Markwood is the second in a series of leadership profiles we will feature in the coming months.
Since 2002, Sandy Markwood has served as CEO of the National Association of Area Agencies on Aging (n4a), in Washington, D.C., supporting n4a's Board of Directors while leading the organization and staff to meet its mission to help older adults and people with disabilities to live with dignity and choice in their homes and communities for as long as possible.
"We focus on advocacy," Markwood says, "[and] one of the primary goals of the organization is building the capacity of our membership base to be able to do the great work they do in the community. It's a privilege to be able to support a network of aging professionals on the ground, every day, serving older adults and people with disabilities and their caregivers.
"Every day it's a different job as different issues arise, whether on Capitol Hill or at the state level or in an issue with the Eldercare Locator help line. I love my job."
ASA: How might you describe the way leadership in the field of aging differs from that in other fields?
Sandy Markwood: Prior to coming to n4a, I worked for 25 years at local government associations—in aging, but also in healthcare and community development and transportation. I thought I had met the most committed people in the world, and I still have the highest respect for anyone working in local government. But I have never worked with people who have such passion and commitment for the work they do as I have in aging. It's my job to honor and respect, but also to funnel that passion to others. The difference here is who we serve. From a leadership perspective, my goal is to elevate, amplify and ensure people understand the needs of older adults.
ASA: How did you use networking to progress in the field of aging?
SM: When I worked at the National Association of Counties, I led the children's coalition; the mantra was that it takes a village to raise a child, and the same applies here: it takes all aging organizations coming together to be able to ensure that older adults get the services and supports they need and are valued to the degree they deserve. To succeed, it takes understanding what you bring to the table, and honoring and respecting what others bring, and recognizing that you're stronger together.
ASA: What sort of education did you find most helpful?
SM: I have a Master's degree in urban environmental planning, but I have relied on the skills and mindset acquired through work in urban planning (I had a specialty in social planning) my entire career. How you look at and assess a community, how you determine who the stakeholders are—you're always looking at it from the lens of bringing people together to solve problems, plus project management.
ASA: What do you think is the most critical skill to have as a leader?
SM: You know the saying, "Manage things, lead people"? I think it's inspiration. You have to have a vision, but you also have to have the ability to bring people together to work to achieve that vision. And though inspiration is critical, it's not the only critical skill.
ASA: Can you speak to one leadership challenge encountered on the job and how you met it?
SM: One of the major moments for me occurred after the passage of Medicare Part D in 2003, and its launch in 2006. The Administration, the Administration on Aging (AoA) and CMS saw a role for the aging network in the rollout of Part D. They asked for the aging network to organize and increase awareness about Part D, and start the enrollment process. N4a was chosen to lead the coalition (with incredible partners) and come together as a network to achieve the goals AoA and CMS set for us. Not only did we achieve those goals, we exceeded them by 200 percent. To this day, I'm very proud of the collaboration we formed and the work done to achieve those goals.
AT: What might you say to inspire younger potential leaders in the aging sector?
SM: When new staff are coming into our agency, even if they are a step away from direct service, we always provide them with an opportunity to go to an area agency on aging and see the programs and see the people being served. That's the most powerful way to be inspired, to put faces and stories to the people involved in programs. Once you see the people … you can't help but be inspired, it ignites a passion in you to ensure that those who have lived a long time will be able to live out their years as well as possible—to live in the ways they deserve to live, and to be supported.