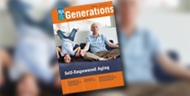 In a fortuitous bit of timing, the May 2015 50th anniversary of Older Americans Month coincides with the publication of the Spring 2015 issue of Generations. It's fortuitous because both the golden anniversary and Generations focus on how older adults can take charge of their lives and remain engaged. For more information on what you can do to celebrate and foster the 50th anniversary of Older Americans Month in your community, click here.
This edition of Generations addresses how to help older adults help themselves in all aspects of aging. Exploring the latest in technology trends, financial issues, and with several articles on health and medicine including complementary medicine, it acknowledges how the Baby Boom Generation will not age as others have, while also living longer, and proposes ways to take advantage of increased lifespan.
Charlotte Yeh, M.D., chief medical officer of AARP Services, Inc., explains how people ages 50 and older are better positioned now to influence and take more responsibility for their healthcare, and have a firmer grip on how all aspects of their lives affect health. This means they may well be telling physicians how they'd like to be treated, as well as disclosing details on their psychological and social health. All this self-empowerment has led to new models of healthcare, too, which must take patient values into consideration in treatment.
Self-empowered patients also do more research, including on their own genomic code. Colleen McBride of the National Human Genome Research Institute tackles the thorny issue of direct-to-consumer genetic testing—who takes the tests, what do they learn, what might their reactions be. It's a limited pool of generally educated and privileged older adults who look into their own genetic proclivities, and it will likely be years before the average consumer can make use of the tests.
There has been a lot of encouraging news when it comes to transparency in healthcare provision. In an interview with Dr. Martin A. Makary, Generations readers get an in-depth look into how hospitals and physicians' offices are becoming more transparent in surgical outcomes, infection rates, and doctors who fall outside the norm in cost or outcomes. Makary also sees an upswing in patients who are more educated about care in general, and are more willing to ask questions and demand understandable answers.
Knowing which questions to ask can be a challenge for older adults who have trouble finding and understanding the information available on health and medicine. Diana Stillwell demonstrates why it is so important for providers to consider their patients' levels of health literacy when explaining care options, as well as making sure patients' values are part of the discussion. 
Paul Irving from the Milken Institute takes on ageism, especially as it pertains to older adults in the workforce, and how it limits us as a society from making use of the giant resource that is the knowledge and experience of older workers. Beyond educating employers in what is necessary to keep older workers engaged, the solution lies in lifelong learning and late-life entrepreneurship.
ASA is pleased to offer this latest issue of Generations, which will be reaching ASA members and subscribers in May. Single copies can also be purchased from our website.
Inside this Issue
Toward a New Concept of Aging
Disrupting Aging
By Jo Ann Jenkins
Fostering a New (More Self-Empowering) World View on Aging
By Charlotte Yeh
read on AgeBlog
The Right Why: The Surprising Start to Cultivating Sustainable Behavior Change
By Michelle Segar
Empowering a Chance for Change: The Alchemy of Behavioral Economics
By Jordan Goldberg
Levers of Control
America's Evolution Toward Wellness
By Bill Walsh
Brain Health for the Self-Empowered Person
By Paul D. Nussbaum
Solving the Brain Fitness Puzzle Is the Key to Self-Empowered Aging
By Alvaro Fernandez
Personal Genomic Tests for Healthy Aging: Neither Feast nor Foul
By Colleen M. McBride
read on AgeBlog
Can Technology Empower Older Adults to Manage Their Health?
By Sara J. Czaja
New Technologies Hold Great Promise for Allowing Older Adults to Age in Place
By Janet M. Marchibroda
Americans' Active Quest for Health Through Complementary and Integrative Medicine
By Josephine Briggs
Truth and Transparency: A Conversation with Dr. Martin Makary on Fairness, Patient Choice, and Optimal Outcomes
Who Pays—and How? Advocates Can Help Older Adults Navigate the Complexities of American Healthcare
By Derek J. Fitteron
Self-Empowerment in Later Life as a Response to Ageism
By Paul Irving
read on AgeBlog
The Implications of Self-Empowered Aging
Tending to the iPatient: Or How Can Clinicians Balance the Electronic Age with Good Patient Care?
By Cheryl Phillips
Patient Health Literacy, Electronic Health Records, and other Challenges of Modern Medicine: A Conversation with Dr. Danielle Ofri
Health Literacy and Numeracy: The Overlooked Challenge for Elders Who Want to Guide Their Own Healthcare
By Diana L. Stilwell
read on AgeBlog
Reaching Empowered Aging Through Reducing Health and Financial Disparities
By Harold A. Pollack
Health Information Privacy in a Changing Landscape
By Linda Koontz