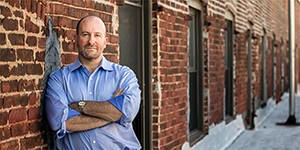 The winner of the 2017 Gloria Cavanaugh Award for Excellence in Training and Educa­tion is Thomas Kamber, executive director of New York-based Older Adults Technology Ser­vices (OATS), for OATS' Senior Planet training program. The
award
is given to an individual or organization that demonstrates continued training and education excellence in the field of aging, makes significant, long-term contributions to the field and creates visibility for exemplary training and education. 
Tom Kamber, founder and executive director of Older Adults Technology Services (OATS), never underestimates what an older adult is able to—and will—learn. He truly believes that tech­nology can change lives, and, through his work with OATS, has helped more than 20,000 older adults get online, built more than 30 free technology centers for elders to receive instruction, created the seniorplanet.org digital community and launched the Senior Planet Exploration Center— the nation's first technology-themed community center for older adults. 
The OATS project that garnered the 2017 Gloria Cavanaugh Award is the Senior Planet training program, launched in 2004 to pioneer training and education models that use technology to change the way people age. 
A lifelong activist, Kamber is passionate about helping elders. The idea of teaching them how to cope with and learn through technology came to him after years of working in the low-income hous­ing sector. He had been working on a project to build a website meant to reconnect people disrupted by the events of 9/11, but when 80-year-old Pearl came in and said she didn't know what the Web was, nor was she comfortable with the idea of it, he said, reflexively, "I can make you comfortable!" 
Pearl's plight fired Kamber's enthusiasm about teaching technology to older adults. After working with her for a year, he realized that aging is where all the action is. "If you want to make a difference, the longevity revolution is a great place to start," he says. Kamber notes that teach­ing tech to older adults makes sense, "like [combining] chocolate and peanut butter—it's a grow­ing population with ongoing, increasingly challenging needs, and if I meet that need how can I not be successful?" 
The Genesis of Senior Planet
When starting Senior Planet, Kamber first developed a training methodology based on a "theory of change" model, and wrote a 30-hour basic curriculum. The aim was to have an impact on five key aspects of elders' lives: creativity, civic and social engagement, health and financial security. 
Kamber wanted his OATS instructors to possess superior communication skills and to have empathy around aging. To ensure quality, he pays them well. "Training [elders] to use technology should not be taken lightly," he says. "If they want to start a business or write a book, it's a once-in-a-lifetime opportunity to do something special for that person. You can't stick them in a room with a bad curriculum, in a program run by volunteers with no training or support." 
Senior Planet has a central flagship location and satellite sites across New York City, and a citywide team that organizes trainers and builds labs to run networks, funded mainly through city govern­ment. With this structure in place, Kamber plans to scale the program to reach many more than its current 5,000 to 6,000 people in the city: "New York City has a million seniors, but what about the rest, what about those who live in rural areas?" he says. 
Kamber now has a program in Montgomery County, Maryland, that teaches older adults in senior centers and libraries—and grants access to the OATS curriculum for the entire county; as well as a rural program with sustainable funding in Plattsburgh, New York, where OATS in-stalled a digital media center, which has sample devices, from iPads to Amazon's Echo, plus a telepresence robot, for physically isolated, low-income older adults to test out. The center also runs a program linked via video to Manhattan, so people in Plattsburgh can take classes with Manhattanites. 
Teamwork Works!
Healthcare was on Senior Planet's radar as a topic popular with elders, but OATS went through three iterations of healthcare-related classes—versions that did not pan out—before finding the sweet spot. One had a drab curriculum, another, in partnership with a hospital, tried to tackle the overly complicated topic of digital health records and a third aimed to address health literacy. 
So Kamber thought, why teach older adults about healthcare technology if no one wants to learn about it? Then, he had an epiphany, stemming from his own experiences of being on a bike racing team. Students needed to feel they were part of an enterprise; why not Team Senior Planet? 
Thus, a fun, team-based fitness/wellness program was born. Participants wear team T-shirts all across the city, clocking hours in gyms, all measured via Fitbits, competing and sharing progress about how much time they've spent exercising. "They're out in communities taking over gyms … they're on treadmills, on bikes, laughing," says Kamber. Hundreds have signed up and he's hoping to turn that into thousands. 
Evaluation and Accountability Are Key
To better serve older adults, and teach them what they want to learn, Senior Planet has been doing customer evaluations since day one. "We've done 10,000 or 20,000," Kamber says. Evaluations ask questions about participants' confidence in living independently, or how well they're now able to connect to family. Older adults mostly love the program—and the trainers—even to the point of saying that both have changed their worlds. 
OATS is serious about measuring outcomes, and has developed five questionnaires for each area of desired impact. Working with Erin Cornwell, an assistant professor and researcher in Cornell University's Sociology Department, OATS created five surveys of 40 questions each, to compute baseline data and variance. "We need to [be] systematic, so [we] can be held account­able by data," says Kamber. 
The Work Goes On
Winning the Gloria Cavanaugh Award for Kamber has been a validating experience. When he started OATS fourteen years ago, he felt a bit like a round peg in a square hole—an outsider in the field of aging. Technology instruction didn't fit neatly into the meals delivery or senior center boxes. 
"I've been to [Aging in America] a million times, and I always learn so much from people in the field. I'm always willing to share, have partnered with hundreds of organizations. But when we won the award, it felt to me … like being an immigrant [in] a place you love and suddenly becoming a citizen. We had been accepted," says Kamber. "Working in aging, there's nothing more important," he added. 
So, 10 years down the road, will older adults eventually outgrow a need to learn about tech­nology? Not a chance, says Kamber: "Until we have defeated ageism, and there is a new set of practices and institutions and programming built around the longevity revolution that allow people to live with dignity and choice and respect, we are going to have an endless landscape of opportu-nity to make a difference."
Tom Kamber is founder and executive director of OATS. 
Editor's Note: This article appears in the September/October, 2017, issue of Aging Today, ASA's bi-monthly newspaper covering issues in aging research, practice and policy nationwide. ASA members receive Aging Today as a member benefit; non-members may purchase subscriptions at our online store.