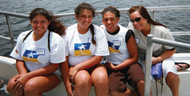 America's Only Youth Caregiving Group
Illumines a Silent Epidemic
By ASA Staff
It wasn't until a therapist asked Connie Siskowski about her experience as a young caregiver to her beloved grandfather—if she thought it was normal thing for a kid to do—that Siskowski realized it wasn't.
Early one morning, when she went to give her grandfather his medication, she found his lifeless body. Siskowski was only 13 years old.
She recalls that night like it was yesterday. Back then there was no recognition of a child's grief, or of the caregiving role, so it has become Siskowski's calling as president and founder of the American Association of Caregiving Youth (AACY) to help young caregivers. Her group, founded in 1998, evolved into the first and only program that identifies and supports caregiving youth in the United States.
In 2001, when Siskowski went for her doctorate, she chose as her research project a study of the prevalence of family caregiving in Palm Beach, Fla. Working with a local school district, she found more than one-third of high-school-age caregivers had issues with missing school and not doing homework because of caregiving duties, but "no one wanted to believe the information at the time."
Numbers Tell the Story
In 2005, the National Alliance on Caregiving released a report revealing that in the United States there are 1.3 to 1.4 million kids, ranging in ages from 10 to 20, who are caring for sick or disabled relatives, with about one-third taking care of a grandparent. Siskowski now had statistics to go with her story when approaching funding sources. The Bill and Melinda Gates Foundation then conducted focus group research that became the 2006 report, The Silent Epidemic, which showed that 22% of high school dropouts leave school to care for family members.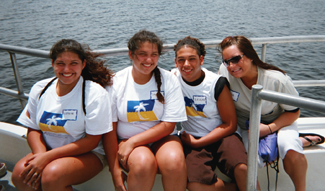 Young caregivers take a break on an American Association of Caregiving Youth deep sea fishing trip. Photo courtesy of Connie Siskowski.
Siskowski's original study and the Gates Foundation report were critical to getting funding for her new association. Upon finishing her degree, she created a foundation that became the Caregiving Youth Project. Using her original research to identify schools that needed help, in 2006 they began their first program at Boca Raton Middle School in Palm Beach County.
The AACY now has 395 active students and works with eight middle schools. Working in partnership with local school districts, the AACY goes into schools to help students with skills building, and provides much-needed support. It gives caregiving kids an opportunity to stay connected, to learn they're not alone.
Young Caregivers' Unseen Burden
Feeling isolated is one of the burdens of caregiving, especially in families that have trouble seeing how caregiving affects kids. In some families the kids slip into the role out of necessity because parents work, in others they soak up stress as observers. The AACY visits willing families at home, to "help strengthen the family and reduce the load on the child," says Siskowski. "Often kids have tried to protect the family from what's going on with them."
And sometimes, life crumbles for adults, and kids step into primary caregiving roles. When her younger sibling died of meningitis and her parents succumbed to depression and alcoholism, AACY volunteer Laurie Connors says of her youth, "I became the caregiver to hold things together for everyone involved. Yes, it taught me valuable life skills. But the cost I have paid has been enormous. If I had someone to talk to, or if I could have known that I was not alone, life would have been different."
Even some AACY board members, like Walmart Corporate Affairs Senior Manager Ronnette Smith, are drawn to Siskowki's work because of personal experience. Thrown at age 11 into the role of caregiver for her diabetic mother, Smith says she grew up on edge, not carefree, as adults in her family didn't understand how to manage her mother's illness. It was up to Smith and her then six-year-old sister to learn how to revive her from a diabetic coma and accompany her to doctor's appointments. They never knew when they might be called home from school because their mother's blood sugar had crashed.
When her mother wasn't sick, however, she instilled the belief that nothing is impossible, and gave Smith strength to handle her immense responsibilities. "When Connie [Siskowski] told me about the kids with full-time responsibility of two grandparents, tending to their activities of daily living, my heart went out to these kids. That's what drew me to AACY," Smith says.
The AACY also helps with practical matters. On a recent home visit, the group discovered a grandson was quitting school so he could treat his grandfather's non-healing wound; a lack of clean water was preventing the healing process. The association secured a clean water source—and the grandson went back to school. The group also checks in with families about kids' academic progress, provides computers and Internet access, and home tutoring.
The AACY is a small tool, chipping away at a huge problem. Siskowski reports that the idea of youth caregiving often goes "unrecognized in the professional community—it's still a relatively new topic and people find it hard to connect the dots," she says.
Consequences of Aging in Place
Technology allowing older people to age in place is a factor in youth caregiving's pervasiveness. There are consequences when elders stay at home instead of moving to a nursing home or other residential care setting: unintended psychological impacts of in-home care for an older person who is chronically ill, or dying, may hit grandkids hard. These consequences are not generally uppermost in the minds of those working in aging services, Siskowski says.
Kids don't need to be primary caregivers for the situation to have a lasting impact on their psyche and life. In Siskowski's case, her grandmother was at home but too ill to help, her mom worked and the pre-teen had developed a tight bond with her grandfather. When his health began to fail, Siskowski learned to take care of his multiple ailments, and spend quiet time with him listening to the radio and playing cards. She cut his hair, trimmed his moustache and generally treasured that time.
When he became sick enough to require a 2 a.m. medication, Siskowski was the likely choice to administer it. She slept in the living room that night, went in to give him his pill, and found him dead. She'll remember that night for the rest of her days.
If you know youth caregivers who may need help, or want to connect with the American Association of Caregiving Youth, please visit www.aacy.org.
Editor's Note: This article appears in the September/October, 2011, issue of Aging Today, ASA's bi-monthly newspaper covering issues in aging research, practice and policy nationwide. ASA members receive Aging Today as a member benefit; non-members may purchase subscriptions at our online store.
September 21, 2011