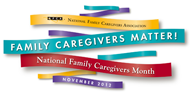 November is National Family Caregivers Month, which began in 1994 as a week-long event inaugurated by the National Family Caregiver Association. President Clinton signed the first Presidential Proclamation in 1997, and each successive president has followed suit. Now, we set aside a month to honor and celebrate the invaluable contributions caregivers make to families and community. And, as this month also marks Alzheimer's Disease Awareness Month, let's not forget those who care for people with Alzheimer's.
In this year's proclamation, President Obama writes: "Family caregivers have an immeasurable impact on the lives of those they assist, but their hours are long and their work is hard." He reaffirms his administration's support of programs like the National Family Caregiver Support Program, the Lifespan Respite Care Program, the National Plan to Address Alzheimer's Disease and the Veterans Omnibus Health Services Act, which gives financial support to veterans injured since 9/11, and their caregivers.
Caregiving in America: A Snapshot Look at Facts and Strategies
Here are some quick facts about caregiving in the United States, from the Administration on Aging (AOA):
65.7 million caregivers make up 29 percent of the U.S. adult population.
An estimated 66 percent of caregivers are female. One-third take care of two or more people, and the average age of a female caregiver is 48.
Many caregivers of older people are older adults themselves. Of those caring for a person older than 65, the average age of caregivers is 63, with one-third of these caregivers in fair to poor health.
The AOA recommends the following actions that can strengthen advocacy and education for caregivers and caregiving issues:
Recognize caregivers by hosting a get-together to honor caregivers in your family or community.
Locate a community care center or community space and organize a Caregivers Count awareness event.
Attend local town hall meetings and ask your representative how she or he will promote legislation to will help businesses develop more family-friendly caregiver policies.
Send an e-card to a caregiver.
Post on Facebook that November is National Caregivers Month and encourage your network to acknowledge the caregivers in their families and communities.
Tweet about the importance of caregivers and resources available to caregivers.
More Proactive Strategies
The National Organization for Women also offers caregiving advocacy strategies—from hosting a sandwich-generation gathering that recognizes caregiving challenges and discusses strategies to help caregivers, to running a petition drive aimed at state legislators and starting a caregiving awareness group at work.
The National Family Caregivers Association takes a more personal approach to honoring caregivers, asking people to send cards or flowers, or to offer respite time to caregivers. Other suggestions include helping caregivers to find resources; asking local businesses to offer caregiver discounts; inviting caregivers to a Thanksgiving celebration; decorating a caregiver's home for the holidays; or offering the gift of laughter, with tickets to a local comedy show.
To become more informed about national caregiving needs and who is advocating for change within the healthcare industry, click on the Altarum Institute's lively roundtable discussion on caregivers, which was filmed by Detroit Public Television and will air on Nov. 22. It features prominent women authors, physicians and caregivers Eleanor Clift, Lynn Alexander, Dr. Muriel Gillick, Dr. Joanne Lynn and Dr. Cheryl Woodson. As they each point out during the discussion, caregiving is no longer an issue to be addressed in the future: The time is now to take action to help caregivers—and show that we care.