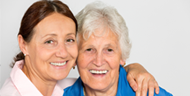 By Nancy R. Hooyman
To address escalating health and long-termcare costs, the locus of care for older adults and persons with disabilities is shifting from institutional to community-based settings. The Affordable Care Act's (ACA) goals to reduce care costs through decreased hospital admissions and readmissions, emergency room use, and reliance on long-term-care facilities rely, to a large extent, upon women's long hours serving as underpaid direct care staff and as unpaid family caregivers. Both the ACA and the 2008 Institute of Medicine report recognize that direct care workers and family caregivers are central members of the eldercare workforce and vital to the quality of long-term services and supports (LTSS) (Institute of Medicine [IOM], 2008).
Formal paid chronic care is the exception, not the rule, with families and direct care staff assuming higher levels of care for longer periods of time than in the past (Feinberg, 2014). More than 80 percent of older adults requiring LTSS are able to live in the community, primarily because of informal assistance by women, who comprise approximately 66 percent of family caregivers and provide more hours than their male counterparts of the most difficult care tasks (Calasanti, 2009; Family Caregiver Alliance, 2012). Moreover, 90 percent of direct care workers—nursing assistants, home health aides, and personal care aides—are women (Direct Care Alliance, 2012). When women assume primary responsibility for these underpaid and  unpaid caring roles, their health and well-being often suffer.
Despite greater attention by policy makers,  caregiving remains undervalued in our society, partly because of intersecting inequities experienced by women as caregivers and care recipients; these disparities are reinforced by social institutions of the family (e.g., norms regarding who should provide care) and the labor market (e.g., formal mechanisms such as the Social Security benefit formula) (Calasanti, 2009, 2010). Feminist gerontology recognizes that gender, race, and social class are primary variables upon which individuals' lives pivot, limiting women's choices, whether as caregivers or as care recipients, and pre-determining their place in the social order (Cruikshank, 2013;  Freixas, Luque, and Reina, 2012).
This article also adds age and disability to these intersecting variables. Calasanti (2009) theorizes that being old in and of itself confers a loss of power, which is exacerbated by illness, disability, race, and gender. Those who care for the old, sick, and disabled (i.e., the powerless) may themselves experience loss of power, status, and respect, resulting in financial and subsequent health disparities across the life course and into old age. From a feminist perspective, it is essential to address the interconnections among women as unpaid and underpaid caregivers  and with women as recipients of care. The ways in which these intersections shape women's aging and physical well-being are embedded in our society's undervaluing of paid work.
Gender-Based Health Disparities
Calasanti (2010) posits that to theorize about gender gives us a framework for understanding not only why gender differences occur but also why and how they matter. Gender matters in long-term care because of the inequities experienced by women as givers and recipients of care—women who face poorer health status  and higher rates of chronic illness in old age than men. Older women experience more nonfatal chronic conditions and higher prevalence of functional limitations, disabilities, and comorbidities than men, and this gender gap is  exacerbated as they age (Freixas, Luque, and Reina, 2012). Social determinants of poverty, caregiving, and widowhood—not biology or individual health behaviors—contribute to older women's higher rates of illness and functional impairment (Cruikshank, 2013; Harrington-Meyer and Herd, 2007).
Race intersects with gender; as African American, Latina, and Native-American women age, they experience disproportionately higher rates and earlier occurrence than whites of disabling  conditions, particularly diabetes, heart  disease, hypertension, and certain cancers  (Centers for Disease Control and Prevention, 2010; Kerby, 2012). Additionally, inadequate healthcare and limited access to services earlier  in life negatively impact the health of older women of color.
Accordingly, women are the primary LTSS recipients: 73 percent of nursing home residents and 67 percent of home healthcare users. It is estimated that 79 percent of women, compared to 60 percent of men, older than age 65 will need long-term care during their lifetime and on average, for 3.7 years, compared to 2.2 years for men (AARP, 2011). Older women's higher utilization of LTSS is associated at least in part with their lower socioeconomic status and greater likelihood of living alone than men. As the primary recipients of LTSS, older women, typically widowed or divorced, increasingly are cared for in both institutional and communitybased settings by underpaid young women of color, many of whom are immigrants, and by unpaid female relatives.
Similarly, women comprise the majority of those covered by Medicare and Medicaid. Women on Medicare have higher rates of illness and spend more on healthcare then men; at the same time, Medicare does not cover what older women with chronic illnesses most need—homeand community-based care (Cruikshank, 2013; Kaiser Family Foundation, 2012). Two-thirds of Medicaid beneficiaries are women, who are disproportionately more likely to be poor, persons of color, in ill health, and have lower educational levels compared to the general population. Not surprisingly, women also form the majority of the dual eligibles, who are poorer and sicker than other populations. Women dependent upon Medicaid rely on clinics and hospital outpatient departments for much of their care, with less access to specialists than their higher income counterparts; although the ACA's temporary payment increases to primary care providers of Medicaid recipients will partially mitigate this inequity (Kaiser Family Foundation, 2012; Ranji et al., 2013).
To summarize, caregiving's low status in our society perpetuates gender-based health disparities across the life course. Moreover, ageism means that caring for those who are old, sick, or disabled brings neither financial nor status rewards. In short, older women, who are more likely to be of lower income than older men, largely are cared for by young women who are typically low income and low status. Next, this article examines how the unpaid nature of family care undergirds gender-based health inequities among the givers and receivers of informal care.
Gender Inequities in Family Care
The economic value contributed to our society by family caregivers is estimated to be $450 billion, far more than the total expenditures for formal services; yet their contributions are still largely unsupported, creating a "shadow workforce" in long-term care (Feinberg et al., 2011; Gonyea, 2008). To some extent, this relative invisibility reflects the intersection of gender with age. Caring for older relatives is what one does out of love for someone who is "dependent" (and, therefore, of lower status), and thus not viewed as "real" work to be compensated financially or with status (Calasanti, 2009; Cruikshank, 2013). Although the number of male caregivers is increasing, family caregiver remains a euphemism for one primary caregiver, who typically is female (Gonyea, 2008).
Women predominate not simply because they are more likely to be socialized to be caring. They predominate because of underlying power differentials created by gender-based workforce inequities that create their poorer financial status and resultant low power. When women earn less than men, often in service occupations associated with domestic work, they tend to be viewed as more expendable. They are assumed to be able to give up or cut back on their poorly paid employment to provide care without compensation, an assumption that decisively and  permanently affects women in terms of financial and health disparities (Allen, 1993; Calasanti, 2010; Calasanti and Slevin, 2006; Freixas, Luque, and Reina, 2012). When women's responsibility for undervalued family care work limits their paid labor force participation, their earnings and retirement income are lowered, compared to men.
Such inequitable divisions of labor and status—and subsequent lost opportunity costs—shape women's experiences across the life course, resulting in their higher poverty rate in old age. As noted by Malveaux (1993), the economic status of old women is a "map or mirror" of their past lives. Moreover, African American and Latina older women are the poorest groups in our society, reflecting the intersections of age, gender, race, and immigrant status.
Poverty also increases the likelihood of chronic illness and disability. As posited by Freixas and colleagues (2012), poverty and poor quality of life in old age are the price women pay for other people's dependence upon them. Unpaid family care carries health and financial costs. Health problems affect 25 percent to 30 percent of informal caregivers, particularly those who are African American, female, unemployed,  middle-aged, and who are providing highest levels of care (Family Caregiver Alliance, 2012; Haley et al., 2010; Schulz and Sherwood, 2008). Poor physical health and low physical stamina are, in turn, associated with increased emotional distress and mental health problems. Women caregivers report higher levels of depression,  anxiety, psychiatric symptomatology, and lower life satisfaction than males (Family Caregiver Alliance, 2012; Pinquart and Sorensen, 2006).
Racial inequities typically intensify health disparities. Although findings regarding burden among caregivers of color are mixed, both African American and Latina caregivers tend to experience more physical health problems than whites (Pinquart and Sorenson, 2003, 2005; Weiss et al., 2005). African American caregivers often provide higher levels of care to relatives and friends with multiple illnesses and are more economically disadvantaged than whites. Latinos generally experience greater burden, role, and personal strain, rates of depression, and less positive appraisals and feelings of competence than white or African American caregivers (Cox and Monk, 1996; Dilworth-Anderson, Williams, and Gibson, 2002). Such disparities may be exacerbated by Latinos' high rates of poverty. For immigrants, limited access to insurance and healthcare across the life course exacerbates disparities. If caregivers of color, because of lifetime disadvantage, bring long-term health risks to the caregiving situation, their physical health as caregivers and into old age is likely to be further compromised (Adams et al., 2002; Dilworth-Anderson et al., 2002; Magana, 2006).
Family caregivers and low-income paid staff are interdependent. Women's unpaid caregiving intersects with their underpaid care, and with the line between formal and informal gender-based patterns of care increasingly blurred, the situation  results in financial and health costs for both underpaid caregivers and their care recipients.
Gender Inequities: Underpaid Caregivers
Age, race, and gender inequities shape the lives of direct care workers, who comprise the majority of paid (albeit underpaid) caregivers, providing 70 percent to 80 percent of institutional and home-based personal assistance to older adults and persons with disabilities. Direct care staff account for 30 percent of the healthcare workforce, more than any other worker category (PHI, 2013). As the "hands, voice, and face" of LTSS, they give "high touch," intimate, personal care primarily to older women. Similar to family caregivers, they are expected to be compassionate hands-on providers of physically and emotionally challenging care, yet often do not feel prepared, respected, or valued (Seavey, 2011).
The intersections of gender, race, and immigration status are reflected in the defining characteristics of direct care workers. Ninety percent are women, typically they are single mothers with minimal education who frequently hold more than one job to survive financially, but who are still living in poverty or near poverty. They struggle to support themselves and their families on a median wage of little more than $10 an hour, well below the $16 an hour wage for all workers. Their earnings are more than 30 percent lower than that of the overall female workforce. Moreover, 50 percent are so poorly paid that they qualify for public assistance, which is essential to supplementing their income. Additionally, their jobs frequently are part time or temporary, with limited or no benefits (Direct Care Alliance, 2012; Seavey, 2011).
Low-income young women of color often provide hands-on care for low-income white older women. Racial inequities, in terms of education and employment opportunities across the life course, partially explain the predominance (51 percent) of African American, Asian, and Latina women among direct care staff, many of whom are immigrants. Foreign-born women comprise 20 percent to 25 percent of the direct care workforce, with the highest rates coming from Mexico, Haiti, Puerto Rico, Jamaica, and the Philippines. Immigrant women are especially vulnerable to financial exploitation when they are paid under the table and when labor laws are not enforced (Hess and Henrici, 2013; Polson, 2013; Stone, 2011).
Our society's failure to value the socially and economically essential work of caregiving is, in turn, reflected in direct care workers' difficult working conditions. These include lack of respect and feeling undervalued by their employers and immediate supervisors; inadequate training and supervision; unpredictable hours; a heavy workload of repetitive tasks; and, risks to personal safety and health from physical work. Workers of color and immigrant women may be treated disrespectfully (e.g., called "girl" or "maid" by older care recipients). And few incentives exist for direct care workers to obtain more training or education (IOM, 2008). Not surprisingly, turnover rates are high—up to 66 percent in some categories in nursing homes and 40 percent to 60 percent in homecare. This "workforce churning" disrupts continuity and quality of care, negatively impacting the physical and mental well-being of the low-income women who provide care and the older women receiving it (Stone, 2011; Wiener et al., 2009).
Direct care workers in 2010 were nearly twice as likely as the overall population to lack health insurance and paid sick days, with less than half having employer-sponsored health insurance and 30 percent without any insurance. Fortunately, the ACA expands insurance to low-income families, but the extent to which direct care workers have obtained such coverage is unclear. While the majority of nursing assistants in skilled nursing facilities are entitled to paid sick leave, only half of home health aides working for agencies receive any sick leave benefit, and even more who work informally lack paid leave (PHI, 2013; Direct Care Alliance, 2012, 2014). Such coverage is crucial because direct care workers have above average rates of chronic conditions, such as diabetes and asthma, which, if untreated, can worsen. The stressful nature of hands-on care also may underlie higher than average rates of depression among personal care workers. High rates of work-related job injuries—sprains, fractures, and chronic injury—also threaten direct care workers' physical and mental well-being. If they are unable to pay for treatment or take time off to recover, healing is slowed and the effects of their illness or injury may be long term.
Lack of paid sick leave affects not only direct care workers and their families, but also care recipients who may be put at risk. As noted by a personal care attendant, "I have been caring for people with disabilities for over 24 years. I have never had a paid sick day. I have gone to work sick on too many occasions, once even with pneumonia." (Direct Care Alliance, 2012).
Decades of inequities based on race, class, or gender exact a serious toll on direct care workers' health (Cruikshank, 2013). Low socioeconomic status and the conditions associated with it are more fundamental causes of poor health than individual lifestyle choices. Additionally, poor health threatens the economic resources accumulated over a lifetime. If direct care staff can retire, they enter retirement with a higher likelihood of disability and functional limitations and fewer resources for their own care than those who held higher wage jobs (Cruikshank, 2013; Herd, Robert, and House, 2011).
The intersections between women who are informal and formal caregivers and their care recipients mean that the low societal value placed on caregiving is problematic not only for workers, but also for older adults, family members, and other formal providers of care. Quality of care is diminished when direct care staff morale is low, turnover is high, and labor shortages plague the long-term-care system. Adverse work environments faced by their low-income female caregivers most often negatively impact older women, who are the predominant long-term-care recipients and often of low income.
Moving Toward Gender Justice
Admittedly, the primary strategy for reducing health disparities and making healthy aging a reality for more women is to eradicate poverty, thereby increasing the income and educational levels of those who are disadvantaged by gender, race, functional ability, or age (Cruikshank, 2013; Herd, Robert, and House, 2011). Because this is unlikely in the near future, other solutions to reduce financial and health disparities among older women must take into account the power differentials faced by women as unpaid and underpaid caregivers. As long as caregiving is seen as a private duty rather than a service with "public value," the economic disadvantage of women who do this work will continue (Hooyman, 1999). Addressing such inequities within LTSS is central to improving women's well-being across the life course and into old age.
Calasanti (2010) argues that in our marketbased society, the way to increase the value of any form of labor is to pay for it, including paying relatives to provide care. Such payment through Medicaid Home- and Community-Based Care often is justified in terms of savings for states or allowing consumer choice, not as a way to support informal caregivers. In contrast, attendant allowances for family caregivers of dependents in Western European countries legitimize the socially essential work of care with public resources. Such allowances are strategies to prevent reduced labor market participation and poverty as outcomes from care provision (Glendinning, 2009). In the United States, modifications in Social Security and other pension systems, such as care credits, are needed to recognize the years spent out of the labor force by many female family caregivers. Similarly, higher wages, guaranteed benefits (including paid sick leave), and opportunities for career advancement are central to reducing direct care workers' poverty, enhancing their health, and ensuring their ability to provide quality LTSS.
Fortunately, the media, policy makers, care providers, and families increasingly are calling for creative solutions to the long-term-care dilemma. Caring across Generations, an advocacy group for older adults, people with disabilities, workers, and families, is circulating petitions to put long-term care on the agenda at the 2015 White House Conference on Aging, arguing that, as a society, we must find ways to ensure quality care. The 2014 first White House Summit on Working Families highlighted public- and private-sector options to create a better workplace for all Americans who face dependent care responsibilities. Such national initiatives must make explicit that public supports for women as unpaid and underpaid caregivers are central to the well-being of the givers and receivers of care, and to the quality of LTSS.
Professional organizations, unions, advocates for older adults, and federal and state policy makers must address the gender inequities inherent in how direct care work is structured. Without monetary and other public supports of informal and formal care providers, the wellbeing of women as caregivers and as older care recipients remains at risk. From a feminist and social justice perspective, caregiving values ultimately must become public rather than individual values divided along economic, racial, and gender lines.
---
Nancy R. Hooyman, M.S.W., Ph.D., holds the Hooyman Professor of Gerontology and is Dean Emeritus at the University of Washington School of Social Work in Seattle. She can be contacted at hooy@uw.edu.
Editor's Note: This article is taken from the winter 2014/15 issue of ASA's quarterly journal, Generations, an issue devoted to the topic "Social and Health Disparities in America's Aging Population" ASA members receive Generations as a membership benefit; non-members may purchase subscriptions or single copies of issues at our online store. Full digital access to current and back issues of Generations is also available to ASA members and Generations subscribers at Ingenta Connect. For details, click here.
Join ASA to recieve an automatic subscription to Generations as well as many other benefits of membership!
---
References
AARP. 2011. "Long-term Care: A Women's Issue." Retrieved November 9, 2014.
Adams, B., et al. 2002. "Ethnic and Gender Differences in Distress Among Anglo-American, African American, Japanese American and Mexican American Spousal Caregivers of Persons with Dementia." Journal of Clinical Geropsychology 8(4): 279–301.
Allen, J. 1993. "Caring Work and Gender Equity in an Aging Society." In J. Allen and A. Piper, eds., Women on the Front Line. Washington, DC: The Urban Institute.
Calasanti, T. 2009. "Theorizing Feminist Gerontology, Sexuality  and Beyond: An Intersectional  Approach." In V. Bengtson et al., eds., Handbook of Theories of Aging (2nd ed.). New York: Springer.
Calasanti, T. 2010. "Gender  Relations and Applied Research  on Aging." The Gerontologist 50(6): 720–34.
Calasanti, T. M., and Slevin, K. F.  2006. Age Matters: Realigning Feminist Thinking. New York: Routledge/Taylor and Francis Group.
Centers for Disease Control and Prevention. 2010. "REACH U.S: Finding Solutions to Health Disparities: At a Glance, 2010." Retrieved September 15, 2013.
Cox, C., and Monk, A. 1996. "Strain Among Caregivers: Comparing African American and Hispanic Caregivers of Alzheimer's Relatives." International Ageing and Human Development 43(2): 93–105.
Cruikshank, M. 2013. Learning to Be Old: Gender, Culture and Aging (3rd ed.). New York: Rowman & Littlefield Publishers.
Dilworth-Anderson, P., Williams, I. C., and Gibson, B. E. 2002. "Issues of Race, Ethnicity, and Culture in Caregiving Research:  A 20-year Review." The Gerontologist 42(2): 237–72.
Direct Care Alliance. 2012. "Fair  Pay for Quality Care." Retrieved  January 2, 2013.
Direct Care Alliance. 2014. "Direct Care Workers Help Lead Movement for Paid Sick Days." Retrieved June 16, 2014.
Family Caregiver Alliance. 2012.  Fact Sheet: Selected Caregiver Statistics. San Francisco, CA:Family Caregiver Alliance. 
Feinberg, L. F. 2014. "Family Caregiving: There's Nothing Informal About It." Retrieved May 1, 2014.
Feinberg, L. F., et al. 2011. Valuing the Invaluable: 2011 Update—The Growing Contributions and Costs of Family Caregiving. Washington, DC: AARP Public Policy Institute.
Fisher, B., and Tronto, J. C. 1990. "Toward a Feminist Theory of Care" In E. Abel and M. Nelson, eds., Circles of Care: Work and Identity in Women's Lives. Albany,  NY: SUNY Press.
Freixas, A., Luque, B., and Reina, A. 2012. "Critical Feminist Gerontology: In the Back Room of Research." Journal of Women & Aging 24(16): 44–58.
Glendinning, C. 2009. "Cash for Care: Implications for Carers." Geneva Association of Health and Aging Newsletter 21: 3–6.
Gonyea, J. 2008. "Foreword: America's Aging Workforce: A Critical Business Issue." Journal of Workplace Behavioral Health 23(1/2): 1–14.
Haley, W. E., et al. 2010. "Caregiving Strain and Estimated Risk for  Stroke and Coronary Heart Disease Among Spousal Caregivers." Stroke 41(2): 331–6.
Harrington-Meyer, M., and Herd, P. 2007. Market Friendly or Family Friendly? The State and Gender  Inequality in Old Age. New York:Russell Sage.
Herd, P., Robert, S. A., and House, J. S. 2011. "Health Disparities Among Older Adults: Life Course Influences and Policy Solutions." In R. H. Binstock and L. K. George, eds., Handbook of Aging and the Social Sciences. Amsterdam: Elsevier.
Hess, C., and Henrici, J. M., 2013. Increasing Pathways to Legal Status for Immigrant In-Home Care Workers. Washington, DC: Institute for Women's Policy Research.  
Hooyman, N. 1999. "Research on Older Women: Where Is Feminism?" The Gerontologist 39(1):115–18.
Institute of Medicine (IOM). 2008. Retooling for an Aging America: Building the Health Care Workforce. Washington, DC: The National Academies Press.
Kaiser Family Foundation. 2012. "Medicaid's Role for Women Across the Lifespan: Current Issues and the Impact of the Affordable Care Act." Retrieved June 16, 2014.
Kerby, S. 2012. "The State of Women of Color in the United States." Retrieved June 17, 2014.
Magana, S. 2006. "Older Latino Family Caregivers." In B. Berkman, ed., Handbook of Social Work in Health and Aging. New York: Oxford University Press.
Malveaux, J. 1993. "Race, Poverty and Women's Aging." In J. Allen and J. Pifer, eds., Women on the Front Lines. Washington, DC: The Urban Institute.
PHI. 2013. FACTS 3: America's Direct Care Workforce. Retrieved June 16, 2014.
Pinquart, M., and Sorenson, S. 2003. "Differences Between Caregivers and Non-caregivers in Psychological Health and Physical Health: A Meta-analysis." Psychology & Aging 18(2): 250–67.
Pinquart, M., and Sorensen, S. 2005. "Ethnic Differences in Stressors, Resources and Psychological Outcomes of Family Caregiving. A Meta-analysis." The Gerontologist 45(1): 90–106.
Pinquart, M., and Sorensen, S. 2006. "Gender Differences in Caregiver Stressors, Social Resources, and Health: An Updated Meta-analysis." Journals of Gerontology, Series B: Psychological Sciences and Social Sciences 61(1):33-45.
Polson, D. 2013. By Our Sides: The Vital Work of Immigrant Direct Care Workers. Washington, DC: The Direct Care Alliance.
Ranji, U., et al. 2013. "The Role of Medicaid and Medicare in Women's Health Care." Journal of the American Medical Association 309(19): 1984.
Schulz, R., and Sherwood, P. R. 2008. "Physical and Mental Health Effects of Family Caregiving." Journal of Social Work Education 44(3): 105–13.
Seavey, D. 2011. "Caregivers on the Front Line: Building a Better Direct Care Workforce." Generations 34(4): 27–35.
Stone, R. I. 2011. "Long-Term-Care Policy: Yesterday, Today, and Tomorrow." Testimony presented at Aging in America: Future Challenges, Promise and Potential Forum convened by the Senate Special Committee on Aging, Washington, DC. Retrieved February 12, 2014.
Weiss, C., et al. 2005. "Differences in the Amount of Informal Care Received by Non-Hispanic Whites and Latinos in a Nationally Representative Sample of Older Americans." Journal of the American Geriatrics Society 53(1): 146–51.
Wiener, J. M., et al. 2009. "Why Do They Stay? Job Tenure Among Certified Nursing Assistants in Nursing Homes." The Gerontologist 49(2): 198–210.