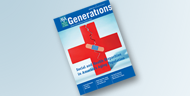 This Winter 2014−15 issue of Generations addresses the issue of how our nation's social and health disparities persist despite decades of work by community practitioners to solve them, and how a climate of continuing economic uncertainty is proving challenging to the creation and longevity of programs and services essential for helping at-risk members of minority communities.
In "Equity and Social Determinants of Health Among Older Adults," Steven P. Wallace lays out the social and political forces that shape health risks, which often work through race or ethnicity, gender, and class. Economics and education also clearly play a role as powerful determinants of social and economic position. To reduce health inequities among older adults, Wallace says we need to create supportive institutions and laws that foster healthy environments for older adults, and make the healthy choice the easy choice for health behaviors.
Disability is responsible for massive social and economic costs to individuals, families, and healthcare systems. In addition to elucidating major ethnic-racial groups in the United States, authors Kyriakos S. Markides and Sunshine Rote, in "Aging, Minority Status, and Disability," explore the role of immigrant status and level of acculturation to explain the complex relationship between such variables and their influence on functional status or disability of minority elders.
The indigenous populations of the United States continue to have some of the nation's poorest social, economic, and health profiles. In "The Historic and Ongoing Issue of Health Disparities Among Native Elders," Kathryn L. Braun and Cynthia LaCounte provide socio-demographic, epidemiological, and health data on native elder populations in the United States, including American Indians, Alaska Natives, and Native Hawaiians, and discuss possible reasons for continuing health disparities, and make recommendations for research and practice.
Older Asian Americans are a heterogeneous population including diverse cultural backgrounds and immigration histories. In their article, "Addressing Health Disparities Among Older Asian Americans: Data and Diversity," Grace J. Yoo, Elaine Musselman, Yeon-Shim Lee, and Darlene Yee-Melichar examine health disparities affecting older Asian Americans, including cancer, diabetes, heart disease, suicide, and Alzheimer's disease or other dementias. And they highlight the need to improve patient-provider communication in linguistically and culturally appropriate ways so older Asian Americans may benefit from healthcare for enhanced quality of life.
Jeanette Takamura's concluding article, "Closing the Disparity Gap Requires an Integrated Response from Policy, Research, and Programs," reviews the findings and recommendations by the contributing authors to this issue on the social and health disparity concerns that are everyday realities for aging women, racial-ethnic minorities, and LGBT persons. She also addresses how we as a nation have responded to disparities and their implications for an aging America.
ASA is pleased to offer this important Winter 2014−15  issue of Generations, which will be reaching ASA members and subscribers in February 2015. Single copies can also be purchased from our website.
Editor's Note: On Friday, March 27, from 9:00 a.m. to noon at the 2015 Aging in America Conference in Chicago, ASA will present a National Forum on Social and Health Disparities in Aging, that will feature multiple speakers who are contributing authors to the Winter 2014–2015 issue of Generations. 
Inside this issue...
The Landscape of Social and Health Disparities in Aging Populations
Equity and Social Determinants of Health Among Older Adults
By Steven P. Wallace
read on AgeBlog
A Search for Answers to Continuing Health and Mortality Disparities in the United States
By Alberto Palloni and James Yonker
Aging, Minority Status, and Disability
By Kyriakos S. Markides and Sunshine Rote
read on AgeBlog
Social and Health Disparities in Aging: Gender Inequities in Long-Term Care
By Nancy R. Hooyman
Health Disparities Seen Through the Mirror of Diverse Populations
Diabetes in Older Hispanic/Latino Americans: Understanding Who Is at Greatest Risk
By Willy Marcos Valencia, Lisset Oropesa-Gonzalez, Christie-Michele Hogue, and Hermes Jose Florez
Type 2 Diabetes Program Geared Toward Latinos Fosters More than Self-Management
By Sonia Alvarez
Addressing Health Disparities Through Recommendations from the Jackson Heart Study
By Timothy P. McNeill, Sandra C. Hayes, and Jacqueline Harley
A Community-Based Approach to Addressing Health Disparities Among African American Medicare Beneficiaries in Mississippi
By Timothy P. McNeill, Aaron Shirley, Erin Shirley Orey, Mohammed Shahbazi, Sandra C. Hayes, and Lorie Ramsey
The Historic and Ongoing Issue of Health Disparities Among Native Elders
By Kathryn L. Braun and Cynthia LaCounte
read on AgeBlog
National Resource Centers Focus on Indigenous Communities
By Colette V. Browne, Paula Carter, and Jacqueline S. Gray
Addressing Health Disparities Among Older Asian Americans: Data and Diversity
By Grace J. Yoo, Elaine Musselman, Yeon-Shim Lee, and Darlene Yee-Melichar
read on AgeBlog
Preventing Suicide Among Older Adult Asian Women
By Cao K. O
Promoting Health Equity Among LGBT Mid-Life and Older Adults
By Karen I. Fredriksen-Goldsen
SAGE's National Resource Center on LGBT Aging
By Hilary Meyer
Dismantling Disparities: Strategies and Advocacy
Time for Transformation: Public Policy Must Change to Achieve Health Equity for LGBT Older Adults
By Karen I. Fredriksen-Goldsen and Robert Espinoza
Closing the Disparity Gap: The Work of the Administration on Aging
By Michele L. Boutaugh, Susan M. Jenkins, Kristie P. Kulinski, Kate R. Lorig, Marcia G. Ory, and Matthew Lee Smith
Closing the Disparity Gap Requires an Integrated Response from Policy, Research, and Programs
By Jeanette Takamura
read on AgeBlog