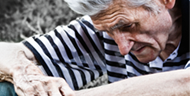 By Kathy Burnes
What does social bullying look like among older adults? Not so different than among adolescents, with the exception of cyber bullying. Most common are gossiping and spreading rumors about another elder, making critical comments within the victim's hearing, or comments such as, "You can't sit here. I'm saving the seat for a friend." This type of behavior occurs in senior centers, in senior living communities, and wherever groups gather.
Bullying is not teasing or joking. Bullying exists where there is unequal power and a victim, who perceives the events as negative, can be identified. According to the Dutch National Foundation for the Elderly, "bullying is systematic and focused on one person".
Stories in national news with titles such as "Mean Old Girls: Seniors Who Bully" and "Bullying Knows no Aging" document growing awareness of the problem and interest in effective interventions. Jewish Family and Children's Service has been developing approaches to help address bullying in communities of older adults, including training staff and older adults to speak up when social bullying occurs. A growing body of research is teaching us that most incidents of bullying occur in front of other people, and stop more than half of the time if a witness speaks up. We also know that if someone supports the victim, even after the bullying, the harmful effects are lessened.
Our workshop will provide participants with a better understanding of social bullying and tools for teaching intervention strategies to older adults including being assertive, speaking up, and seeking help while emotionally supporting the victim.
---
Kathy Burnes, MEd, is Project Manager, Geriatric Institute, Jewish Family & Children's Service, in Waltham, Mass. For her 2014 ASA Aging in America Conference presentation, "Social Bullying: Training Older Adults to Make a Difference," she will be joined by her colleagues Arnaa Alcon, PhD, MSW, Associate Professor, School of Social Work at Bridgewater State University in Bridgewater, Mass., and Marsha Frankel, LICSW, ACSW, Clinical Director of Senior Services, Jewish Family & Children's Service in Waltham, Mass. Conference registrants can search all of the conference sessions and create a custom conference itinerary by using our online event search tool.