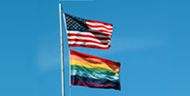 By Holly Deni
The Social Security Administration invited LGBT advocates from across the country to participate in a conference call on Friday, August 9th to exchange ideas on how best to get the word out about Social Security's implementation of the Windsor/Defense of Marriage Act (DOMA) decision. Before the Supreme Court's historic decision, same-sex partners were not eligible for spousal or family benefits from Social Security.
In the first months after the court's edict, federal agencies, including Social Security, are working with the Justice Department to reinterpret their regulations and rules. This has led to much speculation and rumor about how agencies will ultimately resolve the issue of couples who marry in states or countries that permit same-sex unions but reside in states that do not recognize their marriages. Adding to the confusion is the fact that other states confer rights similar to marriage rights through civil unions and domestic partnerships.
Acting Commissioner Carolyn W. Colvin was not able to answer any of the many questions advocates had about policies specific to situations involving same sex domestic partnerships and civil unions in states that do not permit legitimate marriage. She told call participants that the SSA would be posting any official decisions on their website as soon as they are available, in a section devoted to DOMA information. FAQs can be found in this section, including postings from Social Security's Program Operations Manual System (POMS) applicable to post-DOMA changes.
According to an official press release, Social Security is now processing some retirement spouse claims for same-sex couples and paying benefits when they are due. The release also encourages individuals who believe they may be eligible for benefits to apply immediately to protect against the loss of any potential benefits. The agency will be processing claims incrementally as soon as further instructions are in place.
All Social Security office personnel have been instructed to accept and hold applications from same-sex couples. The Acting Commissioner emphasized that she expects staff to treat same-sex families with the same amount of dignity and compassion they extend to heterosexual couples, saying that she understands the fears that some LGBT applicants might have about experiencing prejudicial treatment. She also emphasized that those who have questions about their status should frequently visit the SSA's website, saying that the site will be the source of the most reliable and up-to-date information on the subject.
While many questions remain regarding the status of those couples who live in states that do not recognize same-sex marriages or who are domestic or civil union partners, the SSA has issued a helpful chart of "marriage states." The POMS states that SSA can now approve some wife's and husband's claims involving same-sex marriages, as long as they were married in a state that permits same-sex marriages and are domiciled at the time of application, or while the claim is pending, in a state that recognizes same-sex marriage, according to the chart provided.
The overriding message of the conference call was that all individuals who think there's a chance that their same-sex unions would qualify them for any type of Social Security benefit should apply now, rather than wait for a definitive decision about their status. By applying now, individuals can establish their effective date for any benefits that may become available after the official rulings have been made.
---
Holly Deni is currently the Chair of the LAIN Editorial Committee and participated in the recent conference call with the SSA.