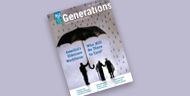 By Abby Marquand and Amy York
The caregiving workforce has been described as the "critical link in the availability and quality of services" for our nation's elders (U.S. Senate Commission on Long-Term Care, 2013). We know that the demand for health and longterm-care services will expand inexorably as the population ages. What we do not know is who will ultimately care for the 10,000 people turning age 65 each day, and how can we ensure quality of life without a fundamental redesign of the way we deliver services?
The challenge of identifying and developing the eldercare workforce of tomorrow is daunting in view of today's tangled system of care. No organized eldercare workforce exists currently. Instead, older adults are treated by a multitude of medical and social service professionals who are guided by mismatched incentives, payment mechanisms, and best practices, and who have little understanding of elders' and their families' unique needs and preferences—let alone formal training in geriatric or gerontological principles.
The investments this workforce needs have been outlined on more than one occasion, most notably in a landmark report from the Institute of Medicine (IOM) (2008), Retooling for an Aging America: Building the Health Care Workforce. And yet, eight years later, very few of these recommendations have come to fruition. Why not? And what now?
This article articulates the challenge to building a real and competent eldercare workforce, positing the reasons for our past failures, and imagining a better system where the unique needs of older adults are reflected in the capacity of the professionals and paraprofessionals who serve them—much as the system of pediatric specialty has responded to the unique needs of children and their families.
Who Are America's Elders and What Do They Need?
In 2010, 13 percent of the U.S. population was older than age 65; by 2050, this will be true of one in five people. Meanwhile, our healthcare system spends nearly twice as much per person on adults older than age 65 than it does on people ages 45 to 64—the impact of which will intensify with this changing population demographic (Kaiser Family Foundation, 2012). The biggest questions are: On what are we spending these dollars? Are they really going toward improving the quality of services people receive and the quality of life they experience? Unfortunately for most people, the answer to the latter question is no.
There are 46 million adults older than age 65 living in the United States today (Baxter, 2015). Thanks to medical advances, lifestyle changes, and technology, life expectancy is greater than ever before in history (Centers for Disease Control and Prevention [CDC], 2014). Yet the gains in life expectancy and health have not been distributed equitably. The population of minority elders is significant and growing; by 2044, the United States will be a "majority-minority" nation (Colby and Ortman, 2014). And while the vast majority of older adults today are white non-Hispanic (79.3 percent), the proportion of older adults belonging to a minority ethnic group will double in the coming decades, encompassing nearly 40 percent of all elders by 2050 (Ortman, Velkoff, and Hogan, 2014). The number of elders of Hispanic origin will increase from 1.8 million in 2000 to more than 8 million in 2030; the older Asian cohort will increase from nearly 1 million to nearly 4 million over that same time period.
Health and service access disparities on the rise
Significant health disparities exist between racial and ethnic groups in the United States and are exacerbated as people age. People of color are more likely to suffer from chronic illness such as diabetes, COPD, and heart disease (CDC, 2013). Only 25 percent of whites older than age 65 report functional limitations compared to 35 percent of minority elders (Congressional Budget Office [CBO], 2013). This is particularly true for older black and Hispanic people (U.S. Senate Commission on Long-Term Care, 2013).
A disproportionate number of elders live in rural areas, with limited access to social services, public transportation, and have increased likelihood of social isolation (Burrows, Suh, and Hamann, 2012). Further, given the documented shortage of healthcare professionals in rural areas, and relative disparity in healthcare access between urban and rural communities, rural-dwelling older adults face unmet medical needs (Burrows, Suh, and Hamann, 2012). High vacancy rates of direct care workers in rural communities are becoming more widespread, which portends potentially dire consequences for older adults who will become increasingly unable to secure assistance with even the most basic activities of daily living (Butler, 2012; Jacobson, 2015; Bouchard, 2015).
Crucial need for long-term services and supports
Regardless of race and ethnicity, most elders will require some level of long-term services and supports (LTSS), whether in their own homes and performed by family caregivers or homecare aides, in assisted living communities, or in skilled nursing facilities (CBO, 2013). Currently one-third of people older than age 65 and two-thirds of people older than age 85 report functional limitations (CBO, 2013). The lifetime probability of requiring assistance with at least two activities of daily living, or of being cognitively impaired, is 68 percent for people ages 65 and older (Family Caregiver Alliance, 2015). A large part of the demand for long-term services and supports will come from the more than 5 million people in the United States who are currently living with some form of dementia, including Alzheimer's. This number is projected to grow as the baby boomers enter old age (Family Caregiver Alliance, 2015; Centers for Medicare & Medicaid Services [CMS], 2012).
While efforts to rebalance long-term-care spending away from nursing homes and toward more cost-effective and preferable home- and community-based settings (HCBS) have been successful—for the first time, in 2013, more than half of Medicaid dollars spent nationwide on LTSS are going to homes and communities—new disparities are being created within the longterm-care system. Studies suggest that white elders have more varied choices in how they receive supports and services, whereas minorities are now under-represented in preferred sites for care. While nursing home use has declined among older whites, it has steadily increased among older blacks, who are more likely to experience deficiencies in care (U.S. Senate Commission on Long-Term Care, 2013). The average annual per-person healthcare and long-term-care payments are more than triple for those with dementia than those without it (Alzheimer's Association, 2015).
A Lack of Political Will Plagues Progress
One of the biggest challenges expected for the future—documented for decades and reiterated in the report to Congress from the recent Commission on Long-Term Care—is the likely serious shortfall of eldercare professionals and the rapidly growing elder population. The CBO predicts that meeting the needs of our aging population will require between 7 and 11 percent of all working-age adults to participate in some form of caregiving, whether paid or unpaid. There is an economic cost to this care: In 2011, all paid and unpaid LTSS cost Americans roughly $426 billion. When factoring in the costs of family caregivers forgoing paid work, the economic costs are even higher—$522 billion from 2011 to 2012 (Chari et al., 2015).
The IOM recognized the serious workforce shortfall in their 2008 report, with recommendations similar to those in the Commission's 2013 report. Unfortunately, there seems to be little political resolve to prepare to care for the growing number of aging Americans. Political will has been lacking, and while advocates, researchers, and certain policymakers have sounded the alarm calling for new investments and a fundamental redesign in the way we provide care and services to our nation's elders, little has been done.
What would a better system look like?
If we are searching for a model of what our nation's eldercare workforce could look like, we can look to our system of pediatric care. There are currently 90,000 trained professionals in pediatrics nationwide (American Academy of Pediatrics, 2015). And while access to pediatric specialists is limited in some parts of the country, particularly in rural settings, the number of doctors and social service professionals who receive training specific to serving children has increased steadily over the past several decades. This, while the growth in the number of children has remained relatively stable, compared to the growing number of elders (Colby and Ortman, 2014). What it means in a practical sense is that when a child is ill, her parent can expect to see a professional who knows how to treat her unique physiology—how her body metabolizes pharmaceuticals, or how to identify symptoms that require behavioral health intervention. These professionals also will know what the parent needs, when to connect him or her to provide additional support, when to get teachers involved, and how to interact with the family unit.
When it comes to the care parents and grandparents receive as they age, there is no such guarantee. And yet elders' medical, social, and functional needs, while certainly not homogeneous, have many distinctive features that require specific training and expertise for professionals to recognize, evaluate, and treat.
Where Do We Start?
While more than two-thirds of adults older than age 65 will require long-term care at some point in their lives (Stevenson et al., 2010), only one in five Americans imagine that they will ever need help as they age (Associated Press–NORC Center for Public Affairs Research, 2015). People's perceptions of what they will need as they age do not match reality. Thus, it is not surprising that relatively few professionals and policy makers are interested in addressing the needs of older Americans, especially compared to those who want to work with children. This is particularly true when it comes to long-term-care settings, such as nursing homes, in which annual turnover rates average above 60 percent annually.
Dearth of geriatric education and specialists
Geriatric education across disciplines is largely inadequate to prepare professionals for engaging with the healthcare needs of the future. The 2008 IOM report cites "lack of faculty, lack of funding, lack of time in [an] already busy curricula, and the lack of recognition of the importance of geriatrics training" as the main barriers to the appropriate levels of training.
Specialty training is lacking as well. While more than two-thirds of nursing home residents have dementia, only twenty-three states have laws requiring training in dementia for direct care staff (Burke and Orlowski, 2015). Even though the importance of palliative treatment, especially for older adults at the end of life, has been well-documented, no clear standards for education in palliative medicine have emerged or been adopted for undergraduate or graduate training of physicians in the United States (von Gunten and Ferrell, 2014).
On the professional side, it is clear that the current geriatric workforce across disciplines will not be adequate to meet the needs of the growing elder population. In 2012, there were only 7,356 board-certified geriatricians in the United States (The American Geriatrics Society [AGS], 2012a). In 2008, there was only one geriatric psychiatrist for every 23,000 older adults, and this ratio will drop to one for every 43,000 older adults by 2030 (AGS, 2009).
Currently, there are few incentives for medical students and others entering the healthcare field to specialize in geriatrics, but there are a number of disincentives. While most geriatricians report satisfaction with their field, they serve a complex and challenging population. Even more problematic, the costs associated with extra years of geriatric training do not translate into additional income—a geriatrician's median salary was just over $180,000, while other specialists earn more than twice that (AGS, 2012b). The high cost of medical school, with more than half of medical students leaving school $150,000 or more in debt, incentivizes medical professionals to pursue more lucrative specialties over geriatrics (AGS, 2012b).
Educating and training generalists
Also lacking are training and education for general healthcare professionals, who will undoubtedly serve older adults. Less than 3 percent of medical students choose geriatric electives, meaning most medical professionals will enter the field without any exposure to serving elders. Less than 4 percent of social workers have been trained to work with older adults, and yet 75 percent report that they work with this population regularly (Lustig, 2013).
And, fewer than half of all pharmacy schools in the United States offer a distinct course in geriatrics, despite the fact that per capita prescription drug use by people ages 65 and older is triple that of younger individuals—and less than 1 percent of pharmacists are certified in geriatric medicine. Most nursing schools have no faculty with gerontological nursing expertise and, consequently, less than 1 percent of registered nurses are certified in gerontology (Eldercare Workforce Alliance [EWA], 2015).
LTSS workforce lags
As the demand for LTSS skyrockets, the numbers of professional and paraprofessional staff available to meet this demand are stagnate. Ensuring an adequate workforce in longterm-care settings has long been a documented challenge. In a 2003 HHS survey, 62 percent of doctors who were acting as medical directors in LTC settings reported visiting the facility at which they were employed only once a week or less (U.S. Department of Health and Human Services [HHS], 2003). Nurses (RNs and LPNs) provide essential support in long-term-care settings. Yet the industry reports high turnover and vacancy rates, which are expected to worsen as the economy improves and the labor market tightens (American Health Care Association, 2012).
The demand for direct care workers to support older adults in long-term-care settings—nursing aides, home health aides, and personal care aides—is staggering. Currently numbering more than 4 million, they are projected to increase in number by 37 percent over the coming decade (PHI, 2014). Given projected demographic trends and utilization patterns, the number of direct care workers employed in HCBS will need to grow by 88 percent by 2030 (Spetz et al., 2015). Turnover and vacancies are widespread within this segment of the workforce, but data collection and workforce monitoring are lax, thus it is difficult to quantify the degree of the problem.
In any event, we will need many more of these workers to provide the bulk of paid, hands-on services to older adults—yet we cannot guarantee an adequate supply. The growth in the working age population has stalled, while the population of older adults is ballooning, and further, these jobs are of particularly poor quality—wages are low, employment benefits are few, and schedules are often part time and unpredictable. Thus it is difficult to recruit paraprofessionals from other low-wage jobs when those jobs make fewer demands, and pose less risk for injury, or emotional and physical strain.
Direct care workers are even less likely to have adequate preparation than professional staff, although they, too, often are required to care for elders with complex needs. Most direct care workers, even when serving Medicaid clients, have little (if any) training in general, and even less training specific to caring for older adults (Marquand and Chapman, 2014).
Family caregivers
The unsung heroes of our nation's eldercare system are the family caregivers, the 40 million individuals, mostly family members, balancing demands of family, work, and caring for their elderly loved ones. These individuals are critical providers of LTSS, providing an estimated 37 billion hours of care (Reinhard et al., 2015). They also act as links for older adults and other aspects of the healthcare system, and in many ways are unrecognized members of care teams, interfacing with doctors, nurses, nursing home administrators, social workers, and others. Nearly one-quarter are providing more than forty hours of care per week, and high-hour caregivers are more likely to have been in the role for ten years or more (National Alliance for Caregiving, 2015).
The estimated economic value of the contributions of family caregivers was $470 billion in 2013, and yet, family caregivers rarely are recognized by our healthcare system (Reinhard et al., 2015). There have been movements to support family caregivers, with stipends, or to allow recipients of homecare to hire their family members as paid caregivers; most caregivers, however, operate without financial support for the care they provide.
Although more than 75 percent of family caregivers report that they need more help or information related to their caregiving; opportunities for training are few and far between (EWA, 2015). For many caregivers, the stakes are high and the lack of preparation could have particularly dire consequences—nearly one in five who assist with medication management and one in three who do wound care received no instruction or training in how to perform these tasks (EWA, 2015).
It is likely that into the future, families will continue to be the primary source of support for older adults with long-term-care needs. Yet demographics threaten this already tenuous situation—declining birth rates over the past few decades mean fewer working-age adults to provide this care. AARP has projected that the current caregiver support ratio of seven potential caregivers for every adult older than age 80 will decline to four to one by 2030 (Redfoot, Feinberg, and Houser, 2013).
Squaring to the Challenge
As we grapple with the challenge of building the eldercare workforce, we must recognize that given the current status of the field, some choices are no longer available. While the geriatric equivalent of the robust supply of well-trained pediatric specialists seems ideal, it is not a truly feasible goal. The demand is here, now, and growing. To meet our current challenge, we must instead focus on bolstering the generalist workforce—infusing more geriatric-specific knowledge in the minds and skills of all professionals who serve elders.
We can begin by recognizing that the care of elders is already the core business of our healthcare system. For direct care in particular, we need to elevate the value of caregiving, whether done by paid or unpaid individuals, workers, or family members. What this means in a practical sense is the recognition that caregiving is essential work, and that it should be treated as such—our system of caregiving cannot function on poverty wages, absent training, and in unsafe conditions. And we can no longer rely upon family caregivers, who are struggling to balance the demands of family life, work, and other important social roles, to give this care without proper support and provisions. Today's caregivers will be tomorrow's caregivers; they will need the appropriate support, knowledge, and skills to ensure the quality of life that our nation's elders deserve.
Conclusion
America's healthcare and social service systems lack sufficient numbers of appropriately trained professionals across all disciplines to treat elders' unique needs. While this is a long-documented problem, we have yet to heed the call and commit adequate resources toward a real eldercare workforce—one that is trained, compensated, and interconnected appropriately to ensure that older adults receive the services they need and deserve. And yet, dedicated professionals and advocates continue to reimagine the eldercare system. This issue of Generations proposes new ways of thinking about serving elders, with the goal of sounding the alarm. We cannot continue to overlook our failing system: we must insist that our public officials develop programs that enhance this critical workforce.
---
Abby Marquand, M.P.H., is director of policy research at PHI in New York City. Amy York is executive director of the Eldercare Workforce Alliance in Washington, D.C.
Editor's Note: This article is taken from the Spring 2016 issue of ASA's quarterly journal, Generations, an issue devoted to the topic "America's Eldercare Workforce: Who Will be There to Care?." ASA members receive Generations as a membership benefit; non-members may purchase subscriptions or single copies of issues at our online store. Full digital access to current and back issues of Generations is also available to ASA members and Generations subscribers at Ingenta Connect. For details, click here.
---
References
Alzheimer's Association. 2015. 2015 Alzheimer's Disease Facts and Figures. Retrieved January 12, 2016.
American Academy of Pediatrics. 2015. Frequently Asked Questions. Retrieved January 10, 2016.
American Health Care Association. 2012. American Health Care Association Staffing Report. Retrieved January 10, 2016.
The American Geriatrics Society (AGS). 2009. ADGAP Study Final Report, Phase III. New York, NY: AGS. Retrieved January 10, 2016.
AGS. 2012a. "Projected Future Need for Geriatricians." Brief. New York: AGS. Retrieved January 10, 2016.
AGS. 2012b. "Loan Debt and Salary Statistics for Geriatric Health Care Providers." Brief. New York: AGS. Retrieved January 10, 2016.
The Associated Press–NORC Center for Public Affairs Research. 2015. Long-Term Care in America: Americans' Outlook and Planning for Future Care. Retrieved January 10, 2016.
Baxter, E. 2015. Real Family Values: Planning for a Future That Ensures Dignity for an Aging Population. Washington, DC: Center for American Progress. RetrievedDecember 15, 2015.
Bouchard, K. 2015. "Legislation Says Maine's Home Care Workers Deserve Better Pay." Portland Press Herald, May 18. www.pressherald.com/2015/05/18/legislation-saysmaines-home-care-workers…. Retrieved January 7, 2016.
Burke, G., and Orlowski, G. 2015. "Training to Serve People with Dementia: Is our Health Care System Ready?" Issue Brief. Washington, DC: Justice in Aging. Retrieved January 10, 2016.
Butler, S. 2012. "Home Care Workers in Maine: Increasingly Essential Workers Face Difficult Job Conditions." Maine Policy Review 21(2). Retrieved January 7, 2016.
Burrows, E., Suh, R., and Hamann, D. 2012. "Health Care Workforce Distribution and Shortage Issues in Rural America." National Rural Health Association Policy Brief. Washington, DC: National Rural Health Association.
Centers for Disease Control and Prevention (CDC). 2013. "CDC Health Disparities and Inequalities Report: United States 2013." Morbidity and Mortality Weekly Report 62(3). Retrieved January 10, 2016.
CDC. 2014. "National Vital Statistics Report." United States Life Tables 2010. Retrieved January 10, 2016.
Centers for Medicare & Medicaid Services (CMS). 2012. Chronic Conditions Among Medicare Beneficiaries, Chartbook: 2012 Edition. Baltimore, MD: CMS.
Chari, A. V., et al. 2015. "The Opportunity Costs of Informal Eldercare in the United States: New Estimates from the American Time Use Survey." Health Services Research 50(3): 871–82. Santa Monica, CA: Rand Corporation. Retrieved January 12, 2016.
Colby, S. L., and Ortman, J. M. 2014. Projections of the Size and Composition of the U.S. Population: 2014 to 2060, Current Population Reports. Washington, DC: U.S. Census Bureau.
Congressional Budget Office. 2013. Rising Demand for Long-Term Services and Supports for Elderly People. Retrieved January 10, 2016.
Eldercare Workforce Alliance. 2015. Education & Training: Meeting the Needs of Older Adults. Retrieved December 15, 2015.
Family Caregiver Alliance. 2015. Selected Long-Term Care Statistics. Retrieved January 10, 2016.
Institute of Medicine. 2008. Retooling for an Aging America: Building the Health Care Workforce. Washington, DC: The National Academies Press.
Jacobson, B. 2015. "Direct Care Worker Shortage Looming in Iowa." Thonline.com. Retrieved January 7, 2016.
Kaiser Family Foundation. 2012. Health Care Costs: A Primer. Retrieved January 10, 2016.
Lustig, T. 2013. Testimony to the Commission on Long-Term Care. August 20, 2013. Retrieved January 10, 2016.
Marquand, A., and Chapman, S. A. 2014. The National Landscape of Personal Care Aide Training
Standards. San Francisco, CA: UCSF Health Workforce Research Center on Long-Term Care.
National Alliance for Caregiving. 2015. Caregiving in the U.S. Washington, DC: National Alliance for Caregiving. Retrieved January 10, 2016.
Ortman, M., Velkoff, V. A., and Hogan, H. 2014. An Aging Nation: The Older Population in the United States. Washington, DC: U.S. Census Bureau.
Paraprofessional Health Institute (PHI). 2014. FACTS 1: Occupational Projections for Direct-Care Workers 2012–2022. Bronx, NY: PHI. Retrieved January 10, 2016.
Redfoot, D., Feinberg, L., and Houser, A. 2013. The Aging of the Baby Boom and the Growing Care Gap: A Look at Future Declines in the Availability of Family Caregivers. Washington, DC: AARP Public Policy Institute. Retrieved January 10, 2016.
Reinhard, S. C., et al. 2015. Valuing the Invaluable: 2015 Update. Washington, DC: AARP Public Policy Institute. Retrieved January 10, 2016.
Spetz, J., et al. 2015. "Future Demand for Long-Term Care Workers Will Be Influenced by Demographic and Utilization Changes." Health Affairs 24(6): 936–45.
Stevenson, D. G., et al. 2010. "The Complementarity of Public and Private Long-Term Care Coverage." Health Affairs 29(1): 96–101.
U.S. Department of Health and Human Services (HHS), Office of Inspector General. 2003. Nursing Home Medical Directors Survey (OEI-06-99-00300). Washington, DC: HHS.
U.S. Senate, Commission on Long-Term Care. 2013. Report to the Congress. Retrieved January 10, 2016.
von Gunten, C., and Ferrell, B. 2014. "Palliative Care: A New Direction for Education and Training." Health Affairs Blog (blog), May 28. Retrieved January 10, 2016.