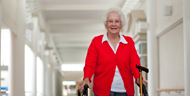 By Tim R. Johnston
Imagine you recently lost your spouse of many years. You've mourned her or his passing, and after careful consideration, you have decided that it's time to sell the house and move into an assisted living facility. You meet with the facility director and she gives you advice on how to pack up your home and make the transition into your new apartment, encouraging you to bring whatever you like to make this new home feel familiar, comfortable and safe.
Now imagine that your spouse of many years was someone of your same sex. You are still going to make the move into assisted living, but are afraid that if your new neighbors and the staff know that you are gay you will be treated poorly. You decide the safest thing is to go back into the closet and hide the fact that you were in a same-sex relationship.
What would you bring from your home, your old life, to make your new apartment feel comfortable? To stay in the closet you are forced to put all the pictures of your spouse and the family you shared, the photos from vacations, birthdays, and everyday life, into storage. You also leave behind your favorite artwork, books, and movies, or anything else that might give away the fact that you lived your life in a same-sex relationship or identify as gay.
This is the situation facing many LGBT (lesbian, gay, bisexual, and transgender) older adults trying to find safe, affordable, and high-quality housing. Years of living in environments hostile to the LGBT community have made many older adults afraid to openly identify as LGBT. Even in 2015, anti-LGBT discrimination and abuse are well-founded, and fears of discrimination are realistic.
Creating LGBT specific housing is one important way to support LGBT older adults, but with more than 3 million LGBT people older than age 55 in the United States (and that number is projected to double over the next 15 years), we could never build enough housing for everyone.
That's why much of the work I do at SAGE's National Resource Center on LGBT Aging is to make sure existing housing providers have the tools they need to treat LGBT older adults with respect and dignity. One of our most important resources is the LGBT aging cultural-competency training program. These trainings help participants learn about the LGBT community, LGBT aging, and best practices to support LGBT residents.
Most participants are excited to receive training on the LGBT community, but sometimes as I'm setting up I'll hear someone say something like, "I don't have a problem with LGBT people. If someone wants to come out to me that's totally fine! I treat everyone the same." Treating everyone the same is certainly a great goal, but many people don't realize the amount of fear and mistrust LGBT older adults might have after years of facing discrimination and social stigma.
This well-meaning but passive stance is not sufficient to create a safe and welcoming atmosphere. I also have found that most people want to support LGBT residents, but they may not be familiar with the LGBT community, and are afraid to discuss LGBT issues because they don't want to accidently cause offense. Transforming these good intentions into culturally competent care for LGBT residents requires training.
In addition to general knowledge about LGBT aging, our trainings for housing providers also discuss how to implement important policies and procedures that create safe living environments. For example, transgender people should have access to sex-segregated facilities like bathrooms according to their gender identity. Any bias, discrimination or bullying between residents because of sexual orientation or gender identity should be treated with the same process an organization uses for conflicts around race, ethnicity, or religion. The key to creating a safe environment for LGBT people is making sure they have equal access to the same protections and procedures as everyone else.
SAGE's National Resource Center on LGBT Aging has been training housing providers for years, but as a part of our new National LGBT Elder Housing Initiative we will be offering new training tools and options, including a series of webinars touching on different facets of housing for older adults, including training housing providers in LGBT cultural competency, expanding housing and services for LGBT older people, and making senior housing policy LGBT-friendly.
Staff training lays the groundwork for creating housing services that welcome and affirm LGBT residents. You can learn more about these trainings or request a training, and work to make sure that no older adult feels that they need to go back into the closet, even in their new homes.
---
Tim R. Johnston PhD, is the Manager of Education and Training for SAGE's National Resource Center on LGBT Aging. He is responsible for coordinating nationwide trainings about the needs of LGBT older adults for aging providers and LGBT organizations, developing training curricula, and tracking training outcomes and evaluations.
This article was brought to you by ASA's LGBT Aging Issues Network.
Check your mailbox (and online) in early November for Aging Today's In Focus section called "A Place to Call Home: Where Will We Live as We Age," for more important articles on the evolution of elder housing, from low-income options to the psychology of moving to creative solutions for older adults who would rather age-in-place.