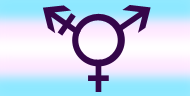 By Sean Cahill
Transgender elders experience discrimination and social exclusion, yet also exhibit incredible resilience. Discrimination can cause transgender people to delay seeking healthcare, and often transgender elders have to instruct providers on how to provide culturally competent care. But there are steps providers can take to improve their ability to provide affirming and nondiscriminatory care.
Coupled with the expanded access to healthcare provided by the Affordable Care Act, improved attention to transgender elder health can decrease disparities and improve outcomes.
Transgender Health Disparities and Chronic Conditions
Transgender elders experience a number of health disparities. Both gender dysphoria and the taking of female hormones can increase depressive symptoms, according to Randi Kaufman's chapter in the Fenway Guide to Lesbian, Gay, Bisexual and Transgender Health (Philadelphia, Pa.: American College of Physicians, 2008). Transgender people who transition and live their lives in the gender they identify with, but not their birth sex, report better mental health and improved social and professional functioning, according to Grant et al. in the 2011 report from the National Gay and Lesbian Task Force, Injustice at Every Turn: A Report of the National Transgender Discrimination Survey.
Transgender patients may be at greater risk of cardiovascular disease due to exogenous hormone use, too, says Futterweit in the Archives of Sexual Behavior (27, 1998). And in a recent study of more than 6,400 transgender people across the United States, 41 percent reported attempting suicide—a rate 25 times higher than the general population, according to Injustice at Every Turn. 
High rates of substance use and sex work correlate with elevated risk of HIV and STIs among
transgender women, according to Herbst et al. in AIDS and Behavior (12:1, 2008). Substance use
and mental health burden also may be related to minority stress and social isolation. Older transgender
people may be less likely to have children and more likely to live alone, says Frazer in the
2009 report, LGBT Health and Human Services Needs in New York State); but more population-level research is needed to know for certain.
In my 2013 presentation at the Gerontological Society of America conference, I highlighted congregate meal programs that are LGBT-friendly, such as Café Emmanuel and nearly a dozen other LGBT-targeted meal programs in the Boston area, and observed that these programs can help support social networks among transgender elders. Transgender people, particularly black transgender women, are disproportionately likely to be victims of hate violence, according to Lombardi et al. in the Journal of Homosexuality (42:1, 2002). Transgender men and women experience higher rates of poverty and unemployment, and often experience discrimination and harassment in the workplace. This leads to housing instability and lower rates of health insurance coverage, says Grant in Injustice at Every Turn.
Taking Action to Provide Affirming Healthcare
Healthcare and elder service providers can take a number of steps to make healthcare more affirming and welcoming to transgender and gender non-conforming people, say Reisner and colleagues in Affirmative Care for Transgender and Gender Non-Conforming People. These include asking for and using patients' preferred names and pronouns, regardless of what is listed on their legal documents and insurance forms.
Training front-line staff in how to address transgender patients and clients in a culturally competent way is important to creating an affirming environment. Adopting and posting a nondiscrimination policy that covers gender identity and expression sends an important message and provides important protections to transgender people. Having a single-occupancy bathroom that is gender neutral is also helpful. Providers are also encouraged to talk with their patients about gender identity and sexual orientation, as Makadon and I pointed out in a recent LGBT Health article (1:1, 2013). Fenway Health in Boston, which has taken affirmative steps like these and reached out to transgender people, has now become one of the largest providers of transgender healthcare in the world.
The Affordable Care Act (ACA) could significantly improve healthcare access for transgender people. The ACA's nondiscrimination protections in Section 1557 explicitly refer to Title IX of the Education Amendments of 1972. Title IX, often used to protect girls and women from sex discrimination in school sports, has been interpreted by the courts and the Department of Health and Human Services (HHS) to also cover gender identity and, therefore, transgender people, according to Cianciotto and Cahill in LGBT Youth in America's Schools (Ann Arbor: University of Michigan Press, 2012).
A 2012 federal regulation outlaws gender identity discrimination by Qualified Health Plans traded on state Health Insurance Marketplaces, says Rosenbaum in the Essential Health Benefits Update. The end of pre-existing condition restrictions and annual and lifetime spending caps are especially important for people living with HIV, according to my chapter, with Vargas, in the forthcoming Fenway Guide. This increased access to healthcare, combined with more training of healthcare providers in LGBT health issues, should improve transgender elders' access to culturally competent healthcare.
Fenway Health in Boston now serves more than 1,100 transgender patients, an increase from only 200 in 2007. This coincides with a dramatic expansion of healthcare access in Massachusetts, as well as the development of a transgender health program at Fenway. It is essential that health providers are made aware of these nondiscrimination protections, and that evaluation be conducted to ensure that anti-transgender discrimination in healthcare decreases.
This is why the Fenway Institute has asked HHS to issue a regulation banning discrimination on the basis of sexual orientation and gender identity in healthcare, and why it advocates for sexual orientation and gender identity data collection on health surveys, such as the Centers for Disease Control and Prevention's Behavioral Risk Factor Surveillance Survey.
---
Sean Cahill, Ph.D., director of health policy research at the Fenway Institute in Boston, Mass., teaches public policy at several universities and serves on the Massachusetts LGBT Elder Commission. He was lead author of Outing Age: Public Policy Issues Affecting Gay, Lesbian, Bisexual and Transgender Elders (New York: National Gay and Lesbian Task Force Policy Institute, 2000).
Editor's Note: This article appears in the May/June 2014 issue of Aging Today, ASA's bi-monthly newspaper covering issues in aging research, practice and policy. ASA members receive Aging Today as a member benefit; non-members may purchase subscriptions at our online store.