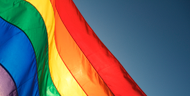 Daniel Tepfer's journey to full-time advocate began with a life-changing admission and an ingrained tendency to serve.
By Alison Biggar
Retired Air Force Colonel Daniel Tepfer has gotten used to people coming out of the closet. First it was his college-age daughter who exited while attending Wright State University in Dayton, Ohio. Then Tepfer says he and his wife, Nancy, had a similar experience, opening up about their daughter to friends, co-workers, neighbors and people in the community. In his full-time volunteer gig with PFLAG (Parents, Families, & Friends of Lesbians and Gays), he has found that this gradual "coming out" is a common occurrence among families with LGBT kids. PFLAG is a national nonprofit with more than 200,000 members and supporters (about 60% straight allies and 40% gay chapter members), and more than 250 affiliates. Functioning in a grassroots manner, it relies heavily on its volunteer force.
Tepfer, 68, was first approached by a PFLAG volunteer while at an AIDS walk held where he lives in Dayton. He had started talking with a man (also ex-Air Force) at the walk, and in order to chat with him, hoisted one end of the man's PFLAG Dayton banner. Initially Tepfer balked when another PFLAG volunteer asked him to join, telling her he didn't "need" the organization. But then something happened to change his mind.
After he retired from military service, Tepfer worked at General Electric Aviation in Cincinnati. At an afternoon staff meeting, his boss mentioned having tickets to an Elton John concert, which elicited a homophobic aside from a friend at the end of the table. Tepfer stewed all weekend, and on Monday found a way to speak to his friend without confronting him directly: "I've got a problem," he said, "I've got a gay child, and someone at the other end of the table made some derogatory remarks—I want to know who said it." His friend admitted to the offense, but they remained close, and the man got the message.
Change Comes with Baby Steps
Working for PFLAG is like this for Tepfer. He's not an in-your-face proselytizer, but more of a steady force for change. Things happen in small steps and tend to have a big impact. He first started attending PFLAG in October 1998, the month that Matthew Shepard was murdered. This wasn't long after the AIDS walk, but soon Tepfer was so involved he had developed a scholarship program for PFLAG Dayton, modeled after similar programs around the country. Through this scholarship, the organization donates $2,000 to one LGBT college student and one straight ally each year.
When Tepfer complained about PFLAG's local webpage, they suggested he redesign it, which he did (and still maintains, while his wife writes the newsletter). "The joke at PFLAG is if you show up for three meetings, you're on the board," he says, having now served as state coordinator for Ohio for six years, and on the PFLAG national board for the past five.
He's also regional director for the Great Lakes Region. Some weeks he says he doesn't do much—other times, like in June, become crazy as he gives presentations, attends marches and gay pride parades, and lectures at college classes.
Tepfer is modest about how many minds he may have changed in Ohio, but he admits that "over the past 10 years people have become more respectful, more accepting, because we put a face on the gay community. You've got to have a reason to be involved in what you're doing," he adds. "As we pre-Baby Boomers get to retirement age, we find we've got a lot of time on our hands. I can't figure out how anyone can stay home."
Don't Ask Don't Tell
"My wife and I have always been liberal, even before our daughter came out," he says, which may explain the ease with which this ex-military man has segued into such advocacy work, some of which has had a nationwide impact.
In 2008, when PFLAG realized Tepfer was retired military, he was asked to speak for five minutes on Don't Ask Don't Tell (DADT) at an event on the National Mall for the Servicemembers Legal Defense Network. As with every job he was volunteered for at PFLAG, he said yes.
The local paper covered it, and he met some DADT luminaries, including Serving in Silence author Margarethe Cammermeyer. Tepfer wrote a few op-eds for the Dayton paper, spoke on DADT at two district courts, stood in the hot sun for hours giving out information at a rally, and found, generally, that he had extra credibility while "wearing his eagles."
So when it came time for President Obama to sign the act repealing DADT, PFLAG asked Dan Tepfer to represent them in the audience. "It was one of the highlights of my life to be at a presidential signing of something I'd advocated for," says Tepfer.
Yet he adds, "When I looked back and thought about it, I wished could have done more. I did everything I was asked to do, but because I'm not gay, I can't feel the pain other people did; I can just stand in their corner and be a straight ally."
Soldiering On
In the wake of the DADT repeal, Tepfer continues to advocate for equal employment and housing non-discrimination. In Ohio, LGBT persons, or persons perceived to be gay, can still be denied a rental, motel lodgings—even a meal at a restaurant—if the owner so chooses. In alliance with Equality Ohio, PFLAG members have lobbied the state legislature and pushed one housing nondiscrimination bill through the house, but it died in the Senate.
PFLAG will keep trying. Right now Ohio ranks 51st in the states when it comes to LGBT rights and privileges, says Tepfer; so on May 18 he returned to the state legislature, hoping to reintroduce the Housing and Employment non-discrimination bill, which may happen later this summer. He would most like to see federal equal employment and non-discrimination housing legislation, because these would trump whatever is happening in a state like his.
Tepfer finds reason for hope. "Seven, eight years ago, only one-third of the population was in favor of same sex marriage," he says, "and now it's 52%. It's my generation that needs to change." He goes on to explain the difficulty with his generation: "We kinda forget there's a community out there that is prejudiced. I've been on Facebook for awhile, and a year ago a friend found me, told me all about what he'd been up to, how he's involved in his church, etc. When I wrote back with what I'm doing, I just never heard from him again."
Tepfer is eagerly anticipating his and his wife's high school reunion, for which they had to fill out a survey and describe the most exciting thing they'd done since graduation. Did he talk about being married for 46 years, his three children, his illustrious Air Force career? No—what garnered the one mention was being present on that seminal December day when President Obama signed the Don't Ask Don't Tell repeal.
---
For more information on PFLAG, visit their website:
To watch a video of the repeal signing, click here.
---
Editor's Note: This article appears in the July/August, 2011, issue of Aging Today, ASA's bi-monthly newspaper covering issues in aging research, practice and policy nationwide. ASA members receive Aging Today as a member benefit; non-members may purchase subscriptions at our online store.