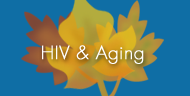 By Stephen E. Karpiak
Before launching into a discussion of HIV/AIDS and older adults, let's take a look at the latest numbers:
Almost 700,000 people in the United States have died from AIDS.
There are more than 1.3 million people living with HIV in the United States.
Each year there are 55,000 new HIV infections.
Each year 18,000 PLWHA (people living with HIV/AIDS) die.
Every nine minutes someone in the United States becomes infected with HIV.
The majority of these people are gay, bisexual and others who have sex with men, including transgender people, according to the Center for Disease Control and Prevention's 2011 HIV/AIDS Surveillance Report. Another important statistic needs to be added to the list. The HIV epidemic itself is aging, and by 2015 half of all people living with HIV in the United States will be age 50 and older. The most recent CDC data from the same report shows that one in every six new HIV infection occurs in people age 50 and older.
A 2011 Consensus Report following a two-year effort of the American Academy of HIV Medicine (AAHIVM), in partnership with the AIDS Community Research Initiative of America (ACRIA) and the American Geriatrics Society (AGS) details this aging phenomena and the next challenge of this epidemic. Who would have ever imagined such a threesome?
In the mid 1990s the introduction of effective anti-retroviral (ARV) treatments elevated the inevitable death sentence associated with HIV infection to a chronic disease. ARV treatment is not a cure, but it prolongs life. Imagine if there were similar treatments for most cancers!
Attention to this almost invisible growing population of older adults with HIV was largely fueled by reports that at a relatively young age (50 to 65 years old) they were developing multiple illnesses associated with the oldest-old (non-AIDS cancers, cardiovascular disease, osteoporosis, diabetes, hypertension, kidney disorders and more), as reported in both 2010's "HIV and aging: time for a new paradigm," in Current HIV/AIDS Reports, by Justice, and Karpiak and colleagues' Research on Older Adults with HIV from 2006. There are no clear answers as to why this is occurring.
The result is the transformation of HIV infection into a complex chronic disease associated with multi-morbidity will require focused coordination by multiple medical disciplines. The Consensus Report is a response to this, as managing multi-morbidity is an enormous challenge for clinicians and their patients. If adherence to HIV medications is an issue, consider medication regimens for three to five chronic disorders, including HIV.
This older adult population evidences high rates of depression and often suicidal ideation, both of which are factors in poor health outcomes. As they age many use alcohol, tobacco, and/or illicit drugs, further compromising their health. These are older but not senior adults. Ostracized and rejected, many isolate themselves as a self-protective defense, allowing them to conceal their HIV status, as mentioned in the 2011 piece, "Comorbidities and depression in older adults with HIV," by Karpiak and colleagues in Sexual Health.
The older adult with HIV is often missing critical supports usually in place for others as they age. They typically do not have partners or spouses, children and other family members who can provide both emotional and day-to-day supports. Research shows that 70 percent live alone and only 15 percent have a life-partner. Estranged from their families and friends because of AIDS-related stigma, most rely upon a few friends, many of whom are also HIV-infected. These fragile social networks will make it difficult for them to receive the informal caregiving they will need in order to age successfully. They can and do access community support programs, but often confront persistent toxic strains of AIDS-related stigma, as Karpiak and colleagues wrote in the 2009 Nova Science book, Older Adults with HIV: An In-Depth Examination of an Emerging Population.
Without functional social supports, this population will seek more formal supports in a period of reduced economic resources. Without the social supports of family and community, they will be assigned at early ages to costly home healthcare services and unwelcoming long-term care facilities.
The LGBT community has spoken often about its extended families, families of choice and its community support seen in the enormous strides made in equality and access to marriage. In the 1980s those community supports were evident in the caregiving given those facing AIDS. The community did respond. Many of the achievements in human rights and gay rights have occurred on the shoulders of that community response, whose roots and energies can be traced to the feminist movement. 
The epidemic now presents us with another challenge. Who will care for these older adults with HIV? It is the same question that was a constant in the 1980s. During a recent HIV and Aging Plenary presentation, Dean Linda P. Fried, an international leader on aging issues, observed that these challenges faced by the older adult with HIV present an opportunity for LGBT leadership, according to the 2009 report from New York State AIDS Institute, "Healthy Aging in the Era of HIV/AIDS." Innovative ways to provide care and support are needed for this aging population. Such efforts can become models for the larger aging population around us. 
And where there is no innovation—there needs to be the simple touch of human care. In 2015 a swath of Boomers will become elders and place increased demands on the larger society for health and social services. The frequent absence of the nuclear family will place many of them in the same position as the older adult with HIV—lacking supportive social networks.
The first decade of AIDS was defined by death and activism—the second by medicines and hope. Now the LGBT community can become leaders in providing care for those aging with HIV. This is a defining challenge. How we care of our older brothers and sisters will define who we are.
---
Stephen E. Karpiak, Ph.D., is associate director for research at AIDS Community Research Initiative of America (ACRIA )in New York, NY.
This article is brought to you by the editorial board of ASA's LGBT Aging Issues Network (LAIN).