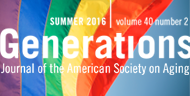 Recent research documents social, health, and economic disparities among LGBT elders. This Summer 2016 issue of Generations showcases cutting-edge practices, programs, policy initiatives, and research designed to better address the unmet needs and lack of access to services for LGBT older adults, their families, and communities.
Dedication to the Treasured Lives Lost in the Orlando Massacre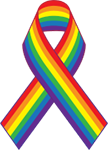 "In this Pride month, it is my honor to dedicate the newly released Summer 2016 issue of Generations on LGBT Aging to all those who lost their lives in Orlando, to those who were wounded, to their loved ones, to all who have in the past endured hate and violence, and to my community that rallies together, moving ever forward with our allies to build a safe and loving world."
-Karen Fredriksen Goldsen
In "The Future of LGBT+ Aging: A Blueprint for Action in Services, Policies, and Research," Guest Editor Karen Fredriksen-Goldsen reflects on the future of LGBT aging, informed by findings from her landmark studies Caring and Aging with Pride and Aging with Pride: National Health, Aging, Sexuality and Gender Study. LGBT elders still remain largely invisible in aging services, policies and research, despite rapid growth in population size. The language and terminology of the LGBT aging world has evolved, and there is a resilience in this population from surviving lifelong prejudice and discrimination, yet much remains to be done to better support optimal aging, health, and well-being of the LGBT mid-life and older adults.  
Rev. Donald Koepke interviews Rev. Daniel Hooper in "Opportunities for Ministering to LGBT Elders." Hooper is the retired pastor of the Evangelical Lutheran Church in America, and Koepke is director emeritus of the California Lutheran Homes Center for Spirituality and aging. Hooper spoke with Koepke about the role of faith in the health and well-being of LGBT older adults, how different faith communities work with this cohort—or don't—models for working with LGBT elders, and how approaches to helping LGBT elders continue to evolve in churches and other faith communities. 
Recent population-based research shows that LGBT elders have significantly higher levels of psychological distress than their heterosexual counterparts. Charles P. Hoy-Ellis, Michael Ator, Christopher Kerr, and Jessica Milford in "Innovative Approaches Address Aging and Mental Health Needs in LGBTQ Communities" speak to the need to recognize and address barriers and strengths and resiliency factors that inhibit or promote mental health and highlight innovative ways that LGBTQ peer and community supports are employed to address mental health and aging equity. Houston's Seniors Preparing for Rainbow Years program is held up as a stellar example of such collaboration.
"Protecting and Ensuring the Well-Being of LGBT Older Adults: A Policy Roadmap," by Robert Espinoza, outlines the reforms and policy changes necessary for LGBT elders to age independently, in good health, and be financially secure in their homes and communities without fear of discrimination. There is scant mention of LGBT elders in either the White House Conference on Aging report or in the Older Americans Act. This omission embodies how the federal government construes LGBT older people, and influences the next era of policy change, which should specify LGBT elders in regulations governing and funding long-term care, housing and community-based services, foster more research on LGBT aging issues, and improve data collection.
Older adults' lives are not just shaped by being LGBT, but also by race, gender, and other social conditions. In "An Intersectional Approach to Services and Care for LGBT Elders," Michael Adams describes how such an intersectional approach would work, and how it will prove invaluable to practitioners committed to working effectively with vulnerable older adults.
ASA is pleased to offer this latest issue of Generations, which will be reaching ASA members and subscribers in late June, early July. Single copies can also be purchased from our website.
Inside this Issue
LGBT Aging: The Past and the Future
The Future of LGBT+ Aging: A Blueprint for Action in Services, Policies, and Research
By Karen I. Fredriksen-Goldsen
read on AgeBlog
Social, Economic, and Health Disparities Among LGBT Older Adults
By Charles A. Emlet
Aging with HIV: The Challenges of Providing Care and Social Supports
By Stephen E. Karpiak and Mark Brennan-Ing
Opportunities for Ministering to LGBT Elders A Conversation with Rev. Daniel Hooper
by Donald Koepke
read on AgeBlog
Aging Out in the Queer Community: Silence to Sanctuary to Activism in Faith Communities
An Interview with Barbara Satin
by Karen I. Fredriksen-Goldsen
Engaging Underserved Populations: Outreach to LGBT Elders of Color
By Bob Linscott and Lisa Krinsky
Overcoming Barriers to Care for LGBT Elders with Alzheimer's
By Marcy Adelman
Major Issues and Responses
The Challenges of Change: How Can We Meet the Care Needs of the Ever-Evolving LGBT Family?
By Nancy A. Orel and David W. Coon
End-of-Life Preparations Among LGBT Older Adults
By Brian de Vries and Gloria Gutman
A Collaboration for Health and Wellness: GRIOT Circle and Caring and Aging with Pride
By Hyun-Jun Kim, Katherine Acey, Aundaray Guess, Sarah Jen, and Karen I. Fredriksen-Goldsen
Innovative Approaches Address Aging and Mental Health Needs in LGBTQ Communities
By Charles P. Hoy-Ellis, Michael Ator, Christopher Kerr, and Jessica Milford
read on AgeBlog
The Intersectional Challenges of Aging and of Being a Gender Non-Conforming Adult
By Tarynn M. Witten
FORGE's Trauma-Informed Trans Aging Work
By Michael Munson
Why and How Providers Must Build Culturally Competent, Welcoming Practices to Serve LGBT Elders
By Rajean P. Moone, Catherine F. Croghan, and Andrea M. Olson
SAGE's National Resource Center on LGBT Aging Is Training a Culturally Competent Aging Network
By Meredith Doherty, Tim R. Johnston, Hilary Meyer, and Nancy Giunta
ZAMI NOBLA: Preserving History and Fostering Wellness in Black Lesbians
By Mary Anne Adams and Tonia Poteat
Serving LGBT Veterans: Los Angeles LGBT Center's Veterans Initiative
By Kathleen M. Sullivan, Ralph B. Mills III, and Lauren Dy
Planning for the Future: Innovative Policies and Services
Protecting and Ensuring the Well-Being of LGBT Older Adults: A Policy Roadmap
By Robert Espinoza
read on AgeBlog
An Intersectional Approach to Services and Care for LGBT Elders
By Michael Adams
read on AgeBlog
The Intersectional Approach in Action: SAGE Center Bronx
By Catherine Thurston
Perseverance, Patience, and Partnerships Build Elder LGBT Housing in San Francisco
By Seth Kilbourn
Intentionally Designed for Success: Chicago's First LGBT-Friendly Senior Housing
By Britta Larson
Mary's House: An LGBTQ/SGL-Friendly, Alternative Environment for Older Adults
By Imani Woody