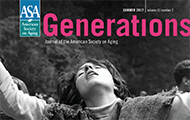 By Alison Hood and Alison Biggar
For anyone with a connection to San Francisco, or even much of California during the late 1960s, the 1967 Summer of Love is a vivid reminder of a time when young people not only were idealistic, but also romanticized by older and younger generations. This Summer 2017 issue of Generations was conceived as a reflection about this time, on the fiftieth anniversary of the Summer of Love, to determine if the youth then, now in their late 60s, 70s, and early 80s, are very different than other generations. They redefined how their generation and those following it experienced sex, drugs, and music, and expressed their political differences, but what can gerontologists learn from studying this snapshot in time?
This issue of Generations is, indeed, an experiment—one in which our three guest editors, W. Andrew Achenbaum, Mercedes Bern-Klug, and Erlene Rosowsky, were tasked with selecting contributing writers willing to take on an unusual assignment. Writers were given latitude—some wrote articles enmeshed in that era's details, some were more concerned with the path taken by this cohort since that infamous summer. Says Achenbaum, "Baby boomers are more diverse in attitudes and experiences than pundits usually portray—our writers . . . had ample opportunity to illustrate points of divergence and converging moments as this generation matured and aged."
The contents of the Summer 2017 Generations issue, is placed into three sections, "The Way We Were," "The Way We Are," and "The Way We Might Be." The issue begins with Andy Achenbaum's introductory article, "The Summer of Love: From Fantasy to Fallout," which gives a historical overview that tracks the "first" baby boomers, who were younger than age 30 in the 1960s—a decade with aspirations of bringing a civil-rights movement to fruition in a Great Society. Outlining the upheavals of the 1960s, both at home and abroad, some baby boomers took part in "The Summer of Love" in San Francisco, experimenting with novel forms of communal living, notable for sex, drugs, and rock 'n' roll. Legacies of the Summer of Love carried baby boomers into adulthood and old age.
In "The Age of Anti-Aging: Media Hype and the Myth of the Ageless Baby Boomer," Paul Kleyman disabuses us of the falsehood that baby boomers are a "generation that failed to live up to its lofty ideals"—a myth that has fed into ageist political efforts to cut entitlements. Kleyman argues that the media's mythologizing of the baby boomers as the Me Generation, which never wanted to grow up, is belied by so many who continued on past the Summer of Love, devoting their careers to service.
Amanda Smith Barusch reflects on how the Summer of Love expanded romantic possibilities for its participants, and also for a wide swath of the American public. "Love, in Retrospect" traces the ripple effects of the diverse romantic practices and sexual identities of the Baby Boom Generation and examines sexual philosophies, using the notion of "possible selves" to place this development in the context of identity management in later life.
According to Stephen Golant, aging baby boomers are more self-reliant today than were their grandparents living in the 1970s. His article, "Self-Reliant Older Baby Boomers Are Now Better Connected to Goods, Services, and Care," enumerates how these more independent and empowered American aging baby boomers will be better able to access the goods, services, and care they need to age in place autonomously in their current dwellings. Golant posits that the emergence of the Internet economy and the prospects of gerontechnological advances will only increase this connectivity divide, while cautioning that one unintended consequence of increased connectivity may be a generation of more socially isolated older baby boomers.
In "Baby Boomers: From Great Expectations to a Crisis of Meaning," Harry R. Moody injects a philosophical note, observing that extended longevity and aging can give rise to some inevitable disillusionment, even though baby boomers grew up with great expectations for the future—for themselves and the wider society. He notes that recent political developments here and abroad suggest disillusionment in government and lower confidence in the future. Though disillusionment takes different forms, influenced by age, cohort, and historical period, Moody believes this topic demands closer attention from gerontology, as aging baby boomers must find a new story for themselves as they search for meaning in a world different from what they expected.
Print copies of the Summer 2017 issue of Generations will reach ASA members and subscribers in August 2017. Single copies can also be purchased from our website.