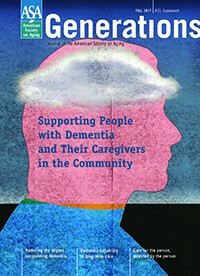 The number of people with Alzheimer's disease, the most common cause of dementia, is projected to increase to 13.8 million by 2050. To help educate about and combat Alzheimer's, ASA is pleased to introduce a special supplement to Generations, "Supporting People with Dementia and Their Caregivers in the Community."
The supplement focuses on efforts underway to establish dementia-capable home and community-based service systems, and to develop effective, evidence-based services for people with Alzheimer's disease and related dementias and their caregivers. The content features research and writing by dementia experts at RTI International, as well as many others well-known in the field of dementia research and advocacy. This content paves the way for service providers, families, and caregivers to provide person-centered, evidence-based, effective home- and community-based service systems for people with dementia and their caregivers.
In "Improving Services for People with Alzheimer's Disease and Related Dementias and Their Caregivers," Michael Lepore and Joshua Wiener lay out the situation of dementia caregiving in the United States—people generally live at home, it's a stigmatized disease that's difficult to identify and diagnose, which makes linking people to the proper services challenging. Long-term services and support systems need to become dementia capable to work with this burgeoning population. Instead of receiving proper services, often people with dementia are hospitalized. The authors call for improved person-directed and person-centered services for this population.
In "Dementia Among Individuals with Intellectual and Developmental Disabilities: Policies and Practices," Kate Gordon stresses how aging and disability service systems must build greater capacity to provide services to the increasing number of aging persons with lifelong disabilities. People who live in community and have intellectual and developmental disabilities develop dementia, and they and their caregivers need to access dementia-capable services, for which promising practices are now emerging, due in part to grants from the Administration for Community Living.
Joseph Gaugler, Eric Jutkowitz, and Colleen M. Peterson, in their article "An Overview of Dementia Caregiving in the United States," detail how the brunt of dementia care in the United States is not borne by hospitals, nursing homes, or other professional providers, but by families. There are 15.9 million family caregivers of people with dementia. Recommendations to better meet these family caregivers' needs include integrating caregivers into healthcare encounters, increasing stakeholder engagement in intervention evaluation, as well as evaluating the worth of current caregiver intervention programming.
In Elizabeth Gould and Joshua Wiener's article, "Making Long-Term Services and Supports Dementia-Capable," they explain the importance of dementia-capability as it relates to the needs of individuals and family caregivers, describe components of model dementia-capable systems—featuring proper identification, diagnosis, assessments, self-directed person- and family-centered service (including service that is culturally competent), worker training, caregiver support, and research participation—and report how some communities are becoming more dementia-capable.
In their article, "Serving Individuals with Dementia Who Live Alone," Elizabeth Gould, Molly Knowles, Michael Lepore, and Katie Maslow address the significant number of people with dementia who live alone, putting them at risk for neglect, exploitation, falls, and other safety issues. Identifying when someone living alone has developed dementia is a first step to being able to provide supports and services to manage daily needs. The article provides practical strategies home- and community-based service providers can use when working with people with dementia who live alone.
This supplement also offers articles featuring successful programming for people with dementia, including ARDC Dementia Training in Oregon State, Scotland's Ten-Year Journey with Alzheimer Scotland, the development of RCI REACH, the Savvy Caregiver Program, and several more.
This supplement to Generations was funded by the Administration for Community Living (ACL), at the U.S. Department of Health and Human Services, in conjunction with the National Alzheimer's and Dementia Resource Center, which is funded by the ACL and staffed by Research Triangle Institute (RTI) International.
ASA is pleased to offer this supplemental issue of Generations at no cost to you.
Click here to view and download the publication.