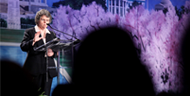 By Kathy Greenlee
The World Health Organization has declared that elder abuse is a violation of an older adult's fundamental rights to be safe and live free from violence. Recent estimates suggest that one in ten older adults experiences physical, psychological, and sexual abuse, neglect, and financial exploitation. Yet only a fraction of this abuse is reported.
In this country, as in the world, the aging population is rapidly increasing and we are seeing increasing numbers of the oldest old— those eighty-five years and older. Predictions indicate that by 2025 the global population of those ages 60 and older will double to 1.2 billion. Within the next two decades, the number of older adults will exceed the number of children for the first time in history. These are growing concerns among all nations: How will we care for all of these older adults? Who will provide this care? Who will pay for it? Where will it be delivered? When it comes to aging, these are the policy issues of our time.
Silently under this data sits another truth: More older people equals more elder abuse. I have come to realize over the course of my service as Assistant Secretary for Aging that I have one personal imperative—one priority that rises above all others. I must help address and end elder abuse. I am committed to that goal every day, every week. My commitment to our elders is to speak out. But to raise this issue, I need your help.
According to the June 2010 National Academies Meeting Report on Elder Mistreatment, "[t]here is a need for interventions at all levels of the elder mistreatment field including prevention, keeping abused elders in their own homes, clinical interventions, and legal/ criminal justice interventions" (National Academies Committee on National Statistics, 2010). But so much needs to be done to advance this field that it can be overwhelming, which is why everyone needs to help. The good news is that everyone can.
Elder Abuse: A Subset of Other Social Issues
Many of us work every day around older adults who are at risk of being, or who have been, victims of elder abuse.
For those who work on mental health issues, we need your help as our aging citizens struggle with depression, suicide, and cognitive impairment. Older adults are targeted by criminals preying upon their limited cognitive abilities. Research indicates that people with dementia are at greater risk of elder abuse than those without dementia (Cooney, Howard, and Lawlor, 2006; VandeWeerd and Paveza, 2005). One 2009 study revealed that close to 50 percent of people with dementia experience some kind of abuse (Cooper et al., 2009). We need help from criminal justice professionals to identify forensic markers and issues, enhance law enforcement's capacity to respond, and increase prosecution of elder abuse. When law enforcement personnel or prosecutors are presented with a situation where a suspect befriends an elder, borrows a large sum of money, and doesn't repay it, we need the authorities to recognize this may be a crime, not a "consensual transaction." It is important to dig deeper, to look for the exercise of undue influence or other implied threats, and to identify similar patterns— like instances where a suspect has received hundreds of thousands of dollars in "gifts" over the past few years from older victims.
We need professionals who deal with cases of family violence to recognize that the definition of "family" must be broad enough to include grandparents and elders in the fabric of our families. Our most frail and impaired elders often receive care at the hands of a loved one. They are vulnerable. Family caregiving is a wonderful gift but, unfortunately, some families live with violence, and the family unit becomes harmful. When we work to address family violence, we must not forget that older adults are a part of our families.
We need advocates against domestic violence to recognize that abuse does not end in old age, nor does it always begin in early life. In my career, I have worked at a battered women's shelter and directed a statewide domestic violence and sexual assault association, and I understand that late-life domestic violence is different. Safety planning, services, and financial options are different for older women and men who are battered by intimate partners. According to the National Clearinghouse on Abuse in Later Life, in most communities the way in which we respond to domestic violence has not changed since 1980, and few programs consider the specific issues of older victims that may prevent them from being able to fully utilize and access services (Brandl, n.d.).
Elder Abuse: A Separate and Unique Challenge
The thousands of older adults in this country who are physically, sexually, and financially exploited and abused deserve specific and special attention. While elder abuse is often a component of other social concerns, it is uniquely its own challenge. Financial exploitation of elders, for example, is growing. The direct costs associated with elder financial exploitation were estimated to be $2.9 billion in 2009, a 12 percent increase from 2008 (Met- Life Mature Market Institute, 2011). Forensic identification of physical and sexual abuse is different in an older man or woman. Elder abuse brings with it many of the challenges found in the areas of child abuse, domestic violence, and sexual assault. In addition, elder abuse presents unique complexities surrounding issues of capacity, consent, and the need for long-term supports and services. To move this issue forward as a nation, we need many things. Foremost is visibility. We must see and understand elder abuse to be a national scourge. As a national community, we are failing some of our most vulnerable citizens. To stop it, we must acknowledge it exists. When we see it, we must speak out. As a nation, we must listen to those who are speaking up. Elder abuse is insidious. Elder abuse is robbing older adults of their safety, their health, and their financial resources.
For nearly forty years, the U.S. Administration on Aging has provided federal leadership in strengthening elder justice programming designed to prevent and address elder abuse, neglect, and exploitation. Some milestones include the following:
1972: The Long-Term Care Ombudsman Program was established to represent the rights of and advocate on behalf of older residents living in nursing homes, assisted living, and other residential settings.
1988: The National Center on Elder Abuse was created as an information clearinghouse on abuse, neglect, and exploitation.
1992: The Title VII Elder Abuse, Neglect, and Exploitation Program was established to provide funding to support state- and communitybased elder justice networks that protect vulnerable older adults and provide them with critical information.
2011: We established a National Adult Protective Services (APS) Resource Center, dedicated exclusively to supporting APS programs with the purpose of enhancing and improving the consistency and quality of APS programs and services across the country.
The current Administration is committed to helping address this huge social and criminal problem. But we need more. For ten years, advocates worked with Congress to pass the Elder Justice Act (EJA). By the successful end of that work, more than 600 organizations had signed on to support the Act, the issue, and the goals. The EJA is groundbreaking in its comprehensive approach to elder abuse. The EJA advances the field. Yet it has not received an appropriation. I am doing what I can to keep the EJA moving forward.
In March 2011, the Government Accountability Office (GAO) presented a report to the Senate Special Committee on Aging called Elder Justice: Stronger Federal Leadership Could Enhance National Response to Elder Abuse. This report did not claim federal leadership could solve this problem. It cannot. Instead, the GAO pointedly declared stronger federal leadership could enhance the national response.
We must develop that national response. This is not solely a federal issue, this is a national crisis. Truthfully, it's a global crisis. I accept the challenge to commit myself professionally and personally to this cause. What about you? What have you done this week to end elder abuse? It must be your priority each and every day. For our elders, our families, and for ourselves.
---
Kathy Greenlee is the Administrator, Administration for Community Living, and Assistant Secretary for Aging at the Administration on Aging, the U.S. Department of Health and Human Services, Washington, D.C.
References
Brandl, B. n.d. "Where Were You 30 Years Ago? Where Are You Today?"(PDF). Wisconsin Coalition Against Domestic Violence/National Clearinghouse on Abuse in Later Life. Retrieved March 30, 2012. Cooney, C., Howard, R., and Lawlor, B. 2006. "Abuse of Vulnerable People with Dementia by Their Carers: Can We Identify Those Most At Risk?" International Journal of Geriatric Psychiatry 21: 564–71. Cooper, C., et al. 2009. "Abuse of People with Dementia by Family Carers: Representative Cross Sectional Survey." British Medical Journal 338: b155. MetLife Mature Market Institute (MMI). 2011. The MetLife Study of Elder Financial Abuse: Crimes of Occasion, Desperation and Predation Against America's Elders (PDF). New York: MMI. Retrieved March 31, 2012. National Academies Committee on National Statistics. 2010. "Meeting on Research Issues in Elder Mistreatment and Abuse and Financial Fraud " (PDF). June 22, 2010, meeting report from the National Institute on Aging and the National Academy of Sciences in Washington, D.C. Retrieved March 30, 2012. VandeWeerd, C., and Paveza, G. J. 2005. "Verbal Mistreatment in Older Adults: A Look at Persons with Alzheimer's Disease and Their Caregivers in the State of Florida." Journal of Elder Abuse & Neglect 17(4): 11–30.
Editor's Note: This article is taken from the Fall 2012 issue of ASA's quarterly journal, Generations, an issue devoted to the topic "Elder Abuse and the Elder Justice Movement in America" ASA members receive Generations as a membership benefit; non-members may purchase subscriptions or single copies of issues at our online store. Full digital access to current and back issues of Generations is also available to ASA members and Generations subscribers at Ingenta Connect. For details, click here.
Photo: Kathy Greenlee speaking at the 2012 Aging in America Conference in Washington DC