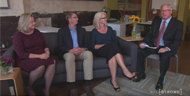 The following is a moderated discussion from September 15, 2015, with John Feather, CEO of Grantmakers in Aging, Emily Allen, Vice President, Foundation Programs with AARP Foundation, Catherine Godschalk, vice president, Investments, for Calvert Foundation and Scott Sporte, chief lending officer for Capital Impact Partners. The discussion centers around helping elders afford to age in community, and highlights Age Stong, an investment initiative that provides financing to projects that enable older adults to successfully age in their communities. Capital Impact Partners, AARP, the AARP Foundation, and Calvert Foundation are all partners in the initiative.
John Feather (JF): Today, we'd like to talk about an important new effort that brings together some amazing partners on the national scene to work on aging issues in a different way.
Emily, we know that the aging population is expanding rapidly. How is that change affecting the diversity of the financial resources that older people bring, and what we can do about it, particularly in a program like Age Strong?
Emily Allen (EA): Population aging brings about a lot of positive things. There are people remaining in the workforce longer. There are a lot of intergenerational opportunities, multi-generational workforces. At the same time, because individuals are living longer, many have not saved for retirement, or that longer period of time, so we're looking at financial challenges.
Also, living longer puts constraints on communities. And communities are not necessarily well-prepared to meet the demands of this aging population, whether it's with housing, access to healthcare services, and food and nutrition. It goes across the board, and that's one of the main reasons why the AARP Foundation is so excited to be part of this.
We have, for a number of years, focused on the basic needs people have in life as they age—access to food, access to affordable and adequate housing, [having adequate] income, ensuring that [people] can continue to generate income and manage that income to be more financially secure and, ultimately, that can they stay connected to their communities and not become isolated. What's exciting about Age Strong is it really covers the challenges people face in all of those areas meeting their basic needs.
Watch Highlights from this Discussion:
You can also watch the full conversation online
JF: Scott, we know that in the current healthcare environment, there's a lot of emphasis on integration of services across the acute-care hospital setting, and the community-based long-term-care setting, transportation, health, housing—all of these pieces have to roll in as one. Tell us how Age Strong can work in this process and help bring that integration about.
Scott Sporte (SS): Age Strong is designed to anticipate the diverse needs of healthcare providers. We can work with the primary care provider to help them build a facility. We can provide the working capital they need to be able to secure transportation. We work with a variety of organizations that provide care across a full spectrum—from senior assisted living, skilled nursing facilities, primary care, behavioral healthcare—and then think about ways they can access healthcare within their homes and within a primary care facility.
JF: Emily, are there other key areas that Age Strong will be part of?
EA: As we kick it off, we're looking at advancing scalable solutions that are out there. We're interested in taking a look at—particularly as Scott was talking about—those integrated service models. Are there new models of care showing some promise in communities that just need to be scaled? We see some real opportunities, particularly as they relate to connecting the home with medical services.  
We've done work around "green" housing; it's a good place to start, and it sticks with AARP Foundation's focus on creating innovative solutions. In the future, we'll look at more entrepreneurial models, but for now, there are some great ideas out there that can really connect people, allowing them to age in place in their communities, but to do so by providing new models of care that allow people to stay connected to their home and their communities.
JF: Scott, you talked about integration of services; tell us a bit about age-friendly communities.
SS: There are a number of interesting models for that type of community where people want to be able to remain in their homes, but need to be able to access services such as healthcare, and to be able to get their groceries …  to be able to get out and attend social events and other types of opportunities to socialize with their neighbors.
Concepts like The Village [Model] help bring services together, and bring volunteers within the neighborhood and outside the neighborhood to help connect those services so people don't have to go someplace else—don't have to live in another community to receive needed services. They can stay in their homes.
JF: Catherine, what is Age Strong?
Catherine Godschalk (CG): Age Strong is a partnership between AARP, AARP Foundation, Capital Impact Partners and Calvert Foundation, an investment initiative aimed at directing more than $70 million of private capital to meet community needs. And it's an investment opportunity for everyday individuals. So you or I can invest through the Calvert Community Investment Note, and become a part of the Age Strong Initiative.
JF: What role will your organizations play in this work?
EA: AARP and AARP Foundation are investors in this fund. Over the last several years, we looked at social impact investing as an opportunity to move beyond programmatic work into more investments into communities, and the issues that we care about across our impact areas—those integrated issues of hunger, housing, isolation, and income.
We're bringing the lens of the low-income or vulnerable older adult to decisions and conversations around where investment should be made. It's in keeping with our diverse portfolio of doing some grant-making, building some of our own programs, as well as making these types of investments in communities.
SS: Capital Impact Partners is a national nonprofit community development financial institution. Our mission is to work with people who live in low-income communities and who are not served by traditional financial markets. We are fairly unique in that we dedicate a lot of our resources and thought process to aging communities and populations. We will be receiving some of the investment through the Calvert Foundation, from the AARP Foundation and AARP to make loans to organizations that will benefit 50-plus populations around the country.
CG: Calvert Foundation, for more than 20 years, has been enabling individuals and institutions to invest for social good. Our role in this collaboration is to, through our Community Investment Note, enable individuals to become a part of the Age Strong Initiative.
Over the Foundation's history, it has raised more than $1 billion from more than 15,000 individuals and institutions, and we have deployed that capital working alongside strong intermediary partners like Capital Impact Partners, and our investors have received 100 percent repayment on principal and interest. Just as Capital Impact works at that intersection in the community of understanding how to structure financial products to address particular needs, we operate at the intersection of the private capital markets and investment and [what] the community needs.
JF: Emily, please give us some examples of how working together in this Age Strong environment might help a community.
EA: In the past, when we've done things like workforce programs we were always told, "You know, in reality, we don't create jobs. We may be able to help people train for jobs, but we don't necessarily create jobs." We see this as such a fantastic opportunity to actually create jobs, and that may be jobs for younger people, or it may be jobs for older people.
As we look at investing in things like grocery stores, what a great opportunity to put a grocery store in a food desert and have integrated services as part of that model, creating jobs, creating the community services that are needed and remediating a challenge around a food desert.
JF: Catherine, there are already funds for aging out there. What's different about this?
CG: It's private capital at work with a focus on generating positive social impact—philanthropic giving. Government programs are critically important and will always remain so, but governmental discretionary spending is at an all-time low—or at a low for the last 30 to 50 years—and we don't see an uptick anytime soon.
Charitable giving would have to nearly double to begin to fill the gap we see in discretionary spending. And directing more private capital smartly into programs that are sustainable and scalable to address the growing demand that we've talked about is what Age Strong is really focused on.
JF: Also, it's exciting because it's true that the philanthropic world struggles in the aging world; still only 2 percent of American philanthropy goes to aging. Emily, how does this take advantage of a shared-value proposition?
EA: So often when you think about low-income individuals, you put the mindset of charitable outreach on that. The fact is, yes, individuals may be [of] low income or struggling, but they're consumers, and so we see this as a way of creating a shared value in a community, of improving lives of individuals so they can become solid consumers in their communities.
By having integrated services, by creating age-friendly communities, by putting in place these services and improving lives, you help people turn the corner and go from beneficiaries to consumers.
JF: Scott, so many community-based organizations, many of which are smaller, are very afraid, or reluctant, to take on debt. What is it about this program that should encourage them to think about this as an opportunity?
SS: We have worked in—exclusively in—underserved communities. The programs or the products that we develop are flexible, they keep in mind the unusual nature of nonprofit financing and funding, and we spend a lot of time understanding the individual needs of each borrowing organization. We are listening to what the needs are in the community and adjusting the financing to help meet those needs as best we can.
JF: What types of borrowers do you think of with this program?
SS: Ideal borrowers are those that are going to focus the benefits of their work on populations ages 50 and older. Those organizations can be nonprofits, social service providers, healthcare providers, skilled nursing facilities; but [they should be] organizations that help provide or increase access to fresh, healthy food, to help low-income seniors increase their ownership of assets by purchasing their own homes or manufactured housing—to be able to own an asset that helps them grow and be stronger financially as they age.
JF: I'm one of those CEOs of a nonprofit community-based organization, and I'm coming to you and saying, "What kinds of things can you fund?"
SS: We can finance a full range of needs that can benefit your project development. We think about financing a facility, can help finance the construction or the acquisition of a building; we can provide long-term financing for that same facility. We can help finance equipment. We can provide working capital financing and the dollars needed to purchase inventory if you're a fresh food retailer, for example.
JF: Are there any particular types of projects you're looking to fund initially, as opposed to later on as the project develops?
SS: There are two phases to Age Strong's development. The first phase is working a lot with brick and mortar−type facilities, actual providers of—or deliverers of—healthcare services and fresh, healthy food. But as we're thinking about the second phase, we're thinking about more innovative ways that we can benefit the 50-plus populations. So that might turn us toward technology, workforce development, job creation, other new ways of asset-building for low-income seniors.
JF: Catherine, there's an interest in impact investing. If you could tell us a bit about what that is, and how it particularly relates to community-based solutions in aging.
CG: I describe it as part of the broader umbrella of sustainable investing, or socially responsible [investing]. But impact investing, or community investing, means knowing that your investment dollars are directly at work in communities, in low-income, underserved communities, to generate the impact that you want to see.
And the opportunity to make an investment, to know that you're going to be getting a return on your capital, as well as an impact as a result of that investment, is a really powerful one. But depending on what you look at, it can be sized at $500 billion to almost a trillion, right now.
It's growing faster than the financial services sector, so the interest has really peaked and there's a lot of appetite for people to know that their investment dollars are making a difference. I think Age Strong is an opportunity that can begin to meet that demand from the investor side.
JF: How—at a nuts and bolts level—does the investment work?
CG: You can invest directly on Calvert Foundation's website for a minimum of $1,000, you can invest through your brokerage account for $1,000, or, what I'm most excited about, is you can go online and invest as little as $20, and become a part of Age Strong. The Community Investment Note, and this targeted Age Strong offering, is a fixed-income investment. You select your term; we offer one-, three-, five-, seven- and 10-year terms, with an interest of one-half a percent through to 3 percent, depending on the tenure that you choose. And it's part of your investment portfolio.
JF: Can I invest out of my retirement account?
CG: Self-directed IRAs can invest in the Community Investment Note. If you were to go to agestronginvest.org, there's an FAQ section that has a lot of information, including [details] on what Age Strong is about, but also including how to invest, and that will give you more detailed information and description of how you can invest your IRA.
JF: Where does the investment go? Is it something you maintain, or how does that work?
CG: All of the Age Strong Community Investment Notes channel through to a fund managed by Capital Impact Partners—a fund that they are deploying in communities, financing a lot of the assets that you were just describing.
JF: What are some examples of innovations that are scalable, and what do we mean by scalable when we talk about community-based organizations?
EA: We're evaluating some of the programmatic work on a deeper level. For example, as we were talking about access to nutritious food, we've been working on the Food Nutrition Incentive Program where it's helping people incentivize using the SNAP benefit with getting healthy fruits and vegetables. Not only are we looking at that program, but syncing up with grocery stores and others to make it work, not only in a community, but at a broader scale.
Scale can happen within a community, but what we look at is how can we take great work that's happening in one community and take it elsewhere, and have those proof points that the outcomes you want to achieve—whether it's access to food and nutrition, whether it's job development, whatever—are happening, and being able to replicate it across the country.
JF: Scott, when we talk about scale, are we talking also about larger than a community? Are you talking about regional or national programs?
SS: We are, although ultimately, it all comes down to the community. We're working with organizations that have a national footprint and that are working with communities all over the country. We're working with hyper-local organizations focused on maybe a two-block area. It doesn't matter what their geographic footprint is, it matters how they're able to target their investment to benefit 50-plus populations.
JF: Would each of you tell us why you think this is important to you and your organizations?
CG: Through the partnership and the collaboration, we will demonstrate that the coming together of three organizations with very complementary strengths is going to result in a powerful impact in communities. And I'm really excited that it's an initiative that anybody can become a part of.
SS: I would echo that. If you make a deposit at your local bank, you don't know where that money is going. If you make an investment in the Calvert Note, you know that that money is going to be lent to, and benefit, low-income populations, people ages 50-plus, and help them access better food, better housing, better healthcare, and help them build their assets.
EA: We all have one thing in common: we are all aging. What we can put into place today will only benefit everybody at some point. The fact that we would be investing in communities and better access to services is probably going to benefit the young person as well as the older adult, but at some point, it's going to benefit all of us. So, collaborating and thinking differently, and engaging people in very, very different ways are, I think, at the core of what makes Age Strong so exciting.
JF: Thank you all. This is a game-changer in the way in which we might be able to bring private capital into meet the needs of this very large and growing segment of the population.
---
Emily Allen is Vice President for Foundation Programs at the AARP Foundation. Ms. Allen supports the Foundation's mission of creating and advancing effective solutions for vulnerable people 50+ by helping  them secure the essentials. 
John Feather, Ph.D., is the chief executive officer of Grantmakers in Aging in Arlington, Virginia, and a past Chair of the Board of Directors of the American Society on Aging.
Catherine Godschalk is Calvert Foundation's Vice President for Lending. Calvert Foundation channels social investment capital from more than 7,000 individual investors to CDFIs, affordable housing developers, microfinance institutions, and fair trade organizations.
Scott Sporte is Capital Impact Partners' Chief Lending Officer.  With 20-years of experience in community development finance, his team that provides financing to projects that help underserved communities have increased access to education, health care, housing, healthy foods and dignified aging options.
More information on Age Strong.
Learn more about investing in Age Strong