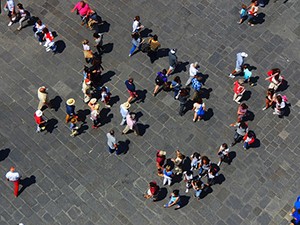 By M. Katherine Kraft and Kathy Sykes
A growing body of evidence suggests that in recent decades the amount of time spent interact­ing with others in the public realm has declined. "While we have more leisure time, we spend more of it alone or isolated by technologies as diverse as the private automobile and personal headphones," writes Joe Cortright, a contributor to City Observatory, a website and think tank that addresses cities' issues and the policies that shape them.
Our car-centric landscapes and digitally focused lifestyles have not only expanded our waistlines, but also have helped to fuel social isolation. Just as creating safe places in which people can exercise and play in the public sphere can serve to counteract inactivity and its related ills, so can this effort be a valuable mechanism for improving community interactions and building social connections—for reviving what Cortright calls "the civic commons, the places we share with the rest of society ... where interaction underpins opportunity and democracy."
Approximately one-third of Americans older than age 65, and half of those older than age 85 live alone. Many of them feel isolated, which worsens their health (tinyurl.com/yd66jucy). Social isola­tion and loneliness, which are major risk factors for physical and mental illness, especially in older adults, have been identified as risk factors for "all-cause morbidity and mortality with outcomes comparable to smoking, obesity, and lack of exer­­cise ..."
The Price Tag of Social Isolation
The costs of social isolation are both monetary and societal. According to a study by AARP and Stanford University, social isolation is estimated to increase Medicare costs each year by $6.78 bil­lion.
Social isolation also can contribute to growing distrust among neighbors, and perpetuate unsafe conditions and the physical decline of public space. Societally, it can make the process of democ­racy less effective, as socially isolated communities are less likely to engage in civic life. 
Historian Kenneth T. Jackson, quoted in "Bowling Alone," noted: "… [O]ur lives are now cen­tered inside the house, rather than on the neighborhood or the community. ... [T]he life of the sidewalk and the front yard has largely disappeared, and the social intercourse that used to be the main characteristic of urban life has vanished."
The decline of the public realm, according to Cortright, has helped to fuel growing distrust among Americans. "[P]eople exhibit less trust because they have fewer interactions; we have fewer interactions, so we have lower levels of trust and less willingness to invest in the public realm that supports it."
Playing Out—a Simple Solution
The good news is that social isolation can be addressed. While it is a complicated and expensive problem, there is a simple and low-cost intervention worth exploring—Playing Out. Initiated in 2009 by two neighbors in Bristol, England, Playing Out empowers residents to organize and super­vise periodic, temporary street closures. Typically, these occur for a few hours after school, so that children can run, bike, jump rope and play in the public realm while neighbors of all ages get to know one another. 
The initiative encourages participants—many of whom lack convenient access to parks and other safe outdoor activity spaces—to be physically active, while providing an increasingly rare opportunity for all neighborhood residents to forge vital social connections.
Playing Out's goals are to increase connections and improve relationships between neighbor­hood residents of all generations at a time when, according to Cortright, an alarming one-third of Americans say they have never interacted with their neighbors; to increase neighborhood collec­tive efficacy, or the sense that residents have control over their environments and collective fu­tures; and to create a culture of healthy, socially connected behavior, interdependence, community safety and playfulness through increased community interaction.
The model is an easy-to-replicate concept that provides opportunities for neighbors to engage with one another where they live and empowers residents to initiate and manage these recurring events. Playing Out is an effective vehicle for promoting community engagement and mitigating social isola­tion, as it recognizes that our modern environments can fuel social isolation and thus leverages the scale of the neighborhood street to help mitigate this social ill.
Playing Out events create people-centric spaces out of typical city streets, reviving, even if tempo­rarily, their historic significance, while creating vital opportunities for social interaction so people can again feel like valued members of their communities. In sum, these events can help to expand social capital (defined by researcher Kevin Leyden as "social networks and interactions that inspire trust and reciprocity among citizens") by allowing neighbors a chance to become acquainted, to trust one another and to be more socially and even politically engaged.
Another of Playing Out's strengths is its simplicity; because it relies upon one of a neighbor­hood's most prolific and often underused public physical assets—its streets—and upon a captive audience of beneficiaries, its residents, the model necessitates no permanent physical changes, nor does its success necessitate attracting people to distant venues. Playing Out is remarkably inclu­sionary, requires no specialized equipment or transportation and accommodates people of virtu­ally all ages, levels of mobility and incomes. Also Playing Out events are recurring, rather than one-off, and their effects have proven to be catalytic.
The Outcomes of Playtime
At its heart, Playing Out represents a recalibration of our long-standing attitudes toward the street, the public sphere and the meaning of neighborhood. Since its launch, the model has been em­ployed to host events on more than 500 streets across the United Kingdom, in more than 60 local authorities, and has helped to inspire similar efforts in Seattle (2014) and in Toronto, Canada (2016).
A 2016 evaluation of Playing Out and similar street play events in England found compelling qualita­tive and quantitative evidence of success in building social cohesion and stoking physical activity. The street closures were found to increase intergenerational social interaction between neighbors, friends and families. The comments of one mother were typical; she and her 5-year-old son had lived on their street for years but barely knew any of their neighbors before street play events began. Now they know a lot of people. "Before this, I hardly spoke to anyone," she stated in the evaluation report.
In some cases, researchers found street-play events generated invitations to different social gath­erings and furthered interest in other community initiatives that enabled residents to get involved in meaningful ways and to feel agency over the future of their neighborhood. They also found that the process of applying for street closures can help to build community connectedness.
Finally, these events challenge existing social norms about the meaning of public rights and inspire communities to re-imagine how use of public space can support vital and vibrant neighbor­hoods. America Walks, a national nonprofit network of walking advocates, is working with com­munities nationwide to lift up all of the ways that streets and the public space can provide effective and affordable approaches to address social isolation and create connected, safer, accessible, walk­able communities.
M. Katherine Kraft, Ph.D., is executive director of America Walks. Kathy Sykes, M.A., retired from the U.S. Environmental Protection Agency, is on the Board of Directors of America Walks and on the Aging Today Editorial Advisory Committee.
Editor's Note: This article appears in the March/April 2019 issue of Aging Today, ASA's bi-monthly newspaper covering issues in aging research, practice and policy nationwide. ASA members receive Aging Today as a member benefit; non-members may purchase subscriptions at our online store.