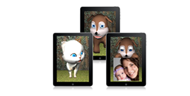 By Victor Wang, Jean Coppola, Lin Drury and Sharon Wexler 
It's not every day that you can get CEU credits to learn about talking dogs. Loneliness and social isolation in older adults are very serious problems, and in mitigating them, our virtual pet companions are making a very real impact on the well-being of seniors and caregivers alike. We're excited to be presenting a workshop on this topic at the Aging in America Conference, and we have an outstanding team supporting this presentation and the research behind it:
The Pace University Gerontechnology Program brings together the School of Nursing and the School of Computer Science for a truly multidisciplinary spin on aging and technology. Led by Drs. Coppola, Drury, and Wexler, the program combines teaching, research, and community outreach to provide unforgettable experiences for students, advance the state of the art in senior care, and improve the lives of seniors day-to-day.
GeriJoy is a company founded by MIT graduates that offers a unique senior care companionship service. A tablet-based virtual pet, the GeriJoy Companion is supported round-the-clock by a special team of care staff who enable the pet to provide truly intelligent conversation and supervision for older adults in a variety of care situations. GeriJoy has garnered acclaim from organizations like AARP, TEDMED, and the US Senate, and has won awards for innovation and entrepreneurship.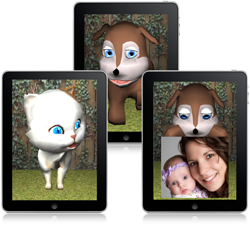 Together, we at Pace and GeriJoy have been working on an exciting pilot study to observe the potential clinical effects of GeriJoy's virtual companions, such as decreased loneliness and depression. It can be a challenge to successfully introduce state-of-the-art developments and technology to older persons who lack affinity for technology, and we look forward to sharing with you our practical experiences and research findings at our workshop.
To give you a glimpse into our research, here are a couple of informal reports from our Pace undergraduate research assistants working on this project in the field:
The change I have seen in the countenance and personalities of the clients is significant. Many were frustrated and depressed, which manifested in bursts of anger, lack of energy, and sadness. I am happy to report that with the use of the GeriJoy Companion, the clients have become happier, as seen by the smiles on their faces and their improvement in energy, manifested by the enthusiasm I encountered as they conversed about their experiences with the dog. Over the holidays, three of our current clients passed away. Their caregivers wanted me to express their gratitude for this program. They each confirmed that the quality of their loved one's life was positively impacted by GeriJoy. The caregivers wished that this program continue as it has benefits that are tangible and that they experienced with their loved ones. I continue to enjoy introducing this program to our geriatric clients and watching the transformation after they have developed their own personal relationship with their dog. It is a priceless opportunity to see the quality of someone's life improved by being able to have someone to talk to.
—Dawn Machesney, candidate for BS in Nursing (2015), Leinhard School of Nursing
Two seniors in particular were initially the grumpiest people anybody could meet, and I feel this was caused by the constant medications they were on and the inevitability of the loneliness they faced each day. They turned out to be avid users of the GeriJoy Companion, and revisiting them after nearly 3 weeks, they became gregarious and noticeably happier! They were even willing to share past experiences. One of the seniors always liked dogs and even gave suggestions to improve the realism in the virtual companions. The more they use it, the more feedback they provide in order to enhance their experiences.
—Tony Chen, candidate for BS in Computer Science (2015), Seidenberg School of Computer Science & Information Systems
In the meantime, what do you think? We'd love to hear your comments/questions/Tweets! Twitter: @GeriJoyTech @VictorHSW @PaceUniversity
---
Victor Wang, MS, is Founder & CEO, GeriJoy, in Cambridge, Mass. He and his colleagues Jean Coppola, PhD, Associate Professor, Pace University; Lin Drury, PhD, RN, Associate Professor, Pace University; and Sharon Wexler, PhD, RN, BC, Assistant Professor, Pace University, will present "A Virtual Interactive Multi-Sensory Service Dog Companion for Positive Stimulation in Older Adults" on Thursday, March 13, 2014 from 1:00–2:30 PM in the Hillcrest C Room (3rd floor, Seaport Tower) at the Manchester Grand Hyatt San Diego. Their complete session description is here, and you can search the entire program as well as check for schedule and program changes leading up the conference here.