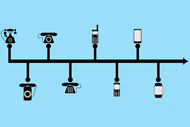 By David Lindeman
It's no longer unusual to hear about a new tech company or application being promoted to benefit older adults, whether in robotics, virtual reality or sensors; a breakthrough in assis­tive technologies; a new mobile app; or a simple improvement in smart cell phone technology. As we hear about the imminent arrival of autonomous vehicles, spoken-language communications and predictive data analytics that promise instant information or increased independence, it's clear that technology will play an ever more integral role in the lives of older adults, family caregivers and professionals.
Employed to its fullest, technology has the potential to improve the quality of life of older adults while concurrently improving access to care, efficiency of care and reducing costs of care. While technology offers innovative methods of support for family and professional caregivers, the most exciting element of these advances in technology is how it is changing the lives of older adults around the globe—helping them maintain independence and increase their control of their environment.
Presidential Science and Technology Council Findings
As the articles in this issue of Aging Today show, innovators are playing an increasingly active role in designing, developing, implementing and testing an intriguing array of technology-enabled devices and services for older adults. Recognizing the importance of technology in our aging world has reached the highest levels of government, as indicated by the recently released report to President Obama by the President's Council of Advisors in Science and Technology (PCAST). This article highlights some of the report's recommendations, how the report came about and key issues that still must be addressed to take full advantage of the rapid advances in technology.
In March 2016, PCAST released its Report to the President, Independence, Technology, and Connection in Older Age (disclosure: I participated in its initial draft as part of the PCAST Independence, Technology, and Connection for Older Adults Working Group). While not exhaustive, the report highlights promising technologies that could have a broad effect on older adults in the near future. The three primary areas include social connectivity and emotional health; changes in mental ability; and changes in physical ability.
Drivers of Technology Solutions in Aging
The demand for technology solutions that benefit older adults and those who support them is driven by the same factors putting pressure on our aging society in general: an aging society and longer life expectancy, a growing shortage in the gerontological workforce, the rapid increase in chronic disease and disability, fewer family caregivers, families living at greater distances from older relatives and, above all, older adults wanting to maintain and enhance their independence. Coupled with the rapid development and implementation of technology that is smaller, faster and cheaper, technology has become an indispensable adjunct to successful aging. This technology revolution has even coined its own labels: Connected Aging, Aging2.0, Gerontechnology, and Universal/Inclusive Design, among others.
Chief among the PCAST Report's highlighted action strategies in technology—tasks for the United States to take on—are the following:
Improve education and training in online technologies for older adults to ensure access to online services and protection from scams and fraud—all tailored to the learning needs of older adults.
Develop a technology-enabled system to support vulnerable older adults in disaster and emergency situations.
Support banking and financial services sector efforts in developing technology-enabled pro­grams to protect older adults from fraud and exploitation.
Review cognitive training programs to ensure that appropriate regulatory review and guidelines are in place.
Improve regulation and payment to reflect the benefits of telehealth innovation.
Support enhancing regulations and financing to improve home design that will sustain independence.
Accelerate better design guidelines to improve product design for older adults' needs.
Revise policies that will improve innovation in assistive and robotic technologies.
The PCAST report reinforces the importance of integrating federal action to focus on technology solutions that will support engagement, social connectivity and improved monitoring tech­nologies for frail older adults, as well as supporting research in this area.
Continuing Challenges
New applications of technology bode well for the future well-being of older adults and those who support them, yet there are significant challenges ahead in making sure all older adults can benefit from technology innovation. First, we must address the issue of equitable access to technology—a considerable proportion of older adults do not have even basic access to broadband or mobile technology.
This puts older adults at a disadvantage and even at considerable risk as more healthcare, social service and basic societal services are offered only in an online format. Similarly, even when accessible, a significant number of older adults do not understand how to operate technology. It is imperative that in addition to making technology more intuitive for older adults, training older adults in how to use technology must be a national priority. And while new technologies offer clear advantages and benefits to older adults, we must still ensure that older adults' privacy, security and safety are never in jeopardy.
As ASA members are increasingly in the position to identify, recommend and implement technology-based solutions for clients, families and policymakers, it is incumbent upon us to stay abreast of the exciting benefits and challenges that technology-enabled solutions offer.
David Lindeman, Ph.D., is director of Health, Center for Information Technology Research in the Interest of Society (CITRIS), University of California, Berkeley, and director of the Center for Technology and Aging.
Editor's Note: This article appears in the November–December, 2016, issue of Aging Today, ASA's bi-monthly newspaper covering issues in aging research, practice and policy nationwide. ASA members receive Aging Today as a member benefit; non-members may purchase subscriptions at our online store.