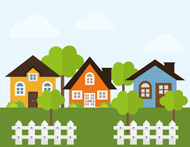 By Lorrie Shearon and Jim Shulman
Nearly 90% of people over age 65 want to stay in their home for as long as possible, and 80% believe their current residence is where they will always live. Unfortunately, aging in place can be difficult. This is especially true when many households with 65-74 year old occupants struggle to pay all expenses with income available after taxes. This burden increases as the householders age beyond 75. The largest expense for senior households is housing and related expenses. The more a household pays for housing, the less income available for other expenses, such as food, transportation, medications, and home based care.
The concept of aging in place is not new. It has been mentioned in academic literature since at least the 1980s. In 1999, a bipartisan commission created by Congress to study the housing needs of older adults estimated a need for an additional 730,000 units of affordable older adult housing by 2020. One of the earliest ASA AgeBlog posts in 2011 focused on "The Changing Landscape of Senior Living." Despite evidence for nearly 30 years that this is an important and growing issue, we are still not where we should be in terms of older adult housing and supportive services. As states continue to experience a huge demographic shift, with the senior population nearly doubling in the next 20 years, this problem is on the verge of becoming much more pronounced. Feeling the weight of this growing crisis, The Tennessee Commission on Aging and Disability began an in-depth formal review of the issue this past year in partnership with the Tennessee Housing Development Agency and the United States Department of Agriculture. While we compiled a detailed joint report outlining some of our state specific issues, three of our greatest conclusions were this:
There is a critical, and growing, need for affordable and supportive housing.
We're all in it for the same goal—we want all individuals to have the option to age with dignity and independence.
Without intentional collaboration across sectors, the older adult population will be unable to remain in their current homes and communities.
The number of older adults is rapidly growing. With that, comes a growing need for older adult housing. There are numerous national surveys confirming what we all know—older adults hope to remain in their current homes and communities as long as possible. Unfortunately, many older adults will be unable to stay in their current homes unless we increase the supply of safe, affordable, and accessible housing designed for older adults. The current supply is not ready to meet the demands of an aging population. In Tennessee, 82.5 % of householders ages 65 and older own their home (with or without a mortgage); however, the homeownership rate among older adults is declining over time. Among Tennessee households where the householder is 65 or older, many have either a mortgage or rent. This population of seniors is the group most likely to struggle with meeting household expenses on a fixed monthly income. While some Tennessee elderly renter householders receive a rental subsidy, there is a considerable gap in the number of older adults who are income-eligible for rental assistance, and the number who receive this subsidy. Of the almost 63,000 very-low-income elderly renters statewide, only 34,000 receive a rental subsidy. The available federal funding for housing development and rental subsidies for seniors is falling far short of the rising demand. Several of the federally-funded housing programs dedicated to senior housing have not received funds for new development in five years or more. In Tennessee, the gap between the number of very-low-income seniors and available affordable housing units is likely to grow as the senior population grows and federal funding for older adult housing remains stagnant or declines.
While affordability is crucial, most seniors eventually also require housing that is moderately accessible and many others need supportive services to allow them to continue living independently. In fact, as many as one in 3 adults over 65 will eventually have functional decline and require help with Instrumental Activities of Daily Living (IADLs) or Activities of Daily Living (ADLs). Individuals with these mobility limitations may require features/home modifications include (1) step-less entry into the dwelling from the exterior, (2) accessible bathrooms with grab bars, (3) switches and climate controls able to be operated by a person in a wheelchair, and (4) kitchen countertops, cabinets, and other features able to be utilized by a person in a wheelchair. On the other hand, some individuals will need supportive services. The aging network and local organizations strive to provide supportive services such as home-delivered meals and personal care. There have even been a few successful attempts at integrating these services into housing. Unfortunately, these integrated services and housing units are not the norm. Despite the need for these integrated services and housing, collaboration can prove challenging. Housing, healthcare, and aging services often speak three different languages with completely different vocabulary. This is further complicated by Federal funding for housing, healthcare, and services which are not aligned—although each depends on the other for success. This makes it even more difficult to get these funding streams to work together successfully.
The Centers for Disease Control and Prevention states that aging in place is "the ability to live in one's own home and community safely, independently, and comfortably, regardless of age, income, or ability level." Unfortunately, there is no "one size fits all" solution to aging in place. While some individuals may never require any assistance, others will need a wide variety of services to remain in their current home as their circumstances or physical abilities change. For this to be possible, there must be a system comprising not only housing which is stable, safe, and affordable, but also a community of supportive services to allow individuals to continue living there. This system of many pieces and players must all move together in collaboration to support our aging population. With few coordinated options currently available to our older adult citizens, integrated services and housing is one of our only hopes. To do this, we must all begin to understand each other's languages, having conversations, and collaborate for change in our communities.
Lorrie Shearon, is Chief Strategy Officer at Tennessee Housing Development Agency, where she oversees the Community Programs Division, the Research & Planning Division, and civil rights compliance. She has been at THDA for over 21 years.
Jim Shulman is Executive Director at Tennessee Commission on Aging & Disability, the designated state agency on aging mandated to provider leadership relative to aging issues on behalf of older persons in the state. He has been at TCAD for 5 years and has worked in state government for more than 20 years.