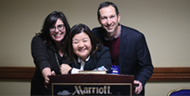 We are still accepting proposals to present at the 2017 ASA Aging in America Conference (AiA17!) happening in Chicago, March 20-24, 2017!
Deadline: Proposals will be accepted through July 15, 2016.
You can submit your presentation proposal here (you'll need to log in with your asaging.org account, or create one—it's totally free!)
Suggestions for a Good Proposal
Here are a few things to consider when putting together your presentation proposal:
Attendees
Aging in America is a multidisciplinary conference and attendees represent the breadth of the field, including direct service providers and caregivers, healthcare professionals, elder law attorneys, researchers, policy makers and many others. To make your proposal compelling, be sure to make it clear what problems your session helps address, how what will be shared is practical, and what the tangible takeaways will be.
Topics
The focus of AiA17 is innovation, including innovative policies, programs, practices, models, businesses, learning and more from across the field of aging. As you get ready to submit your proposal, think about what innovative ideas you can share in the following topic areas:
Aging in Community
Business & Leadership
Caregiving
Clinical Care & Transitions
Diversity & Cultures of Aging
Integrated Care Networks/Business Acumen
Lifelong Learning, Wellness & Engagement
Mental Health
Policy, Advocacy & Ethics
Religion, Spirituality & Meaning
Technology, Accessibility & Transportation
Get creative
Don't be afraid to get creative and think outside the box. We'll just let these pictures from past AiA conferences speak for themselves...
psst... we are accepting proposals for morning exercise activities during the conference! 
Who Should Submit a Proposal?
Presenters at Aging in America include everyone from professionals who work in the field of aging to practitioners in allied professions such as social work, healthcare, architecture, law, finance and more. Students who are doing research on aging-related topics are also encouraged to present. Practitioners, clinicians, and medical professionals have been a part of the faculty, along with academicians and direct service providers.
As the largest multidisciplinary conference on aging, Aging in America covers a wide range of topic areas, creating a virtually limitless field of opportunity for presenters. ASA welcomes all interested presenters to submit proposals, particularly encouraging those outlining fresh and useful strategies for addressing widespread aging issues. 
Still have questions? Check out How to Submit a Proposal and the Call for Proposals FAQs. If you're still confused, shoot us an email! 
More Motivation...
These folks presented at AiA16. We hope you'll join them at AiA17!
Just finished our presentation at the 2016 Aging in America conference! #REST_Program #AiA16 #respite #training pic.twitter.com/F5z97nFFfg

— REST (@RestProgram) March 23, 2016
@SilbermanSAAS @SilbermanAging @silbermanssw representing social work at the @ASAging conference! #AiA16 pic.twitter.com/Cp3bZGYxui

— Madeleine (@aging_youngster) March 23, 2016
Presenting at #AiA16 "An Innovative Approach to Geriatric Oral Healthcare" @PaulDowney22 @WestHealth @GMWFoundation pic.twitter.com/VAWfO0nYwF

— Serving Seniors (@ServingSeniors) March 23, 2016
District's CRO Sue Tatangelo & June Simmons @partners_care presenting today on CBO business models @ASAging #AiA16 pic.twitter.com/eTfV6LehXt

— CHCD (@changing_aging) March 24, 2016