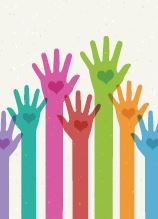 Mirroring the complexities of our modern world, the work of aging advocacy also is chal­lenging and complex. Aging Today recently spoke with three advocates in the aging sector about why they do the work they do.
Advocating for Indigenous Populations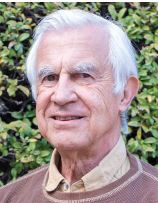 Dave Baldridge, executive director, International Association for Indigenous Aging, Albuquerque, N.M.
Now nationally recognized as a Native advocate for elder issues, Dave Baldridge took a non-typical route into his advocacy work. It was 1991, he wanted to return to his home country of New Mexico from Aspen, Colo., and a job in the ski industry, and so applied for a position as director of the National Indian Council on Aging. Never having done anything remotely similar, and although part Chero­kee but raised "away from tribal communities," Baldridge admits to knowing nothing at that juncture about Indian aging. But he con­vinced the Council's board that if, as a former national media direc­tor for the Professional Rodeo Cowboys Association, he could make cowboys look good, then he could easily make Indians look great.
Although the learning curve was steep and Baldridge was immediately asked to give Senate testimony on funding for Title VI of the Older Americans Act, he survived the testimony proceed­ings and obtained the funding. Under his leadership, the Council increased appropriations for Ti­tle VI from $14.3 million to $28.5 million that first year, and soon increased the U.S. Department of Labor contract for the Title V Senior Community Service Employment Program from $2.5 million to $5 million.
Baldridge led the Council until 2002, when he became a contractor for the Centers for Disease Control and Prevention and, with former ASA Board member Bill Benson, started the Interna­tional Association for Indigenous Aging. He says one of his major achievements has been to help convince the U.S. Department of Health and Human Services that Indians as a subpopulation re­quire special attention. They have a separate healthcare delivery system and separate municipal governments, so advocates need to constantly remind decision makers of this unique situation, Baldridge says.
The greatest challenge now and going forward is to remain cognizant of the poverty and health disparities in the Native elder population. "Indian reservations comprise some of the poorest counties in the United States," says Baldridge, so "without viable economies, human services as­sume a larger than normal role. That's why advocacy is so important.
"Effective advocates hold the mission in their hearts," he says. "It's not just a matter of perform­ing the work." Advocates must buy in to the injustices and great needs that the minority popula­tions experience and remain aware that disparities are not lessening, but growing.
"We in the aging network have always tried to overcome this obstacle," says Baldridge. "And it will take a great deal of additional work before we achieve that aim."
Advocating for Caregivers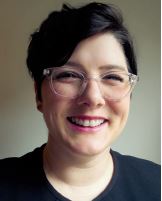 C. Grace Whiting, president and CEO, National Alliance on Caregiving, Bethesda, Md.
C. Grace Whiting had an inauspicious start on her path to advoca­cy. Fresh out of college, she was selling subprime mortgage loans during the market crash, when she woke up to the financial plight of her clients, many of whom were older adults. She repeatedly encountered older people who couldn't pay for healthcare or other bills on their limited income.
To this day, she keeps a pin crafted from an old spoon—a gift she had received from a woman client, who with her husband, had taken out a subprime mortgage loan against the advice of family and legal counsel. "I was 22 at the time, and it still shocks me to think about how many people plan life to go a certain way, but be­cause of a health issue or functional impairment, their second half of life doesn't work out the way they expected it to at all."
Although Whiting never learned the outcome of this specific situation, she says the couple is "a good example of how all of us, in all sectors, bear responsibility for caring for older adults and people with disabilities. They were lucky in that they had grown kids and an engaged attorney to watch over them. But imagine what the world would look like if our banker, our grocer, our real estate agent, our hairdresser and others outside of the field were better prepared to help older adults and people with disabilities when confronted with these issues from the outset."
Whiting credits her mentor and Alliance Founder Gail Gibson Hunt with fostering her desire to advocate for elders, particularly older caregivers. The biggest barrier to caregivers receiving ser­vices is that they often do not self-identify as caregivers, and thus fail to speak up for needed ser­vices and supports, she says.
Since joining the Alliance, Whiting has been responsible for launching the oft-cited bible of modern caregiving research, Caregiving in the U.S. 2015 (with AARP), and the first national study of rare disease caregiving with the advocacy organization Global Genes. She also contributed to several other caregiving reports, including Cancer Caregiving in the U.S., with the National Cancer Institute and Cancer Support Community, and Dementia Caregiving in the U.S., with the Alzheim­er's Association. But Whiting is most proud to carry on the foundation of research that Hunt built, notably her 2010 study on caregivers of veterans, which paved the pathway for legislation.
"Our research helped to lay the groundwork for the VA Caregiver Support program," says Whit­ing, who thinks it's the most comprehensive federal program to date geared toward caregivers. She also is excited about the Alliance's advocacy efforts (with AARP) that put pressure on Congress to pass the RAISE Family Caregivers Act (signed into law by the President in January 2018); and an­other iteration of the Caregiving in the U.S. report will be out in 2020.
"Something changes when people take on that [caregiving] label," Whiting says, describing how difficult it remains for people to admit to their caregiving role and call themselves caregivers. Without putting a name to their new role as caregivers, they tend not to imagine that services are available to help them perform it. "It's still a barrier to getting access to services," Whiting says.
This stigma issue is most pronounced in the workforce; caregivers are afraid to admit that they are in this role, fearing reprisal from their employers for being perceived as being disengaged from or ineffective in their jobs. Uptake on existing employer-sponsored caregiving relief services at work is particularly dismal, says Whiting.
Whiting feels that allowing caregivers a spot on their care recipients' healthcare and long-term-care teams is the next most important caregiving advocacy push. Struck by the selflessness that is charac­teristic of so many caregivers, she says that frequently they will not advocate for themselves, instead thinking they are doing fine on their own. Whiting has heard too many stories of caregivers selling off their businesses or leaving jobs, and-or breaking up with life partners to move in to take care of parents and then still refusing services. Whiting notes that caregivers claim to "have so much," and seem to think they do not deserve the help and support she knows they could really use.
Advocating to Eradicate Hunger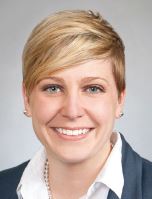 Erika Kelly, Chief Advocacy and Government Affairs officer, Meals on Wheels America, Arlington, Va.
Working each day to raise awareness of the issue of senior hunger in America, Erika Kelly spends her time chatting up members of Congress and their staffs, representatives of the Administration and national anti-hunger and aging organizations. She also devel­ops public policy initiatives for Meals on Wheels America and leg­islative strategies in support of senior nutrition programs and the people they serve.
Kelly was drawn to advocacy in the aging sector like many of her colleagues in the field—through the love and admiration she held for her grandparents, three of whom are still living. In college, she volunteered at an assisted living facility and became fast friends with two women residents, impressed by their strength, their level of engagement in life and their hard-won wisdom gained from enduring life difficulties and a "constant craving for knowledge."
An internship on Capitol Hill led Kelly to a full-time staff position with a member of Congress from Missouri—a job in which she learned about how many older adults struggle with hunger. She ulti­mately reached out to Meals on Wheels, and has been working with the organization for seven years.
Kelly thinks the challenges around senior hunger and social isolation are only going to worsen, as the incidence of senior hunger has doubled in the last decade. She chooses to find this bleak news motivating. "It's so solvable!" she says, determined to continue pushing for attention to this issue on the Hill. And with anticipated declines in federal funding, a new part of her job is "break­ing through the noise of today, and the news."
Especially during this challenging time, nonprofits often are forced into reaction mode instead of planning for the future, says Kelly, citing another impediment to effecting change. "The chal­lenge is not to get lawmakers and staff to understand the value of Meals on Wheels programs, but rather how to make hunger a national priority and get the dedicated resources to solve it," she says.
Restoring federal funding lost from the 2013 budget sequestration is the biggest win Kelly says she has had since beginning her work at Meals on Wheels. Meals on Wheels America supports more than 5,000 community-based programs nationwide that are dedicated to addressing senior isolation and hunger, relying on funding support from the Older Americans Act (OAA) through the U.S. Department of Health and Human Services (HHS). A joint effort by many national organiza­tions to mobilize and to tell the story about how the impacts of federal cuts would affect older adults, Kelly says the effort was "extremely successful, and one of the only federal [HHS and OAA] programs to receive those funds."
Looking ahead, Kelly encourages peo­ple working in the aging services sector to be in constant contact with and to develop relationships with their congressional representatives. "Share stories, news and updates, raise awareness, build trust and ultimately the advocacy will take," she says.