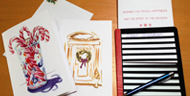 By Ed Haines
Did you know that according to research by National Eye Institute, the number of people with low vision in the U.S. will increase from almost 3 million today, to double that number in 2030? 70% to 75% of new cases of vision loss occur in the 65 plus age group. Low vision is a vision impairment that is not correctable with surgery, contacts or glasses, and persons with low vision often find everyday tasks difficult to do. The holidays can be wonderful, but the many activities surrounding this time of year can present some unique challenges for seniors with low vision.
Fortunately, by utilizing a few basic adaptive strategies and aids, anyone with low vision can enjoy all the opportunities this special season has to offer! If you or someone you know has low vision, here are Top Ten Holiday Tips for making the holidays fun and accessible:
Cooking is a time-honored pastime. If favorite recipes are becoming difficult to read, consider re-typing them in large, bold font and preserving them in a large print recipe book. You might also consider sliding each page into a plastic sleeve that can be wiped clean of spills.
 
Speaking of cooking, when preparing a holiday meal, keep all pot handles turned toward the side of the stove. This will keep them out of the way and prevent unnecessary spills.
 
If sending holiday greeting cards is one of your traditions, using a writing guide or template can keep this activity easy and enjoyable.
 
Why not transfer a holiday contact list in an old address book to a new, large print version? This can be a terrific activity for a helpful grandchild.
 
Lighting your home for the holidays is a fun and important part of the season. Make sure all extension cords are safely out of the way of foot traffic to prevent accidents.
 
When visiting friends and family, bring along a flashlight to illuminate dark walkways and entryways.
 
If company visits, ask them to remember to close cabinets, not to leave doors ajar, and to respect home organization.
 
Holiday shopping is a joy, but reading small labels on merchandise can be difficult. Bringing along a handheld magnifier can make the experience easier.
 
Going out to eat with friends can be fun. Organizing your cash beforehand can reduce confusion when paying your bill. Keep denominations in separate compartments of your wallet or have a system or folding bills for identification.
 
Finally, we all know how busy schedules are this time of year. A large print calendar and a low vision or talking watch will keep you up to speed on all the activities!
You don't have to let low vision interfere with enjoyment of the season! Learning compensatory strategies can greatly improve functioning and independence. Making small changes to daily activities or using basic adaptive aids can turn the holidays from frustrating to fun!
---
Ed Haines, M.A., is a Vision Rehabilitation Therapist and team member of the Low Vision Focus@Hadley, an initiative dedicated to assisting persons with low vision to live life to the fullest all year long. For more information on how Low Vision Focus @ Hadley can help you or someone you know, please call (855) 830-5355 or visit the website www.lowvisionfocus.org. All programs and materials are available at no cost. Happy Holidays!