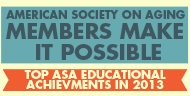 Members of the American Society on Aging have access to quality educational & professional development resources and events, but your membership dues also help us reach other professionals who, like you, are facing the challenges and opportunities of an increasingly diverse aging society. Every year we strive to expand our network of individuals and organizations working to improve the quality of life of older adults, strengthening and enriching our educational community.
Here are just a few of our 2013 achievements (which we plan to top in 2014):
Held 7 regional networking events.
Supported more than 30 national policy initiatives in support of older people. 
Served more than 2,500 in attendance at the 2013 Aging in America Conference's 650 sessions.
Published 6 issues of Aging Today and 4 issues of Generations.
Graduated 35 professionals from ASA's leadership development programs, New Ventures in Leadership and the Leadership Academy.
Hosted over 60 webinars that were all free to ASA members and attended by over 14,000.
The support, knowledge, and expertise of ASA members shine through in each event, publication and resource we produce. Join the best and brightest in the field of aging, gain access to all these resources and an invaluable and growing network of colleagues.
Plus, new in 2014:
ASA members are now eligible to earn CEUs for attending any ASA web seminar at no charge! 
Coming Soon: ASA Mentor Advantage is an online platform designed to connect experienced professionals with emerging professionals where they can form meaningful and productive mentor/mentee relationships.
Join ASA in January and get an extra month free with promo code JN14!