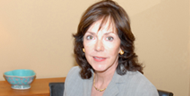 Medical psychotherapist Diana Denholm spent 11 years caregiving for her husband who had a series of severe conditions, from a heart transplant to kidney failure. From an early age, Denholm watched her mother care for her father, who also had a severe heart condition and multiple related illnesses. Although that experience informed her life, it was Denholm's surprising lack of preparation for the role of caregiving—after years of training as a therapist—that spurred her to write The Caregiving Wife's Handbook (Alameda, Calif.: Hunter House, 2012).
The book lays out the often brutal realities of caregiving with few filters, includes interviews with caregiver wives and offers a practical, step-by-step method for caregivers to follow in caring for a spouse. Denholm's book is primarily a tool for keeping one's wits and marriage together during the caregiving process, but it's also a useful primer for all present and future caregivers. Aging Today recently spoke with Denholm to discuss her pragmatic approach to caregiving.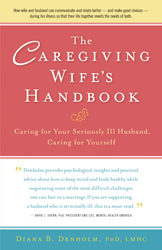 Aging Today: Why did you write this book?
Diana Denholm: My husband was diagnosed with colon cancer a month after he asked me to marry him. Following surgery and chemo, after five years he was deemed 'cured.' Then he developed cardiomyopathy and congestive heart failure. He was placed on transplant lists, and after declining severely for four more years, received a heart transplant. Following the transplant, a variety of body systems began to fail due to the anti-rejection medications and he needed extensive dialysis for kidney failure. He had osteoarthritis, gout, chronic urinary tract infections, a poorly functioning colon, diverticulosis and diverticular bleeds, hernias, skin cancers, depression, a sleep disorder, a choking disorder, free-floating blood clots and Parkinson's disease. Eventually he decided he'd had enough, and went off dialysis. He knew he would die within 5 to 10 days, and that's what happened.
With all my experience in medical psychotherapy, I was not prepared: I had to blaze my own trail. I wrote the book to help others, to help them get through with a semblance of sanity or self. Survival is the key for caregivers—some commit suicide.
AT: You wrote the book for the benefit of women caring for their husbands, but what is your experience with men caring for women?
DD: There are different challenges for men. Women are more nurturer-caregivers biologically. Men approach illness as something to fix. That's good because they may see caregiving as a separate task, and can get away from it mentally more easily. That's bad because they can't fix it. This makes them feel like failures and may lead to depression. Whatever the reason, the divorce rates are much higher when a wife is sick.
Some caregivers become objects of abuse, some become abusers. That's the whole point of the book: None of this has to happen. Typically, caregiving destroys people and marriages, but your life and marriage do not have to be over—if you have the skills.
AT: Many of the women you interviewed complained because their husbands wouldn't take even minimal care of themselves while they were still able to. Why do you think this happens?
DD: Some will take care of themselves, but many get depressed and think, 'I've got a terminal illness, why do I care about anything?' Some are depressed because of the meds they're taking. I think this 'helplessness' happens partially because women can be so co-dependent and enabling: they want to jump in and do everything they can to take care of their darling. We turn our husbands into invalids. That's why I wrote a chapter on the 'Big C'—women need to learn how to back off. If you don't, you'll start getting angry, and the resentment will spill over into the care you give. The good news is that it's fixable.
AT: Why do you think people who are not caregivers are so uninformed about the difficulties of caregiving?
DD: It's hard to say. When I speak on this, I tell people never go up to caregiver and say, 'I know just what you're going through.' Unless you have cared for a dying husband, you don't know—and even then it's not the same. The same holds true for someone who lost a child, or for someone whose spouse was hit by car and became a paraplegic—there's just no [single] frame of reference for understanding it.
AT: Your book states that honest discourse is required in caregiving. It seems difficult, almost brutal, if done as you recommend. Do your readers tell you that they're able to have these hard conversations with their spouse?
DD: People can do it because I offer good communications skills that can be used anywhere. First, you learn six steps: you don't just walk in and unload on your husband. Instead, you take all the things in your head that make you angry or frustrated and write them down for yourself—no one else will see it.
Next, you address things you need to talk about or resolve with basic communication tools, using 'I' statements and leaving the 'why' out of questions. You don't need to say, 'Why do you leave the toilet seat up all the time?' when what you really want to say is, 'Please put the toilet seat down so I don't fall in!'
Then you learn to speak in his language. Lots of men are more 'think' than 'feel'; some are the opposite. Rather than saying 'How do you feel?' say 'How do you think we should plan your final days?' Very difficult discussions are made easier when done this way.
AT: Have you gotten negative reactions for your pragmatic approach, which differs substantially from many other caregivers' stories that often (over) emphasize the intimacy and beauty in caregiving?
DD: No, quite the contrary. I hear 'thank you,' 'you get it,' 'I'm not alone.' The book's observation of caregiving being 'the roller coaster ride from hell'—that's accurate. Caregiving is not this sacred, revered, cozy close thing. You can have moments of that—I certainly did—but most of it is painfully challenging.
---
For information on The Caregiving Wife's Handbook, visit www.caregivingwife.com.
Editor's Note: This article appears in the July/August 2012, issue of Aging Today, ASA's bi-monthly newspaper covering issues in aging research, practice and policy nationwide. ASA members receive Aging Today as a member benefit; non-members may purchase subscriptions at our online store.