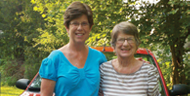 By Katherine Freund
Photo: Vicky Hodgkins (right) and ger daughter, Julia Houde, with the 2004 Ford Focus Vicky traded for rides through the CareTrade program at ITNAmerica. Photo courtesy of Katherine Freund.
Every Tuesday morning at 9 a.m., Vicky Hodgkins goes line dancing at the South Portland Community Center. From there she heads to a friend's home for lunch and a game of cards, and at 3 p.m., returns home.
Hodgkins is using her car, but she is not driving. Instead, she is using the Independent Transportation Network (ITN), a service that allows older people to trade their cars for rides. Vicky learned about ITN from her daughter, Julie, who heard about it at the hospital where she works.
"It's a hard thing to do," Julie said, alluding to having conversations with her mother about waning eyesight and driving mishaps. Vicky and Julie live next door to each other in an attached two family home, so Julie sees the driving difficulties firsthand. "We kept hinting," said Julie.
One day, Vicky drove over the mailbox at the end of the driveway.
"What if that had been Ella?" Julie asked Vicky, referring to Vicky's great granddaughter. "Ella is smaller than the mailbox. You could hurt someone. Could you live with that?"
Julie calculated the monthly cost of owning an automobile. She pointed out that while the ITN service is not free, neither is owning, insuring and maintaining a private automobile. But the ITN feature that helped most was the CarTrade program, and when it was time to make the transition, Vicky drove to the ITNPortland office in the old Dana Warp Mill on the Presumpscot River, in Westbrook, Maine, where she lives.
Vicky decided she would do it if ITN offered a fair price for her 2004 Ford Focus. Sam Lowrey, the dispatcher on duty, recalled, "She wanted to be sure she could still go to line dancing. I told her she could go anywhere she wanted." He added that Vicky's car is the most popular type in the ITNPortland fleet. Traded vehicles build the fleet, or they are sold through a dealer.
"She went to ITN on her own," said Julie. "She didn't even tell me."
The Car Is the Answer
If ever there was a solution hidden in plain sight, it is the private car as the answer to the older driver problem. Viewed as a symbol of independence by elders and as a dangerous machine by their worried adult children, the private automobile is also a depreciating capital asset, the largest transportation investment most people make in their lifetime. And as Julie pointed out, ongoing expenses are significant. The average American household spends 20% to 25% of its income on automobile transportation.
The CarTrade program is more than a simple reallocation of existing resources. It is a decision bridge for older drivers and their families, a symbolic transfer of vehicle equity that preserves transportation value. CarTrade provides access to billions of dollars of transportation assets, depreciating in driveways across the nation, at a time when public resources to address unmet mobility needs for older people are shrinking.
Not all older drivers make the CarTrade decision with family help. Mrs. R., age 88 and a Navy nurse in World War II, has been an ITN member since 2001. She prefers to remain anonymous because, like so many other older women, she lives alone. Mrs. R. was still driving when she joined ITN, using the service when she needed help, such as for rides to physical therapy after surgery. Like 25% of ITN members, she maintained her membership even though she was still driving.
"It was like having a security blanket," she explained. "It was a relief to know that I had an option." When a CarTrade brochure arrived in the mail, Mrs. R. set it aside for the day she would decide to stop driving altogether.
Mrs. R. uses her CarTrade account to pay for rides to the pharmacy, the hairdresser and the supermarket. After years of driving, what made Mrs. R. finally decide to trade her car for rides? Too much pain turning her head to see behind her, she said, plus her insurance and registration were both due, and she was concerned about injuring others. She says the CarTrade program made the process easy.
"I did not want to place an ad in the paper and do the sale myself," she said. Mrs. R. traded a 2001 Saturn with 18,000 miles.
Agile Technology
In Maine, where CarTrade was invented, it took years of business and technology development, as well as policy changes to the state's car dealership laws, to make the program work smoothly. 
"It's always hard to create a new program," says Alan Fried, ITNAmerica's chief operating officer and the man behind the software program, ITNRides, that tracks CarTrade credits and produces monthly statements for ITN members' Personal Transportation Accounts.
"We use an agile software development process, perfect for adding features like CarTrade. Now, CarTrade is built into the system and available for any community that joins the national network." CarTrade, he says, is an excellent example of the passive use of technology for older people.
CarTrade's technological underpinnings might sound complicated, but for Vicky and for Mrs. R., the program is simple, like a little decision bridge. When they are ready, they just walk across—free and independent as ever.
---
Katherine Freund is the founder and president of ITNAmerica, the national nonprofit transportation service for older people who limit or stop driving, and for people with visual impairments. ITNAmerica has 20 affiliated communities in 15 states. "ITN," "ITNAmerica," and "CarTrade" are registered trademarks of ITNAmerica.
Editor's Note: This article appears in the September/October, 2011, issue ofAging Today, ASA's bi-monthly newspaper covering issues in research, practice and policy nationwide. ASA members receive Aging Today as a member benefit; non-members may purchase subscriptions at our online store.