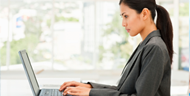 By Marcia Spira
Training opportunities for work with the older population are abundant as the cohort grows. Programs include online training modules, weekend workshops, specialized courses within university curricula and postgraduate certificates. And there are programs in university schools of social work.
At Loyola University Chicago's School of Social Work, students can specialize in a gerontology social work program in the second year of completing their Master's of Social Work. Each year, approximately 15 to 20 students apply to participate in academic courses and a field placement dedicated to study of older adults. Some students express interest because of personal relationships with grandparents; some express a natural affinity toward elders, wanting to "ease their suffering," "protect them from their vulnerability to environmental stress" or "give them some peace at the end of their lives." These are not unreasonable motivations for choosing the concentration, but they do limit the view of older adults and present some challenges.
Our model is based on the Hartford Partnership Program in Aging, which focuses on the recruitment, training and retention of master's-level students in the field of aging. The hope and intent is to develop a well-trained workforce to meet the needs of the growing older population.
Our gerontology sub-specialization program began as a way to facilitate the focus on older adults through class and field requirements. We pride ourselves on the integration of class work with field experiences. We partner with agencies to create coherence and continuity between the content of academic courses and the realities of practice.
A practice course and a policy course on older adults are offered concurrently with a field placement in agencies that serve older adults and their families. We add opportunities for a gerontology-focused integrative case seminar, additional courses on spirituality and grief and loss, summer institutes that concentrate on a particular aspect of aging and evening workshops on particular topics and skill development.
We focus on valuing the client and the relationship between them and social workers. But in spite of all our efforts to provide comprehensive, competency-based programming, some students still feel disconnected from older adults. They are uncomfortable with the differences between their age and their clients'. Our students are sensitized to "use of self" in interactions with clients—that is to be aware of their own reactions and use that information to facilitate engaging with the client. However, in the case of work with older adults students often express concerns such as, "Why would they talk to me? They will think I am too young!"
Our response has been to intentionally create more meaningful connections between the social work intern and the clients. In the classroom, older adults are often invited as guests to share their life stories. Students are asked to reflect on what part of the older person's story resonates with their own. It is rare that a student cannot find any aspect of the person's life that connects with some personal memory, current experience or emotion. Students often apply the story platform to work with older adults in their internships. A 26-year-old student was working with a depressed 85-year-old client with Parkinson's disease. The student was asked to help the client transition from her home to an assisted living facility. Initially the student felt rather disengaged from the process and had a hard time talking to the client. She felt bored and helpless in response to the client's depression and relatively useless except to find "a bed" for the client.
She was encouraged by her supervisor to help the client tell her life story. The student was stunned to learn that when the person was 26, she was a champion equestrian, a passion shared by the student. The connection to her own passion piqued the student's interest in her client. They began talking about horse shows and both the client and the student experienced a renewed vitality in their relationship. The student became less bored and more comfortable spending time with the client, and the client became less depressed.
There are multiple benefits to this process. Young students are helped to address their discomforts and feel more connected to the person; students gain perspective of the whole person (personhood) rather than the limited view of the person's current needs; students realize that the understanding and renewed appreciation of the whole person shapes the interactions with the older person, increases the empathic connection and influences ways in which services are provided.
---
Marcia Spira, Ph.D., LCSW, is a professor in the School of Social Work at Loyola University Chicago and coordinates the sub-specialization in gero–social work. She can be contacted at mspira@luc.edu.
This article was brought to you by ASA's Healthcare and Aging Network.
Help us improve AgeBlog and rate this post by clicking here!