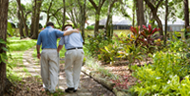 By Carol Levine and Lynn Feinberg
Where does a transition in care begin? At home, when an older person, family member, or homecare aide calls 911, resulting in a trip to the hospital emergency department? In the skilled nursing or assisted living facility, when staff decide that they cannot manage a resident's infection or injuries from a fall? In the hospital, when a physician or nurse determines the person is stable enough to go home or to a short-term rehabilitation program in a skilled nursing facility? In a doctor's office, where a worrisome symptom is discovered?
Wherever and however they originate, care transitions are about addressing change over time. Settings change, professionals change, systems change. Only the older person and family remain constant. A person- and familycentered approach to transitions recognizes this reality and incorporates the older adult and family caregiver's immediate and potential future needs. In this article we define and discuss person- and family- centered care, using the term "person" rather than "patient" or "patient-centered care" because it reflects the whole person—including family, when appropriate, and emphasizes continuity of care and support, and quality of life. As well, we offer examples of attempts to integrate such care in current transition models. Finally, we recommend policies and practices that support this foundational principle of better care.
What Is Person- and Family-Centered Care?
A recent AARP Public Policy Institute paper defines person- and family-centered care as "an orientation to the delivery of health care and supportive services that considers an older person's needs, goals, preferences, cultural traditions, family situation, and values." This approach "also recognizes and addresses family needs and preferences, and integrates family caregivers as partners in care" (Feinberg, 2012). The broad terms of family or family caregiver refer to any relative, partner, friend, or neighbor who has a significant relationship with, and provides a broad range of assistance for, an older adult with chronic or disabling conditions. Because most older people with chronic illness or disability rely on family and friends for support and care coordination, this definition expands the conventional understanding of "person-centered care" to include the 42 million family caregivers who provide an estimated 40.3 billion hours of unpaid care at an estimated economic value of $450 billion (Feinberg et al., 2011).
By their unpaid and often unacknowledged labor, American families sustain the faltering healthcare and social services systems. Family caregiving in today's economic climate—and given our country's fragmented systems of healthcare and long-term services and supports—takes a substantial emotional, physical, and financial toll on the family members who provide care (Feinberg et al., 2011). Some experts suggest that this toll on family members must be better understood and addressed as part of the process of caring for older people (Vladeck and Westphal, 2012).
The following are five key elements of personand family-centered care (Feinberg, 2012):
Respect and dignity for the older person and his or her family;
Recognition of the whole person;
Assessing and addressing both the individual's and family caregivers' information, care, and support needs, as well as their experience of care;
Promotion of communication, shared decision making and empowerment; and,
Emphasis on coordination and collaboration across care settings.
This approach recognizes the capacity of older people with mild to moderate cognitive impairment to express their wishes about daily activities and to participate in many decisions. It also views family caregivers as individuals, not just as adjuncts to the person needing support.
The concept of person- and familycenteredness shifts "control and power out of the hands of those who give care and into the hands of those who receive it" (Berwick, 2009). To what extent are these elements implemented in practice? That depends on the facility or agency, its leadership, and staff training and supervision that not only motivates, but also offers workers concrete techniques and opportunities to learn new ways of doing their jobs. A transition may involve moving from one facility with a strong ethic of person- and family-centered care to another setting that lacks this orientation. The change can be upsetting and confusing to the person and family who have come to expect more involvement and communication.
Hospitals and Person- and Family-Centered Care
One discussion of person- and family-centered care in transitions can start by looking at the acute care setting—rather than a person's home, skilled nursing facility, or community setting—where the terms are more familiar and the theory, if not always practiced, is better understood. Many transitions in care for older people begin with an emergency department visit, often resulting in a hospital stay. The next phase may be discharge to home or a short-term rehabilitation program, or a long-term stay in a skilled nursing facility—sometimes with intermediate returns to the hospital. All too often the cycle starts a spiral of decline that results in permanent loss of function or cognitive abilities (Graf, 2006).
One of the first things an older person loses in a hospital is his or her name. The person in the bed becomes a patient and is called "honey" or "sweetie." The person at the bedside loses a name and becomes "the wife" or "the son." Date of birth becomes a more important identifier than a name. This loss of personal identity reveals more than a staff member's failure to ask how the person prefers to be addressed; it symbolizes the de-personalized nature of much of healthcare today. Shorter hospital stays, hospital shift and staff changes, and multitudes of different providers and other hospital staff moving in and out of the person's room make it hard for anyone to establish the kind of trusting relationships that are at the basis of person- and family-centered care. It can and does happen, of course, but oftentimes in an unplanned and idiosyncratic way. Well thought out transitional care—emphasizing continuity of care—can only improve this baseline. Staff do change, to be sure, but the transition should involve the transfer of important information about the person and family's situation and resources, not just clinical data. Making this kind of communication routine will improve the overall transition.
Hospitals provide short-term acute medical care, and the focus is on "throughput"—getting the patient in and out safely and quickly. Most intense efforts to improve transitions stem from financial penalties that took effect in October 2012, which will affect hospitals with higher-than-acceptable levels of preventable hospital re-admissions. Generally such efforts are not implemented to achieve person- and family- centeredness. Improving care transitions from admission to post-discharge means more than reducing hospital re-admissions (Cykert, 2012).
While keeping someone out of the hospital is a person-centered goal, methods for achieving it are often driven by clinical checklists and protocols. For patient safety, these measures help providers achieve consistent and comprehensive clinical care, yet they do not typically address interpersonal interactions, individualization, and flexibility—the aspects of quality and safety that are most important to older persons and family members (Maurer et al., 2012). How protocols are implemented, however, can convey (or not) respect and dignity, a willingness to answer questions in comprehensible language, and other elements of person- and family-centeredness.
Much of what is touted as patient-centered care in a hospital means more attention to amenities, food, and the like. Or it means "patient engagement" or "activation"—getting the patient to take more responsibility for managing his or her own care. It seldom means changing hospital or practitioner practices to impel engagement or accommodate individual and family member needs and preferences. There are exceptions, such as relaxing rigid rules about visiting the intensive care unit, introducing family-initiated rapid response teams in a hospital when a family member recognizes a symptom that requires immediate attention, and including consumer or family representation on some hospital committees.
Person- and Family-Centeredness in Transitions
Transitional care—the planning and implementation of a move between care settings—is an opportunity to focus on person- and familycentered care. Transitions are more than changes in physical setting; they involve new responsibilities, relationships, and other changes. While some aspects may be beyond anyone's control, being informed about the timing, being given an appropriate level of detail about what will happen, and having a family member or staff person stand by for reassurance if there is a wait are all person-centered actions. Sometimes this type of care just means old-fashioned courtesy. 
When a person is medically stable enough to be transferred to another setting, person- and family-centeredness should top the priority list. Transitional plans that include the basic elements of this type of care are more likely to result in better outcomes, not just for the person and his or her family, but also for the staff. The sidebar on page 23 lists several transitional care models.
Up-and-Running Transitional Care Models
Several transitional care models are being implemented across the country—sometimes with adaptations, sometimes simultaneously.
These models include (but are not limited to) the following:
Highlights of the different transitional care models
The website introduction to Project BOOST says that its toolkit "embraces the recent movement toward patient-centered care," which means "encouraging patients to play a more active role in their care, including engagement in medical decision-making." Its "Tool for Assessing Risk: A Geriatric Evaluation for Transitions" is a checklist for discussion items with the patient and family caregiver (Society for Hospital Medicine, n.d.).
One of the items on the Risk Assessment Screening Tool is "Patient Support," which means "absence of caregiver to assist with discharge and home care." The BOOST tool assesses risk but does not suggest alternatives for people without paid formal supports, such as direct-care workers or family caregivers. In many cases, there is an involved person who has a relationship with the older adult, but it takes some investigation to identify that person. One item on the Risk-Specific Intervention checklist is "committed caregiver involved in planning/administration of all general and risk-specific interventions."
Project RED (Re-Engineered Discharge) reviews a written discharge plan with the family caregiver and the person, and helps them understand the diagnosis, medications, and what needs to be done at home. A followup phone call reinforces the information with both the person and family member. While projects BOOST and RED acknowledge the importance of person- and family-centered care, both are hospital-based and focused on assessing risk for hospital re-admission and making sure the older person and caregiver understand medications, the importance of physician or other healthcare provider followup, and other medical needs.
The INTERACT program, while mostly focused on training skilled nursing facility staff to act quickly to prevent hospital admissions, has an advance-care planning component that includes family members.
The Transitional Care Model (TCM) moves beyond the hospital to the community. In this model, a nurse (usually an advanced practice nurse) meets the person and family in the hospital, makes a home visit at least weekly to assess post-discharge needs, medications, and other follow-up tasks. The nurse may accompany the person to the first follow-up physician appointment and be available by phone or bimonthly visit for up to ninety days. While the family caregiver is included in these encounters, there has not been a systematic way of understanding or addressing caregivers' needs. This is changing as the TCM model is now focusing more directly on family caregivers (Bradway et al., 2012) and recognizing that it is essential for nurses to "connect with caregivers from the very start of the intervention." The TCM online training for nurses includes a session devoted to assessing the needs of family caregivers.
Similar to the TCM model, the Care Transitions Intervention (CTI) process involves a transition coach who meets the person and family at home, and provides training in the skills needed to initiate contact with healthcare providers, manage medications, and watch out for "red flags"—symptoms requiring immediate action. CTI has been widely adopted, possibly because it does not require a nurse (social workers, or sometimes volunteers, have been enlisted), lasts a shorter time, and may be sufficient for all but the most complex cases.
One of the most significant aspects of the CTI model is an explicit conversation between the coach and older person about goals: What activity do you want to be able to resume? Is there a family event you would like to attend? Eliciting these personal goals, rather than just discussing blood pressure or weight markers, is clearly person-centered. Asking the family caregiver the same question may elicit the same goal, but expressed in a different way ("I want my mother to be independent enough to stay alone during the day so that I can go back to work"), or goals may vary. An older person may want that daughter's company during the day or may fear being alone. Recently, work has been initiated to develop specific assessment and intervention tools for family caregivers with the CTI intervention (per authors' personal communication with Eric Coleman, June 2012).
The Guided Care model is community-based and located in a physician practice. Working with an interdisciplinary team, a specially trained Guided Care nurse helps coordinate care, including transitional care when needed. Other elements include family caregiver support, enhanced access to community services, and ongoing monitoring of symptoms and medication adherence. A particular research interest is the presence of family members at outpatient visits and whether this helps or hinders communication and continuity of care (Wolff et al., 2012).
Next Step in Care differs from these programs in several ways: family caregivers and healthcare providers can use its online tools and resources without an organizational infrastructure or a specially hired professional. It can act as a supplement to any model and is not intended as a substitute for professional guidance. However, through the United Hospital Fund's Transitions in Care-Quality Improvement Collaborative (TC-QuIC), teams from hospitals, nursing home rehabilitation programs, homecare agencies, and hospices have worked together over three years to develop ways to integrate these and other tools into regular practice.
One guide, What Do I Need as a Family Caregiver?, addresses the key elements of person- and family-centered care. It asks caregivers to think about the kinds of tasks they may be asked to perform after discharge and whether they can do them, whether they could do them with training, or whether they cannot do them at all. Another section asks caregivers what they are worried about, responding to a list of common concerns but also providing an opportunity for caregivers to list their own. Another person- and family-centered aspect is the emphasis on choice in determining where to go after discharge: to the patient's home, a family member's home, a rehabilitation program, or a long-stay skilled nursing facility. Hospitals' health and social service professionals often make this choice without adequately considering the person's or family's wishes.
Integrating Key Elements of Personand Family-Centered Care
Program descriptions go only so far in describing what actually happens in a hospital, skilled nursing facility, or home. The benefit of clinical guidelines—for example, a protocol for reducing central line infections—is that everyone does the procedure the same way, in the same order. In the murkier world of human relationships and individual choices, checklists are useful to ensure all details have been accounted for, but do not substitute for person-to-person communication. But processes do matter. A rehabilitation program that institutes a family planning meeting early in the person's stay, and makes sure that it is scheduled at a time when the family caregiver can attend, is more likely to come up with a viable transitional care plan than would a program without such a system.
A procedure or system that identifies the family caregiver with a specific role (for example, the person who manages medications at home and records that information in the older person's chart) is more likely to involve the right person in medication reconciliation, thus allowing for a more thorough discovery of discrepancies and leading to better health outcomes. Sometimes it is easier for staff to pick one family member to train, even if that person will not be in charge of post-discharge care. In this case, it is even more important that staff assess that family member's ability and willingness to train others. Facilities without a system for identifying the family caregiver(s) involved in the person's care lose out on valuable information that can affect everything from adverse medication events to re-admission.
Measurement Gaps and Policy Recommendations
The goals of each model program highlighted in this article are consistent with the key elements of person- and family-centered care; however, less clear is the extent to which the elements are included in staff training, routinely practiced, and evaluated. An emphasis on collaboration and coordination across settings has been a notable problem in transitions for care settings such as hospitals, as well as for older people and their family caregivers, and is largely due to the siloed way care is delivered across settings.
In the TC-QuIC experience, building partnerships between a hospital and a homecare agency has been difficult, even when the partners have been referring patients for years. Moreover, very few healthcare facilities know much about community services, and community agencies have until recently stayed away from anything that looked like a "medical model." Now, under the Affordable Care Act (ACA) and the development of accountable care organizations, and the financial stimulus of the federal Community Care Transition Programs grants (per Section 3026 of the ACA), the healthcare and LTSS systems are beginning to recognize that they need each other to complete transitions and provide better care, and that person- and family-centered care is essential to achieving their common goals.
The Long-Term Quality Alliance's (LTQA) Quality Measurement/Key Indicators Workgroup, (LTQA, 2012), focusing on measures that prioritize older adults, recommended the following three domains as central to quality measurement: person- and family-centeredness, transitional care processes, and performance outcomes.
In the first domain, the LTQA workgroup identified gaps in transitional care measures specific to person- and family-centeredness, such as, "measures to assess aspects that contribute to quality for individuals and their families and are broader than quality outcomes (i.e., quality of life, autonomy, relationships, compassion, social supports, and emotional well-being)." Development and standardization of caregiver outcome measures are also needed to better understand the basis of the family caregiver's experience of care, including care transitions.
Introducing person- and family-centered care in various care settings requires the following elements:
An assessment of the agency's strengths and gaps, including views of people and families involved in care;
Strong and consistent senior leadership;
Reinforcement by mid-level supervisors;
Training and retraining of all staff, including those who do not have direct patient care responsibilities but do interact with people and families (e.g., telephone operators, security guards, ward clerks, transportation staff );
Recognition for staff members who set good examples; and,
Frequent reassessment to determine progress or problems.
To promote greater adoption of person- and family-centered care in care settings with older persons, public policies should include the following (Feinberg, 2012):
Sufficient resources and supportive technology to address coordination and continuity of care;
Trained interdisciplinary care teams with the older person and family caregiver at the center; and,
Provision of services and supports that matter most to older adults and to their families.
The current emphasis on transitions in care stems from concerns about costs, safety, and quality of care for an aging population. But, as often happens in policy initiatives, the initial impetus reveals more basic systemic deficiencies. Transitional care has uncovered basic problems in care coordination and professional accountability for hand-offs. But it has also opened new opportunities, not just to remedy these problems, but also to create a more humane and effective system of care for older adults. Person- and family-centered care can be the bridge that links all these elements.
---
Carol Levine, M.A., is director, Families and Health Care Project, United Hospital Fund, in New York City.
Lynn Feinberg, M.S.W., is senior strategic policy advisor at the AARP Public Policy Institute in Washington, D.C., and is chair-elect of the Board of Directors for the American Society on Aging.
Editor's Note: This article is taken from the Winter 2012-2013 issue of ASA's quarterly journal, Generations, an issue devoted to the topic "Care Transitions in an Aging America" ASA members receive Generations as a membership benefit; non-members may purchase subscriptions or single copies of issues at our online store. Full digital access to current and back issues of Generations is also available to ASA members and Generations subscribers at Ingenta Connect. For details, click here.
---
References
Berwick, D. M. 2009. "What 'Patient-Centered' Should Mean: Confessions of an Extremist." Health Affairs 28(4): 555−65.
Bradway, C., et al., 2012. "A Qualitative Analysis of an Advanced Practice Nurse-Directed Transitional Care Model Intervention." The Gerontologist 52(3): 394−407.
Cykert, S. 2012. "Improving Care Transitions Means More Than Reducing Hospital Readmissions." North Carolina Medical Journal 73(1): 3.
Graf, C. 2006. "Functional Decline in Hospitalized Older Adults." American Journal of Nursing 106(1): 58−67.
Vladeck, B. C., and Westphal, E. 2012. "Dignity-Driven Decision Making: A Compelling Strategy for Improving Care for People With Advanced Illness." Health Affairs 31(6): 1269−76.
Wolff, J. L., et al. 2012. "Going It Together: Persistence of Older Adults' Accompaniment to Physician Visits by a Family Companion." Journal of the American Geriatrics Society 60(1): 106−12.