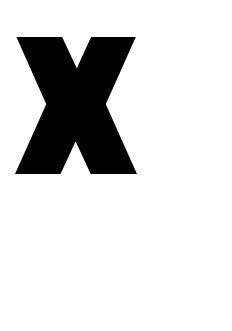 By Tim R. Johnston
As the Baby Boomers move into older age, it is important to reflect upon how LGBT members of Generation X (people born roughly between 1965 and 1980) understand their identities, positions in the world, and responsibilities to other members of the LGBT community, as well as to their aging parents, partners, family members, chosen family, and other loved ones. Much has been written about the large increase of Baby Boomers who have begun to seek aging services, but what does this major shift mean for Generation X, and how does it affect Gen Xers who identify as LGBT?
To the author's knowledge there is no research explicitly and exclusively focused on the needs and changing perspectives of LGBT Gen Xers. This article looks at historical facts, as well as data on Generation X and LGBT popula­tions, to sketch a preliminary set of ideas and questions that hopefully will be taken up by researchers in the coming years.
A Snapshot Look at Four Generations
There are roughly four generations of living LGBT people. Many LGBT members of the Silent Generation (born between 1925 and 1945) have spent most of their lives in a climate ex-
tremely hostile to LGBT communities. Some have been closeted for their entire lives, some came out early on, others in their later years. They may carry with them memories of isola­tion, violence, and fear that make it difficult to openly identify as members of the LGBT com­munity, but also they carry strength, resilience, and courage.
LGBT Baby Boomers (born between 1946 and 1964) experienced similar hostilities, but they also lived through the 1969 Stonewall Riots, an event that is seen as the beginning of the public fight for LGBT rights. LGBT Gen Xers (born between 1965 and 1980) were born and came of age during a transitional time in the march toward a world that is more accepting of LGBT people. Building on the work of the Baby Boomers, they have pushed for major advances in equal treatment, but change has happened slowly and with considerable pushback.
Millennials have come of age during a time of rapid advancement in the improved treatment of LGBT people, and this is the generation most likely to be accepting of LGBT people. This history is reflected in the fact that acceptance of LGBT people correlates with age. For example, 71 percent of Millennials favor same-sex marriage, compared to 56 percent of Gen Xers, 46 percent of Baby Boomers, and 38 percent of the Silent Generation (Pew Research Center, 2016). While supporting same-sex marriage is not an indicator of support for all members of the LGBT commu­nity, there is reason to believe that generational attitudes toward LGBT rights are improving.
The growth in the population of LGBT people in the United States is driven by Millennials, with the number of LGBT Gen Xers remaining stable. A Gallup poll published in 2017 found that "the portion of American adults identifying as lesbian, gay, bisexual or transgender (LGBT) increased to 4.1% in 2016 from 3.5% in 2012 . . . The portion of [Millennials] identifying as LGBT increased from 5.8% in 2012 to 7.3% in 2016. LGBT identification remained relatively stable over the five-year period [2012–16] at 3.2% among Generation X and declined slightly from 2.7% to 2.4% among baby boomers" (Gates, 2017).
Just as Gen X has seen an increase in accep­tance for LGBT people, during the same period the United States has become more racially and ethnically diverse. The birth of Gen X coincided with a change in immigration patterns into the United States. The Immigration and Naturaliza­tion Act of 1965 ended racial or nationality-based quotas, making it possible for many more people to immigrate to the United States. The Pew Research Center notes that in 1965, 84 percent of Americans were non-Hispanic whites, 11 percent were black, 4 percent were Hispanic, and 1 percent were Asian. As of 2015, the black popula-tion has increased by only a few percentage points since 1965, but 62 percent of Americans are white, 18 percent are Hispanic, and Asians are 6 percent of the population (Brown, 2015).
Being Gen X and LGBT: Perceptions and Reflections
Over their life spans, Gen Xers have seen the country become more diverse and accepting of LGBT people, but what do LGBT Gen Xers think about being LGBT, and how do they occupy a unique place in the history of the LGBT movement?
First, many Gen Xers began to grapple with their sexual orientation and-or gender identities at the height of the HIV/AIDS epidemic. The first cases of what came to be known as HIV/AIDS were reported in June 1981 (Centers for Disease Control and Prevention, 2001). Many people in the first two-thirds of Gen X (roughly the years 1965 to 1975) entered their teen years during the height of the epidemic. This was a traumatic time when LGBT people and those liv­ing with HIV/AIDS were intensely stigmatized, told they were "getting what they deserved," and were frustrated and angered by inaction from the United States government. It also marked a move within some sectors of the LGBT commu­nity toward a culture focused on safer sex and away from a more promiscuous or open sexual­ity that many in the community considered politically liberating and revolutionary. This tension between safer sex and de-stigmatizing sexual freedom is something still seen in debates today over PrEP (Pre-exposure prophylaxis) and condom use in adult entertainment.
Also, the 1993 passage of Don't Ask Don't Tell (DADT) and the 1996 Defense of Marriage Act (DOMA) left a mark on this generation. Many falsely believe that DADT prevented military service members from openly inquiring about a person's sexual orientation, but in reality, it prohibited those who "demonstrate a propensity or intent to engage in homosexual acts" (which included making a statement identifying oneself as gay, lesbian, or bisexual; marrying or attempt­ing to marry someone of the same sex; and-or touching anyone of the same sex for sexual gratification, including hand-holding and close dancing) from serving in the Armed Forces (United States Code, 2006).
Even for people not in the armed services, the logic of "Don't Ask Don't Tell" became embedded in the culture. Specifically, many people learned that they could live their life as an LGBT person as long as they did not do so in such a way that drew attention to them or that unambiguously confirmed their identity. This was not true of all LGBT people during this time, but the logic of "Don't Ask Don't Tell" influenced many people's sense of how much they could reveal about themselves, and may have prevented people from disclosing their identities.
The Defense of Marriage Act, a federal law that defined marriage as between a man and a woman, was a significant blow to the LGBT rights movement. To many LGBT people, it felt like a direct repudiation of their relationships.
These setbacks came during a time of successes as well. Gen Xers were in their thirties and forties when major advances occurred in the LGBT rights movement, such as states allowing same-sex couples to marry, localities passing nondiscrimination legislation, the beginning of transgender pride marches and events, and the U.S. Supreme Court decision in Lawrence v. Texas (2003). Also during this time there were positive portrayals of sympathetic on-air person­alities and actors in the mainstream media, talk show host Ellen DeGeneres came out in 1997, the sitcom Will and Grace (which ran on television from 1998 to 2006) was immensely popular, as was the U.S. version of Queer as Folk (2000 to 2005) and The L Word (2004 to 2009). Unlike many Millennials who may not remember or could not fully understand the impact of these events, Gen Xers were adults when public figures come out, and witnessed the cultural backlash captured in events like DADT, DOMA, and boycotts against LGBT-supportive companies and television networks.
The Gen X LGBT experience was one of "two steps forward, one step back." For every advance, there was pushback, and while many Gen Xers have celebrated the rapid pace of progress in the last decade, they also remember the years of struggle, hostility, and fear. They may have a more optimistic view than the Baby Boomers, but occasionally a more sober one than Millennials.
Caregiving and the Sandwich Generation
Members of Gen X are often considered part of the Sandwich Generation—people who are caring for children while at the same time caring for parents. Two in ten Gen Xers care for a parent on average for eleven hours per week, and the majority has children living at home, for whom they are increasingly the primary provid­ers (MetLife, 2013). According to a Pew Research Center survey, "roughly half (48%) of adults ages 40 to 59 have provided some financial support to at least one grown child in the past year, with 27% providing the primary support. These shares are up significantly from 2005" (Parker and Patten, 2013).
Their parents are living longer, and their children need support longer into adulthood, putting a significant strain on Gen Xers' time and their financial and emotional resources. Mem­bers of Gen X may not have planned for caregiv­ing for a parent: one study found that "only 7% of Gen Xers included caring for family and friends in their top three priorities for spending their time during retirement. This is worthy of note, considering currently 18% of Gen Xers report caregiving on a regular basis" (MetLife, 2013).
Challenges for LGBT Gen X caregivers
Gen Xers are caregivers, so even if they are unprepared for caregiving or perceive them­selves as such, how do LGBT Gen Xers fit into this picture?
We know from research into caregiving practices of LGBT older adults that they are more likely than non-LGBT people to be caring for someone who is not their spouse, or their biological or legal family member. Thirty-four percent of LGBT caregivers care for a partner or spouse, compared to 32 percent of non-LGBT older adults. Twenty-one percent of LGBT caregivers care for a friend, compared to only 6 percent of non-LGBT caregivers (MetLife, 2010). This is largely because many LGBT people have strained relationships with their families of origin, and some have no contact with their biological or legal family, which creates a strong ethos of "taking care of our own" within the community. Many LGBT people rely on friends, or on what we call "families of choice," for their informal or unpaid care.
Within biological or legal families, siblings may view their LGBT family members as the natural choice to care for parents, especially if the LGBT sibling does not have children. In fact, 9 percent of all caregivers in the United States identify as LGBT (AARP, 2015).
The major difference between LGBT and non-LGBT Gen Xers is that the challenges of caregiving impacts LGBT families differently because they have fewer resources. A study from the Williams Institute found that "single LGBT adults raising children are three times more likely than comparable non-LGBT individuals 
to report household incomes near the poverty threshold. Married or partnered LGBT individu­als living in two-adult households with children are twice as likely as comparable non-LGBT individuals to report household incomes near the poverty threshold. The median annual household income of same-sex couples with children under age 18 in the home is lower than comparable different-sex couples ($63,900 versus $74,000, respectively)" (Gates, 2013).
LGBT individuals and families are in more precarious financial positions and being asked to care for a parent or friend can increase that instability. People of color are more likely to live in poverty than their white counterparts, and LGBT people of color often face the highest barriers to economic security (Movement Advancement Project, 2013).
LGBT people may have strained relation­ships or no relationship with their family of origin. A 2012 survey of homeless youth found that 40 percent identified as LGBT, and 68 percent of homeless youth surveyed noted that family rejection was a "major factor contribut­ing to LGBT youth homelessness" (The Wil­liams Institute/UCLA School of Law, 2012). These data reflect the fact that for many LGBT people it can be difficult to reconcile being out with familial expectations. Challenging rela­tionships, or feeling as though they must hide their LGBT identity in order to provide needed care for a family member adds additional emotional difficulty to an already stressful care-giving situation.
In immigrant communities, Gen Xers may act as translators for older family members and-or provide help navigating bureaucratic tasks, adding an extra layer of complexity and responsibility that must be taken into account when deciding if and how to discuss their LGBT identity.
LGBT Gen Xers may not have spent much time considering their potential role as caregiv­ers earlier in life, so many are finding themselves in that position and looking for supports and policies that can help.
Looking Ahead: Nondiscriminatory Policy and Research Are Key
There is little research into the opinions of LGBT Gen Xers, so it is not possible to know how their attitudes will change. But it is still crucial to consider how they are impacted by forthcoming policy questions.
One of the biggest threats to the well-being of LGBT Gen Xers and their families is the proliferation of Religious Freedom Restoration Act legislation. These laws seek to allow individuals, nonprofits, and even for-profit corporations to use religion as an excuse to discriminate. The fear is that such legislation could allow providers to deny services to LGBT people or their LGBT caregivers, family mem­bers, or friends, if proponents claim that working with LGBT people conflicts with their religious beliefs.
Out of the 150 largest not-for-profit senior living providers in the country, which represent more than 257,600 units, nearly 90 percent have an affiliation with a religious organization (LeadingAge 2016). Most LGBT Gen Xers are not yet shopping for their own nursing care, but they are trying to find their parents or loved ones a place to live where they can visit, bring their families, and feel comfortable being open about their identities. Aging services providers have been rightly concerned with providing safe services for LGBT older adults, but it is time to expand that perspective and recognize that many non-LGBT older adults are being cared for by LGBT Gen Xers who also need to feel safe using their services.
There is still no federal nondiscrimination legislation that explicitly protects LGBT people in employment, housing, public accommoda­tions, jury service, or credit. States and munici­palities have passed various nondiscrimination laws, but ensuring that LGBT people are pro­tected where they live—including affirming that transgender people can use the bathroom that aligns with their gender identity—remains a priority for LGBT people of all generations.
As it relates to aging, LGBT Gen Xers are faced with many of the same challenges as their non-LGBT peers, but these challenges take on a special urgency. Gen Xers were not necessarily planning to become caregivers, and LGBT people are more likely to be financially disadvan­taged or vulnerable, meaning that if they are suddenly required to care for a loved one, they may face tremendous challenges and stress. This means that cuts to programs like Social Security, Medicare, and Medicaid will have a dispropor­tionate impact on LGBT Gen Xers and their families, especially if they are providing care for children and-or older parents and loved ones.
Older adults of color are more likely to live in poverty than their white counterparts (Kaiser, 2015). If disparities in economic opportunity and security continue apace it is likely that Gen Xers of color will be disproportionately dependent on social safety net programs. And, if present disparities are any indication of future trends, LGBT Gen Xers of color are likely to be even more vulnerable. Continued investment in these programs is an important way to ensure they have access to care.
Each LGBT Gen Xer will have a view of their identity and the LGBT community, but they also share common challenges around discrimina­tion, being sandwiched between the Baby Boomers and Millennials, and called upon to provide material and emotional care for multiple generations. Research on this cohort is extreme­ly important, as is working to enact and preserve programs and protections that will help them in the years to come. 
Tim R. Johnston, Ph.D., is director of National Projects at SAGE (Services and Advocacy for GLBT Elders) in Oakland, California.
This article is taken from the Fall 2017 issue of ASA's quarterly journal, Generations, which takes a look at older adults who provide caregiving, not receive it. ASA members receive Generations as a membership benefit; non-members may purchase subscriptions or single copies of issues at our online store.
References
AARP. 2015. Caregiving in the U.S. www.aarp.org/content/dam/aarp/ppi/2015/caregiving-in-the-united-states-2015-report-revised.pdf. Retrieved May 5, 2017.
Brown, A. 2015. "Key Takeaways on U.S. Immigration: Past, Present and Future." pewresearch.org/fact-tank/2015/09/28/key-take
aways-on-u-s-immigration-past-present-and-future/. Retrieved July 10, 2017.
Centers for Disease Control and Prevention. 2001. Morbidity and Mortality Weekly Report: "First Reports of AIDS." cdc.gov/mmwr/pdf/wk/mm5021.pdf. Retrieved July 10, 2017.
Gates, G. J. 2013. "LGBT Parenting in the United States." williamsinsti
tute.law.ucla.edu/wp-content/uploads/LGBT-Parenting.pdf. Retrieved May 5, 2017.
Gates, G. J. 2017. "In U.S., More Adults Identifying as LGBT." www.gallup.com/poll/201731/lgbt-iden
tification-rises.aspx. Retrieved 
May 5, 2017.
Kaiser Family Foundation. 2015. "Poverty Among Seniors: An Updated Analysis of National and State Level Poverty Rates Under the Official and Supplemental Poverty Measures." kff.org/medicare/issue-brief/poverty-among-seniors-an-updated-analy
sis-of-national-and-state-level-poverty-rates-under-the-official-and-supplemental-poverty-mea
sures. Retrieved July 14, 2017.
Lawrence v. Texas. 539 U.S. 558. 2003. supreme.justia.com/cases/federal/us/539/558/. Retrieved July 20, 2017.
LeadingAge. 2016. LeadingAge Ziegler 150. ziegler.com/z-media/
3215/2016-leadingage-ziegler-150-publication_final.pdf. Re­trieved May 5, 2017.
MetLife. 2010. Still Out, Still Aging: The MetLife Study of Lesbian, Gay, Bisexual, and Transgender Baby Boomers. metlife.com/assets/cao/mmi/publications/studies/2010/mmi-still-out-still-aging.pdf. Retrieved July 10, 2017.
MetLife. 2013. The MetLife Study of Gen X: The MTV Generation Moves into Mid-Life. lifehappens.org/wp-content/uploads/2015/02/Research_MetLifeStudyofGenX
TheMTVGenerationMovesInto
MidLife.pdf. Retrieved May 5, 2017.
Movement Advancement Project. 2014. A Broken Bargain for LGBT Workers of Color. www.lgbtmap.org/file/a-broken-bargain-for-
lgbt-workers-of-color.pdf. Re­trieved July 14, 2017.
Parker, K., and Patten, E. 2013. "The Sandwich Generation. Rising Financial Burdens for Middle-Aged Americans." pewsocialtrends.org/2013/01/30/the-sandwich-generation/. Retrieved May 5, 2017.
Pew Research Center. 2016. "Changing Attitudes on Gay Marriage." pewforum.org/2016/
05/12/changing-attitudes-on-gay-marriage/. Retrieved May 5, 2017.
The Williams Institute/UCLA School of Law. 2012. "America's Shame: 40% of Homeless Youth Are LGBT Kids." williamsinstitute.law.ucla.edu/press/americas-shame-40-of-homeless-youth-are-lgbt-kids/. Retrieved July 10, 2017.
United States Code. 2006. §654. "Policy Concerning Homosexuality in the Armed Forces." gpo.gov/fdsys/pkg/USCODE-2006-title10/html/USCODE-2006-title10-subti
tleA-partII-chap37-sec654.htm. Retrieved July 10, 2017.