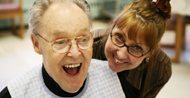 By Atul Sunny Luthra
Understanding the meaning of behaviors in dementia/neurocognitive disorder (D/NCD) is being proposed as an essential step in order to make substantive progress in developing pharmacological and behavioral interventions. Through my years of clinical work and research in the field of dementia, I have uncovered the "meaning" and "purpose" of behaviors in this patient population and have developed essential tools to help bring the understanding of behaviors into clinical practice.
The first essential step in attaining this goal was developing a comprehensive biopsychosocial (BPS) model for the occurrence of behaviors in D/NCD; as all existing models are dichotomized along biological and psychosocial paradigms. The second step was identification of criteria to develop a reliable and valid classification system for this BPS model.
This process involved aggregation of individual behavioral symptoms into;
Clinically meaningful behavioral categories;
 
Defining the meaning portrayed by each of these individual behavioral categories; and
 
Identification of the specification of the theoretical constructs which justified the aggregation of individual behavioral symptoms into clinically meaningful categories.
Through this process, twelve clinically meaningful behavioral categories were developed. The next step was creating a clinical tool that used these twelve behavioral categories to assess patients with D/NCD and their Behavioral and Psychological Symptoms in Dementia (BPSD). This led to LuBAIR scale (Luthra's Behavioral Assessment and Intervention Response), which was then tested in long-term care facilities on patients with moderate-to-advanced dementia. At the Aging in America poster exhibit this year, the reliability and validity of LuBAIR was discussed and what impressions geriatric physicians and nursing staff had of the scale. It was found that clinicians using LuBAIR scale were able to make more comprehensive assessments of their patients with dementia and classify their patients' behaviors in more clinically meaningful ways.
In clinical practice, identification of individual behavioral symptoms under each of the twelve identified behavioral categories can provide clinicians with a theoretical framework to ascribe the "meaning" or "purpose" for its presence in the patient. This added understanding for the presence of behaviors can assist in developing behavioral interventions which are sustainable and affordable, thereby optimizing the use of medications.
To learn more, explore reading "The Meaning of Behaviors in Dementia/Neurocognitive Disorders," a clinical book which describes the biopsychosocial model created for the occurrence of behaviors in D/NCD, the new terminology and classification system for these behaviors, and the 'meaning' or 'purpose' of the behavioral symptoms in the twelve behavioral classifications identified. This book provides a historical overview of the literature on the existing terminology and classification of behaviors in D/NCD, identifies limitations and gaps, and proposes future direction in this area of dementia care.
---
Dr. Atul Sunny Luthra, MD, MSc, FRCPC, is presently an associate clinical professor at McMaster University, a research scientist with the Research Institute for Aging, Schlegel, and works in the capacity of medical coordinator at Homewood Health Centre and St. Peter's Hamilton Health Science. His clinical and research focus is on developing safe pharmacological and affordable non-pharmacological treatment interventions for behaviors in moderate to advanced dementia. Twitter handle: @DrSLuthra