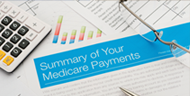 By Walter D. Dawson and John Cutler
Developments in the acceptance of Medicare as part of the long-term services and supports system have taken place in recent weeks. The CHRONIC legislation (S.870) was incorporated into the Bipartisan Budget Act and signed into law on February 9. Just as significant, CMS released plan language on February 1 for 2019 Medicare Advantage plans that allows health plans to add non-medical services and benefits.
The time to address long-term services and support (LTSS) financing reform is here. And the best path forward is an expansion of the Medicare program to cover the LTSS needs of all Americans. While Medicare already funds some LTSS, Medicare's role should be much clearer and coordinated. The new, enhanced role of Medicare would reduce the current reliance on Medicaid while facilitating a more robust private insurance market to develop. Moreover, an enhanced Medicare program would help provide for American's immediate LTSS needs, while building a more sustainable and effective financing system for the long-term.
The challenges of the LTSS financing system in the United States are well-documented. Individual out-of-pocket costs are exceedingly high. Few Americans have the financial resources to pay for these services. Private insurance plans in current form do not offer a practical approach to expanding LTSS coverage. The high costs of care also pose significant challenges to governmental programs that are the main payers of LTSS. The risks to the LTSS system continue to grow without substantive reform. These risks demand action on the part of policymakers. An expansion of Medicare to cover LTSS offers a path to do so.
So Why Medicare?
The popularity of Medicare makes it a strong candidate to be the vehicle for expanded coverage of LTSS. Last year, a AP-NORC poll funded by the SCAN Foundation found that 56 percent of Americans say they support including a LTSS benefit as a part of Medicare. The widespread popularity of a program that cuts across socio-economic, cultural, and demographic divides is essential.
Medicare already funds a significant amount of LTSS. Historically, the LTSS benefits (skilled nursing and home health) offered by Medicare have been viewed as post-acute care only. But this is not an accurate understanding of these benefit's current role in the financing system. Roughly five percent of all LTSS spending in 1988 resulted from Medicare's SNF and home health benefits. By 2011, Medicare—again largely via SNF and home health payments, but also hospice and other sources—accounted for nearly 22 percent of all LTSS spending.
Medicare will increasingly become important to the LTSS financing system if it must fill in where Medicaid coverage falls short. This is due in part to growing fiscal pressures on Medicaid including the care of high expenditure individuals dually eligible for both programs. Robust LTSS coverage under Medicare also opens the door for a wraparound private LTC insurance market–that is, privately purchased products that supplement a more robust public system rather than act as standalone, comprehensive coverage. Adding a LTSS benefit to Medicare would help mitigate issues with risk pooling and adverse selection that currently trouble private LTC insurance.
Individuals unable to afford privately purchased wraparound coverage could still turn to Medicaid. But covering most LTSS through Medicare would reduce and delay the need for Medicaid as a payer of last resort. The potential savings for state governments are significant.
Recent Reform Proposals
A review of some of the current proposals to add LTSS into Medicare gives insight into where the program may be headed. The more innovative changes to Medicare would come from proposals that explicitly add LTSS benefits. A less sweeping approach would facilitate an expansion of Medicare by allowing MA plans more options to add non-medical services.
One proposal is from the Minnesota Department of Human Services. The politics surrounding the cost of adding benefits to Medicare led the State to concentrate on a home care benefit similar to one that is currently available to many Minnesota Medicaid beneficiaries. To undercut adverse selection, the new benefit would be imbedded in all Medicare supplement plans as well as Medicare Advantage (MA). Initial actuarial work has been completed and is in the exploratory stages with stakeholders. More details can be found at the "Own your Future" website.
In 2016, the Commonwealth Fund released a proposal called Medicare Help at Home, which proposed adding a supplemental HCBS option to Medicare. This supplement would be available at an individual's eligibility for Medicare and would require beneficiaries to pay an additional premium. The Commonwealth Fund augmented this research in 2017. This research brief found that increased public financing of LTSS would not replace but rather supplement the contribution of family and unpaid caregivers to support individuals living independently in the community.
The Bipartisan Policy Center's (BPC) proposal for LTSS coverage considers two discrete approaches. One focuses on MA plans. They would add in-home meal delivery, case management, home modifications, and non-emergency transportation. To accomplish this, Congress would need to modify the MA uniform benefit requirement to allow MA plans to target non-Medicare-covered health-related social supports and services.
The BPC's second approach addresses both MA and Medigap coverage. There would be a new option for beneficiaries in traditional Medicare who wish to purchase supplemental services. LTSS benefit would reimburse for home-based services similar to that found in current LTC insurance products.
Discussion
Each of these reform proposals has what might be considered a triangular relationship. Two of the proposals (Minnesota and Commonwealth) embed the LTSS benefit directly in Medicare, while the BPC proposal makes it voluntary. Two of the three proposals provide full coverage of all LTSS needs (Commonwealth and BPC), while Minnesota proposes more basic home care. Two of the three use supplemental Medicare products that are paid directly by the beneficiary (BPC and Minnesota) and the other proposes a blended financing model relying on Medicare (Commonwealth).
On top of these proposals is the new freedom provided through both the CHRONIC (Creating High-Quality Results and Outcomes Necessary to Improve Chronic Care) Act—provisions of the Bipartisan Budget Act, as well as new CMS plan language for Health Related Supplemental Benefits for 2019 Medicare Advantage Programs (pages 182–183). CMS has not previously allowed an item or service to be eligible as a supplemental benefit if the primary purpose is daily maintenance. Citing a lack of a definition for the offering healthcare benefits as supplemental in Section 1852(a)(3) of the Social Security Act, CMS notes their intent to interpret these benefits more broadly going forward. To some extent this supersedes the CHRONIC provisions along the same lines. However, while the chronically ill population is specified in CHRONIC the definitions of who qualifies are tighter. Neither provision provides extensive LTSS or changes traditional Medicare (or Medigap).
One of Medicare's greatest strengths is it is a near-universal program. That speaks to the need to add any new benefits fully into Medicare and not leave it a voluntary choice for beneficiaries. While a voluntary LTSS benefit may address political concerns over mandatory participation, it would leave many individuals uncovered. That leads us to conclude a benefit design that covers all Medicare beneficiaries, but provides somewhat less extensive benefits, may be the way to go—at least initially. This approach is good public policy that will also help build long-term public support for modernizing Medicare.
Walter D. Dawson, DPhil, is Director of Research & Analytics at the Oregon Health Care Association in Portland, Oregon, and is a member of ASA's Public Policy Committee and of the Editorial Advisory Board for Generations. John Cutler, JD, is currently a consultant for the State of Minnesota. He lives in Fairfax, Virginia.